Traditional Bluegrass - The way it should be
A converation with Ralph Stanley
written by Missy Votel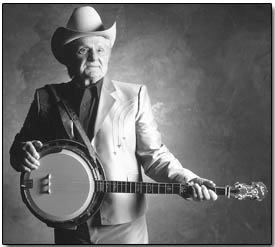 When it comes to staying power, Ralph Stanley knows a thing or two. Not only does he deliver a haunting, trembling tenor that stays with a listener long after a song's ending, but he's done so for more than half a century.
Stanley's resume at 76 reads every bit the living legend he is with three Grammys, a Library of Congress award and numerous International Bluegrass Awards. He credits his longevity to his down-home values.
"I took pretty good care of myself; I lived a clean life," he said Tuesday from his home in Coeburn County, Virginia. "I guess the Lord has blessed me."
And with a two-year-old granddaughter climbing on his knee, one gets the feeling Stanley is every bit the genuine article he says he is.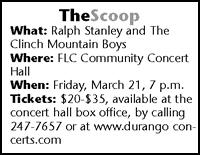 "I think the reason I've lasted so long is because I'm making the same old-time sound that I started with," he said. "I believe in sticking with what you start with. I do it like I feel it, and I think that's the reason I've stayed around so long."
Indeed, even the name of Stanley's band, the Clinch Mountain Boys – named for the Clinch Mountains of Virginia where he was born in 1927 – has remained steadfast over the years. It was here that Stanley first picked up a banjo, learning his famous "clawhammer" style from his mother. By 1946, Stanley and his older brother Carter were playing regular radio gigs under the Stanley Brothers moniker. A year later, the two made their first recording, paving their way toward becoming renowned purveyors of bluegrass, a sound pioneered by their contemporary Bill Monroe. And although to this day Stanley's music is still classified under the bluegrass genre, he contends it may not be the best description of the rustic Stanley sound.
"Sometimes I don't call mine bluegrass," he said. "It's more old time, more in the mountains. Mine is a bit older."
And although the years between 1949 and 1952 are considered by many to be the Stanley Brothers' heyday, it wasn't until recently that Stanley struck gold – or more precisely, platinum – with his music. In 2001 the soundtrack from "O Brother Where Art Thou," which features Stanley's a capella version of his classic "O Death," the Stanley Brothers' "Angel Band," as well as Stanley's "Man of Constant Sorrows" covered by Union Station, broke the 5-million mark.
"'O Brother' got me a lot of new listeners, new fans I never would have had," he said. "I've got a third more fans now than before."
Stanley, who has been on his own since the death of his brother in 1966, also has gained the admiration of many peers. Over the years, he has collaborated with artists ranging from Bob Dylan and BR-549 to Iris DeMent and Lucinda Williams. His band has been the springboard for many a young bluegrass superstar, including Ricky Skaggs and the late Keith Whitley. Likewise, the music of the Stanley Brothers has been revived by younger artists from Emmylou Harris and Gillian Welch to Dan Fogelberg and Dwight Yoakum.
Perhaps the most notable development of the bluegrass sound pioneered by the Stanley Brothers, Monroe and Earl Scruggs is the "newgrass" movement, made popular by modern bluegrass artists like Sam Bush and Bela Fleck. And while today's newgrass artists may share roots with traditional bluegrass musicians, the similarities end there, Stanley said.
"They don't play traditional bluegrass," he said. "I think they might be in a different category."
And it's a category Stanley admits he could live without.
"I don't care for it," he said. "I'm more traditional. I think they went a little too far out. And I think Bill (Monroe), if he were living today, would feel the same."
And while the newgrass scene grows, Stanley said he is content to keep on doing what he's been doing, albeit at a somewhat slower pace than he's accustomed to.
"I typically do 180 to 200 shows a year," he said. "I have cut down a lot. I'll be doing about half that this year."
However, this is not to say Stanley, who has some 185 albums to his credit, will be slowing down with his recording career.
"I just signed a contract with Columbia for 6 CDs," he said. "I made one and I've got to make another in 30 to 60 days."
Stanley said in addition to featuring a capella and "old-time songs," the upcoming release will be a tribute to the Carter family, considered the first family of country music and forebearer of June Carter-Cash.
"They recorded in 1927 from the same county that I'm from," he said. "I heard them when I was a little boy."
As for the show he intends to bring to Durango, Stanley said his fans can expect to hear exactly what they came for.
"I will bring along traditional bluegrass, the way it was when it started and the way it should be," he said.