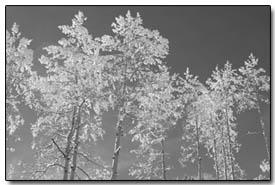 In the jet stream: Skies cleared to reveal a layer of frosting on aspens near Purgatory last week./Photo by Todd Newcomer.
Mushroomers may be coming
Droves of mushroom gatherers are likely coming to the Durango area this summer. Seeking the lucrative, edible morel mushroom, thousands of entrepreneurs frequently descend on areas that have experienced wildfires. Consequently, the Columbine Ranger District of the San Juan National Forest is asking for public input on a proposal to allow commercial mushroom harvest in the area burned by the Missionary Ridge Fire.
Given the right conditions, some of the 70,000 acres of public lands burned last summer may see a large mushroom crop. If the crop occurs, there may be huge demand for harvesting the mushrooms. The harvest season usually begins with snowmelt and lasts until the moisture is gone, typically April or May through June or July. However, weather conditions will dictate the size of the mushroom crop.
The Forest Service is considering how to manage commercial harvesting and whether to issue group camping permits to commercial harvesters, and if so, where to allow group camping. If commercial permits are offered, they will include a cost and may or may not include a camping permit. Commercial mushroom harvest will not be allowed in the Weminuche Wilderness Area or the Piedra River Area.
Morel gathering is big business. Early in the season, morels often fetch $5 a pound. A single fire in Idaho's Payette National Forest in 1994 yielded $3 million worth of morels. Commercial buyers apparently were on the scene, buying $10,000 to $15,000 of mushrooms every day. The morel harvest can frequently be more valuable than salvage timber sales on some fires.
However, the harvest of wild mushrooms has caused problems. Thousands of people descend on the national forests of California and Oregon every year. Rangers in these national forests tell tales of gangs setting up roadblocks and robbing mushroom pickers and buyers, who can carry as much as $40,000 in cash. Thousands of people living on public lands also have made for huge impacts. Poaching and over-fishing have been common, as are sanitation problems at crowded campsites. Some pickers try to extend their backcountry reach by driving off-road into closed areas, damaging fragile, just-burned forest.
The San Juan National Forest hopes to prevent this kind of situation from arising. The Missionary Ridge Road system will be closed for rehabilitation work through the season and will not be open for access to the burned area. Off-road use of motorized vehicles in the areas burned by the fire has not been allowed in the past and will not be allowed for mushroom harvesting.
Written comments on this proposal will be accepted through March 31, 2003. For more information, contact Gretchen Fitzgerald at (970) 264-1535.

Icy roads cause pileup on Hwy 550
According to a report from the Colorado State Patrol, a large pileup occurred on Highway 550 near Tamarron during a white-out on the afternoon of Saturday, Feb. 22. The accident began when a northbound Subaru Outback and a southbound Nissan Pathfinder hit head-on. Following the impact, the two vehicles spun to either side of the roadway and came to rest. A line of traffic then approached the accident in the southbound lane. The first car braked to avoid the accident and was rear-ended. Another vehicle in the line of descending traffic then slid and collided with the Subaru involved in the original accident.
While the State Patrol noted that five cars were involved in the pileup, one eyewitness, who chose to remain anonymous, said that closer to eight cars had slid, coming to rest or hitting guardrails. He noted that these cars left the scene since they did not collide with other automobiles. "We didn't hit anyone so we got out of there," he said. "We didn't want to stick around and get hit."

FLC announces presidential finalists
The Board of Trustees for Fort Lewis College has announced two finalists for the college's presidency. Three finalists had been chosen, but one withdrew.
Phillip David Creighton, president and chief executive officer of Eastern Oregon University, and Michael B. Levy, distinguished teaching professor at the McDonough School of Business at Georgetown University and former senior advisor to the Secretary of the Treasury, will be on campus for interviews next month, said Board of Trustees Chairman Peter Decker.
"The search committee for the president of Fort Lewis College has spent a great deal of time and careful consideration in reaching a determination of the final candidates for this most important position," said Decker. "We feel these candidates will provide those qualities necessary to continue Fort Lewis College's quest to become a premier college of liberal arts and sciences, noted for the quality of its academic programs, success of its graduates, and service to the surrounding region."
A detailed schedule of interviews will be announced in the near future.

Local terrorist report result of hoax
According to the La Plata County Sheriff's Office, southwestern Colorado was the victim of a terrorist hoax last week. A report had surfaced that terrorists had attacked gas field workers near Aneth, Utah, on Feb. 19. A report surfaced that a black SUV with four Middle Eastern men was spotted by gas field workers. When asked what they were doing there, a fight allegedly broke out, guns were pulled by the people in the SUV, and then they left.
According to La Plata County Sheriff Lt. Dan Bender, that was all the information the Sheriff's Office received. However, later in the day citizens began inquiring about the car full of heavily armed terrorists, reportedly heading for Durango. Bender said that a short time later, he was told of a report that the gas-processing plants in Kirtland and Bloomfield, N.M., had been taken over by terrorists. Apparently, the radio stations in the Cortez area began broadcasting alerts for people to be on the lookout for terrorists in a black SUV.
At 9 p.m. on Feb. 19, a member of the media informed Bender that he had called the FBI in Salt Lake City and learned that the entire incident was a hoax, fabricated by a plant worker who intentionally injured himself.
"I hope this information will help calm fears of terrorists running amok in the Four Corners area," Bender stated. "It is important, however, that people try to trace things they hear back to reliable sources prior to spreading an alarm."
-compiled by Will Sands