'Our Town' comes to your town
FLC takes on Wilder classic
written by Missy Votel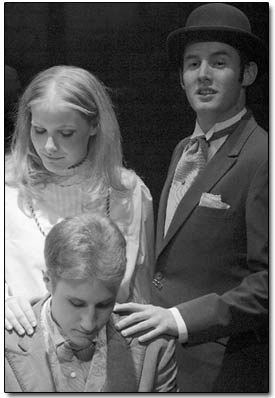 Mrs. Gibb (Kristen Hathcock), Dr. Gibb (Josh Martin) and George Gibb (Stephen Juhl) in a scene from FLC's production of "Our Town."/Photo by Todd Newcomer.
Many may remember Thornton Wilder's classic play, "Our Town," from their school days. For several decades after its debut in 1938 – the same year it won a Pulitzer – it was a mainstay of community and high school stages across the country. However, in recent years, possibly with the advent of more high-tech, elaborate stage offerings, the rudimentary, turn-of-the-20th-century play fell out of favor.
But as Americans begin a new century, rife with complexities of global proportions, many find a longing to return to simpler times and places, such as Thornton's fictional quintessential New England town, Grover's Corners, N.H., population 2,640. The play is currently enjoying a resurgence on stages across the country, from Broadway, where it stars Jane Curtain and Paul Newman, to the Fort Lewis College stage, where the play will run for the next two weekends.
According to director of the FLC production, Michael Lawler, a Phoenix resident who did a stint as visiting theater instructor at FLC in 1999-2000, the decision to do "Our Town" was an easy one.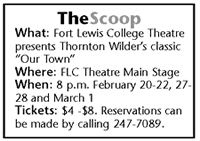 "I had never read or seen it before, and I read it and fell in love," said Lawler, who also directed "Fortinbras" at FLC. "As soon as I read it I knew it was the right choice."
He said the play is particularly relevant today, in the wake of recent world events, including Sept. 11.
"It's a play that celebrates the interdependency of a community and a moral value system that is no longer in place," he said. "Twenty years ago people would have looked at this play and said, 'Oh, come on.' But the play celebrates community love and hope, and we yearn today for that kind of love."
Although the play is set in New England, in an era predating cars or television, Lawler said it is a timeless piece that transcends such barriers. While the play is called "Our Town," it may as well be "Any Town."
"It's the story of an all-American small town," Lawler said.
At its most basic, "Our Town," is a story of boy meets girl, centering on the lives of childhood sweethearts George Gibb and Emily Webb and their respective families. However, as the play progresses, it delves much deeper.
"It's a play that celebrates life and day-to-day events that we are so busy that we can't acknowledge," said Lawler.
Wilder drives this point home with the utter simplicity of the set. There are no props in the play – save for two dinette sets, each denoting the kitchens of the respective families; a few rows of church pews; and two step ladders. All actions in the play are pantomimed, something Lawler had to teach to his cast of full-time students.
"The whole cast had an exercise in pantomime and techniques," said Lawler, who took his cues from a movement teacher at Arizona State University. "We worked on that the first week."
While one may think a play without props would be distracting, Lawler points out is has the opposite effect.
"It allows the play to move more fluidly and focuses attention on relationships in the play," he said.
Indeed, Lawler is right. From the first scene, when the Stage Manager, played by Eagle Young, who acts as play narrator and commentator, gives a sweeping overview of the town, imagination takes over. As the action shifts to the morning routine of the Webb and Gibb families, no props are needed to decipher that the respective matrons are stirring batter, flipping pancakes and pouring hot coffee.
The play, which spans three acts and 12 years, opens around the kitchens of the families. It is here that the audience is introduced to the main players, a wide-eyed Emily, played by Kelly McDonald, and a lanky, young George, played by Stephen Juhl. The main cast is rounded out by the children's families: Tara Sheehan and Herschel Warner, who play Emily's parents, Mr. And Mrs. Webb; and Kristen Hathcock and Josh Martin, who play Dr. and Mrs. Gibb, the parents of George. Emily and George also have siblings: Wally Webb, played by Andrew Hall, who makes a limited appearance, and George's younger sister, Rebecca, played by Anna Pierotti, who also has a smaller role.
As the opening day wears on, we are given a glimpse into the everyday life of the characters and the town: the milkman and paperboy make their morning deliveries; Mrs. Gibb strings beans from her garden; Dr. Webb returns from attending a birth; and George and Emily discuss homework.
The young players do a notable job of performing their daily routines with just the right amount of self-awareness, neither underplayed nor over the top. Juhl, in his knickers with a baseball typically clenched in fist, fits the part of a gangly teen on the verge of manhood. McDonald, with a smart red bob and soft voice, comes across as a confident yet sweet Emily, a bright girl with a slightly dreamy side.
Perhaps most commendable are the performances of the young actors entrusted to play the parents. Hathcock capably takes on a matronly, doting persona of someone twice her age as she admonishes her overworked husband to get some rest, and Sheehan brings a lightness and humor to her role as the nurturer of the Webb clan.
"I would rather have my kids healthy than bright," she says while scolding them to eat their breakfast slowly before rushing off to school.
Likewise, Martin is convincing as the likable but earnest town doc, and Warner, with his jolly disposition and white socks, does a good job as the bumbling and oblivious but good-hearted editor of the town paper.
Perhaps the most daunting role in the play is that of the Stage Manager, who must deliver several long asides and commentaries, all while appearing personable and relaxed. Young does an impressive and unflinching job of looking straight into the eyes of his audience as he delivers his lines in a genuine, welcoming manner. However, it may be possible that he knows his lines a little too well. A few times he tended to speed up his delivery, which made it difficult to understand all that he was saying.
Nevertheless, he does a fine job of guiding the audience through the various acts of the play, growing increasingly philosophical as the play wears on.
"The play gets serious from here on," he tells the audience at the start of the second half of the play, which chronicles the marriage of George and Emily, as well as Emily's untimely death.
Indeed, as we enter the third and final act, nine years after the wedding, the play takes on a somber note. We find things have changed since we last visited Grover's Corners. Not only have we lost a few key characters along the way, but Fords have replaced horses; people have begun locking their doors out of fear; and the town has become generally "citified" in the words of Dr. Gibb.
"I remember when dogs used to sleep in the streets all day long," bemoans the Stage Manager.
However, he later points out that such changes are only superficial.
"On the whole, things don't change that much around here," he said. "There's something that's eternal about all of us."
We learn just how eternal as we venture with Emily, who died in childbirth, from the afterlife to revisit her 12th birthday in an effort to savor one last, ordinary scene from her life. To her credit, McDonald, in wedding dress, is neither hysterical nor preachy as she tries, unsuccessfully, to engage her family in breaking from their daily routines to enjoy the simplicity of life's pleasures at hand.
"Do any human beings realize life while they live it?" an older, wiser and frustrated McDonald asks her fellow residents in the afterlife.
Sadly – except in the case of saints and poets – the answer is no, we are told by a pensive Stage Manager as the sole spotlight over our heroine fades to black.
It is a simple ending to a simple play – allowing us to give pause to ponder and appreciate the simple thing we call life.