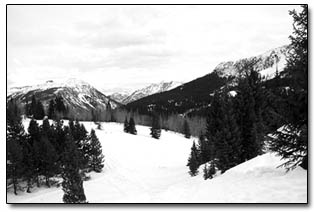 A 2001 forest management plan appears to be playing out
well in the Molas Pass area. Pictured is the area south of the
"donut hole," a 200-acre space around Andrews Lake which has been designated as off-limits to snowmobile traffic.
After nearly two seasons, motorized users, skiers, mushers and others have found a comfortable middle ground on the popular winter recreation area around Molas Pass. However, a lawsuit continues to press for the return of motorized use on 200 acres around Andrews Lake.
In the early summer of 2001, the San Juan National Forest and San Juan Field Office of the Bureau of Land Management created an area that's come to be known as the "donut hole." Courtesy of a long-awaited Forest Management Plan, this 200-acre skier-friendly area around Andrews Lake was declared off-limits to snowmobiles. Easy access has made the 7,100-acre Molas Pass area, 42 miles north of Durango, popular among snowmobilers, Nordic skiers, showshoers, backcountry skiers and a commercial cat skiing operation.
Now, after a roughly two-season trial, users from all sides of this spectrum appear to be pleased with the arrangement.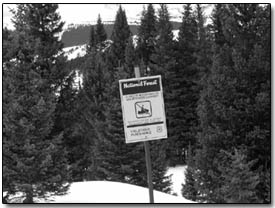 One of the signs surrounding the area, which the
Forest Service is actively monitoring
for incursions. /Photos courtesy San Juan Forest.
"It's working out pretty well," said Richard Speegle, recreation project leader with the Columbine Ranger District. Speegle said that the nonmotorized area will become particularly relevant in light of Durango Mountain Resort's planned 1,600 unit expansion. "A lot of those folks will be looking to do more than ski," he said. "It's not unusual in the West to have more people coming in and trying to use a shrinking area."
Speegle noted that for the most part, the closure has been observed. "Generally, people respect it," he said. "We've been keeping an eye on things, and there have not been too many intrusions. We feel like we're going to have more presence in terms of monitoring in the future."
In the near future, the Forest Service and BLM also are planning on completing other prescriptions in the plan, specifically building two additional parking lots. One lot will be built at Little Molas Lake to expand options for snowmobilers and another skier-oriented lot will be built at Andrews Lake, according to Speegle.
Jim Lokey, the vice-president of the Silverton Snowmobile Club and the man responsible for grooming the Molas Pass trails, agreed that relations between user groups have been smooth.
"It's working fantastically," Lokey said. "We've got a lot of happy people up here."
Lokey also runs a commercial operation at Big Molas Lake and says users, including snowmobilers, skiers, dog mushers and ice fishermen, are being respectful of one another.
"I'm there every day, and I have yet to see anyone go into the closure area," he said. "If there's any complaint, I'd sure like to know about it."
Mark Pearson, executive director of the San Juan Citizens Alliance, went up and skied at Andrews Lake on Monday. He said the closure has made for a greatly improved ski experience. "It's a noticeable improvement from past years," Pearson said. "The track around the highway and the lake is not all frozen snowmobile track, and the area south of Andrews Lake is free of snowmobiles. It's really created a nice sanctuary for people who don't want to be around the noise and smell of snowmobiles."
However, a lawsuit initiated by the Silverton Snowmobile Club and being carried out by the Colorado Off-Highway Vehicle Coalition (COHVCO) is working its way through the courts. The suit challenging the management plan and specifically the 200-acre nonmotorized area was filed in February of last year. In a written statement, D. Andrew Wight, COHVCO staff attorney commented, "A couple of bad snow years in the late 1990s caused an influx of nonmotorized users into Molas Pass from lower elevation areas with no snow. A single letter to the editor of the Durango Herald from an out-of-state visitor, complaining about snowmobiles, set the ball in motion, and the federal agencies set about to shut us out of Molas Pass."
Pearson noted that the San Juan Citizens' Alliance has intervened in the case.
"We're essentially supporting the Forest Service decision to make these minor modifications and point out that they could have gone much further and put the whole area east of the road off-limits to snowmobiles," he said.
Wight made it clear that COHVCO is not pleased with the San Juan Citizens Alliance's intervention, and wrote, "These groups would like to see the motorized community shut out entirely from the public lands, so any time the government restricts us, for whatever half-baked reason, the 'environmental' organizations rise up to defend the government (it's a little ironic, don't you think?)."
The case has been assigned to Robert E. Blackburn on the federal bench.
However, as local users await the outcome of the slow-moving case, terms appear to be friendly up at Molas Pass. "The lawsuit hasn't been resolved, but I think the Silverton Snowmobile Club is working well with us," said Speegle.
Lokey added, "Probably the biggest problem is that we need snow."