Almost free in T-ride, Fishbone and return of the rasta hat
by Mike Sheahan
Welcome to "The Goods," the weekly entertainment supplement that recently saw a bumper sticker that read "live simply so that others may simply live" on the back of a giant SUV." The Goods" thinks it would be best if the people who drove those suburban assault vehicles would be forced to have bumper stickers that say things like "Live large while you can" or "My tank runs on two reserves – Alaska and the next one." I really am tired of consumer duplicity. But once again I digress, "The Goods'" job here is to provide you with pleasant diversions,not bum you out with tales of some egomaniac's conspicuous consumption.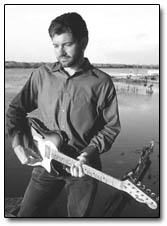 This week's action begins tonight at Storyville with a show by Louisiana bluesman Tab Benoit. Benoit plays an intense, high-energy brand of blues that aficionado John Leonard says is more than a "must see."It's really that good. Don't let anyone tell you not to see the man who's had songs featured on "Melrose Place," "Party of Five" and"Baywatch Nights."
Saturday provides a cornucopia of opportunities for the music lover regardless of taste, age or willingness to drive. If you will be in Telluride to ski on Saturday, look for Celtic rockers Seven Nations performing for free at Gorrono Ranch on the mountain. You must ski to get to this show, so I guess I spoke too soon when I said it was free. True there is no cover for the music, but it'll cost you plenty to get to it. The band begins at 1 p.m.
Every now and then the Millwood Junction, in Mancos, will offer an evening worth the drive.Saturday night local musicians Gary Cook, John Moore, and Matt Palmer will serve up a night of old-time guitar and fiddle music. All are terrific players (Cook is a two-time national flat-picking champion), so expect above-par playing with a dose of countrified cornpone thrown in. Heck, there even may be some cowboy poetry.The show starts at 7:30 p.m. and is the perfect antidote for the electric madness happening in Durango the same night.
Which brings us to Durango's Summit (the corner of College and Main) where California funk/punk/ska legends Fishbone will be busting out the jam funk old

school.I first came across Fishbone sometime around 1985 when the Red Hot Chili Peppers exposed the rest of the world to the California punk/funk scene.I soon outgrew the scene, but for a short period of time I loved that music.Fishbone has kept the dream alive for almost 20 years. Touring behind what is only their eighth release, they show no signs of slowing down.For a lot of reasons, this is probably the don't-miss show of the week. For me, I may get a chance to relive that month when I loved So-Cal funk before returning to Midwest and East Coast punk.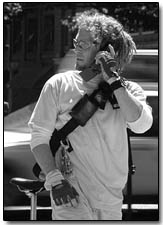 Those not old enough or without the inclination to go to a bar for Saturday night fun can enjoy punk rock at the Shred Shed provided by native American punk band Blackfire, California street punk (whatever that means) band Uzi Suicide and local band the Bushwhackers.The whole affair will only run you a couple bucks and is an all-ages show.Remember kids, don't talk to the old guy, even if he swears he's not a narc, there's probably a rasta hat in his pocket.
This Week's Sign the End is Near: I think actual monkeys are in charge of cable TV in these parts. Last night, like every Monday night at 10:30, I switched my tele to CBS to enjoy a new episode of Letterman. I was especially excited as swami-pop psychologist Dr. Phil, a guy Dave's been making fun of for months, was scheduled to appear.What I found was Letterman had been pre-empted for a replay of a University of New Mexico/Colorado State basketball game.A FREAKIN' REPLAY!! After laughing for about 10 minutes over the fact that some clown thought this to be more compelling programming than a nationally syndicated talk show that has been on the air for almost 20 years, I switched to ESPN and within 90 seconds had the final score of the game. Also, the CBS feed from Denver is blacked out at that time of night, making it impossible to see Letterman at all. OK, I realize this is not really the end of the world, but man I was steamed.
This Week's Musician of Note: John Langford is about as prolific a musician as there is. An original member of the art punk group The Mekons, Langford also is a founding member of alt-country stalwarts the Waco Brothers and the driving force behind an ever-revolving tour de singers called the Pine Valley Cosmonauts. His most recent effort is a collaboration with the Canadian surfi-politans the Sadies."Mayors of The Moon" is a great record. Langford and company somehow combine all they did before this into a great record. Also see Waco Brothers "Do you Think About Me?' The Mekons' "Cowboy in Flames." The Sadies: "Tremendous Efforts."
Tell me some more. mpsheahan@yahoo.com