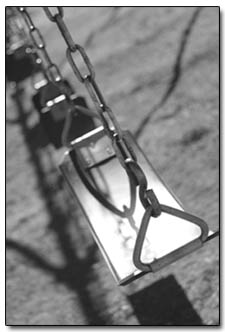 Emptyseats: A lonely swing set sits unused Monday afternoon./Photo by Todd Newcomer.
River Trails starts planning process
Eight hundred new units have been proposed for the property formerly known as the Kroeger Ranch. Developers Bob Wolff and John Wessman have filed an application for River Trails Ranch, a development on 242 acres in the Animas Valley, and a first city Planning Commission meeting is set for Feb. 20.
"It's just about ready to start the process," said City Planner Greg Hoch.
Seizing on the New Urbanism approach, the plan for River Trails Ranch calls for 800 housing units of various types immediately north of Durango off County Road 250. The development plan also contains space for businesses, schools, parks and an open space dedication in the Animas River floodplain.
Wolff and Wessman have retained Berkeley, Calif.'s, Calthorpe Associates, considered pioneers in the New Urbanism movement for co-founding the Congress of New Urbanism.
"It's really a whole different approach to growth and development for our county," said Wolff of the effort to replicate a cityscape and reduce sprawl.
Last year, La Plata County approved a plan for 67 units on large parcels for the 242 acres. However, when Wolff and Wessman approached the City of Durango for water and sewer, they were told that 67 units did not square with the city's comprehensive plan, which calls for 600 to 800 units in that area.
"We're proposing 800 units which is what the city has asked us to do," said Wolff.
Hoch said that the city will also be asking Wolff and Wessman to make affordable housing a component of River Trails Ranch. "He waiting to see what our city position is on inclusionary (affordable) housing before he commits," he said. "He knows it has to be a component of his development plan."
At the first Planning Commission hearing on River Trails Ranch on Feb. 20, Peter Calthorpe will be on hand to explain the project. Hoch estimated that review of River Trails Ranch will be complete in six to nine months.

Iron Horse Rally appeals to Aztec
Last week, the city of Aztec was approached by the Iron Horse Motorcycle Rally to host a motorcycle rally on Labor Day weekend. Last year, the Iron Horse group was unable to host an official rally in Ignacio, and a new group, the Four Corners Rally in the Rockies, has successfully brokered a deal with the Southern Ute Indian Tribe to host an event in Ignacio this Labor Day Weekend.
Plans for a scaled-down version of past Iron Horse rallies were presented to the Aztec City Commission last Thursday. No decision on hosting the event has been made. Aztec City Manager David Velasquez said that city is proceeding "with caution."
He commented, "We're moving on it very slowly."
While Aztec is cautious about the proposal, Velasquez said there is enthusiasm for the event, particularly from a business perspective. However, the northern New Mexico city is not jumping right into a contract.
"We're taking it really slow and looking at all the angles," Velasquez said. "We want to make sure that if it happens, it's a win-win situation."

Tribe continues energy quest
The Southern Ute Indian Tribe continued its acquisition of energy interests with its largest purchase ever. On Feb. 3, the tribe's Growth Fund bought the Honolulu-based Kukui Inc., an energy exploration and production company, for $123.4 million. The company has been renamed Animas Energy LLC and is a new subsidiary of Red Willow Production Co., the tribe's primary energy company.
Bob Zahradnik, the Growth Fund's director of operations, said: "The tribe formed Red Willow in 1992 to go and buy back energy interests on the reservation. In 2000, the directive changed to look for properties everywhere. Now we've got interests from Central Alberta to East Texas."
Red Willow has been making numerous acquisitions lately. Most recently, the company acquired 142 gas wells on the reservation for $26 million.
"We've had four major closings since Nov. 1," said Zahradnik. "It's been a busy few months."
Red Willow is the most profitable arm of the tribe's Growth Fund.
"It's been extremely profitable," said Zahradnik. "Red Willow's rate of return has been around 44 percent."
Bighorn release set for Cascade
On Feb. 13, the Colorado Division of Wildlife will release between five and 10 male bighorn sheep north of Cascade Canyon with the help of the Durango & Silverton Narrow Gauge Railroad. In Jan. 2001, the D&SNGR was instrumental in delivering 27 bighorns to the wilderness area north of Cascade.
The re-establishment effort has been successful, and now the DOW plans for a supplemental release Feb. 13. "We plan to transplant five to 10 selected rams to the area where the original sheep were released," said Drayton Harrison, Durango District Wildlife Manager.
The bighorns will be relocated from the same Georgetown, Colo., herd where the original 27 sheep were transferred.
The D&SNGR will transport the sheep in a boxcar pulled behind the train's diesel locomotive. The train will leave the station at 9 a.m. Thursday, Feb. 13, picking up the boxcar loaded with sheep at Rockwood Station, 18 miles north of Durango.

College completes Fieldhouse remodel
In an effort to make it a safer, more modern facility, $4 million in improvements were recently completed to the 32-year-old Fort Lewis College Fieldhouse. Among the improvements are a renovated roof, a refinished floor, brighter lighting, a new heating and air-conditioning system, and an upgraded lobby and concession area.
The state approved funding for the improvements last spring, but the project was frozen with other state capital construction projects for weeks. Because of the importance of making the facility safer, the Legislature allowed the development to continue.
Vice President for Business and Finance Steve Schwartz said the state saw a critical need to repair the roof because the snow-load capacity was not sufficient. "Because it was a health-life-safety issue, the state determined a need for continuance of the project," Schwartz said.
The newest round of renovations marks the third significant change to the facility that first opened its doors in 1971. The Athletic Department held a grand opening and ribbon-cutting last week.
-compiled by Will Sands