Anthony B., sweethearts and monsters
by Mike Sheahan
Have no fear Durango, the crack team at The Goods has once again sifted through its seemingly endless list of entertaining diversions and distilled it to a simple few. That is, for those of you not leaving town for Las Vegas to begin a mini tour with the twirl-band Phish. I know my attempts to change your minds about going will go unheeded, so have fun. Just remember though, the old guy in the rasta hat is probably a narc.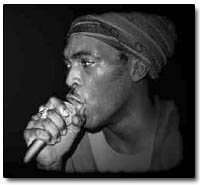 Back in D-town, there is reggae music at Storyville tonight, Feb. 13 with Jamaican musician Anthony B. Mr. B is well known in reggae circles and should deliver an authentic good time. At this show, the old guy in the rasta hat is probably not a narc. The show starts at 9:30 p.m., and tickets are cheaper if you don't buy them at the door.
This Friday is Valentine's Day, of course, and thanks to the folks at American Greetings and Hallmark, men everywhere will find themselves scrambling around at the last minute trying to better last year's feeble attempt at romance. Even though I know that this is a holiday perpetuated by the greeting card companies, I finally know better than to try to convince my significant other of this. I will never win, and now I realize these holidays are cumulative. Meaning if you tanked last year then this year must be doubly good. This year I probably should rent a helicopter or something. Those not in as much hot water as I am might want to check out the Valentine's Dance at the Durango Arts Center. The cover gets a couple access to a cash bar, hors d'oeuvres and music by locals Hues of Blues. The romantic fun lasts 7 p.m. to midnight.
Just up the road at Haggards Black Dog Tavern, Sand Sheff and the Bony Ponies will host their own special Valentine's Day show. Billed as the "Love is in the Air" show, this promises to be a fun time for those who like their holiday romance countrified. I wonder if I can get my helicopter to land there for a little bit.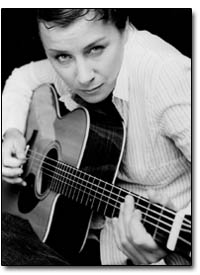 Sunday night gives us a more somber reason to go out. Folkie Melissa Ferrick, touring behind her latest release "Listen Hard," brings her show to the Diamond Circle Theatre on Feb. 16. Originally hailing from New England, Ferrick slugged it out for years in Boston coffeehouses until going national a few years ago. Now receiving plenty of attention, her songs are serious, personal and socially relevant. The real reason to go, however, is the night is a benefit for Durango's own Michelle Morey who, sadly, is battling cancer and seeking alternative treatments that don't come cheap. Ever since moving to Durango, I've been amazed by the willingness of the people of this town to pull together in order to support someone who needs it. I truly hope this is one of those times. The show starts at 7:30 p.m.
By now most of you are familiar with the weekly music event called "Downtown Live," but for those of you who aren't, here's how it works. A local musician or group plays a one-hour set at one of the local music venues, and the performance is simulcast on The Point (99.7) and video taped to be re-broadcast on Channel 61 in the following weeks. The result is great exposure for the musicians and the venue that hosts them. This Wednesday, Feb. 19, local upstarts Freewill Recovery will perform for "Downtown Live" from 8 to 9 pm at The Summit. At 10 p.m. the band will retake the stage with "multiple special guests" to play the night out.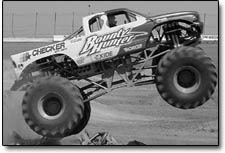 If you're reading this and thinking "well, dang, this column is nothin' but a bunch of high falutin' hooey," then I've got just the thing for you. Gas up the Camaro and wax down the mullet, it's time for a trip to Albuquerque for a monster truck rally!!! That's right: Tingley Coliseum at the New Mexico fairgrounds is hosting three full days (Feb. 14, 15, 16) of really big trucks driving over the top of other not-so-big trucks and cars. If that alone isn't worth the price of three days' admission, there also will be this big robotic monster (I think it's called Carnosaurous) that picks the cars up off the ground, breathes fire on them and then smashes them. Ooh doggy, I can feel my brain's frontal lobe shrinking just writing about it.
This Week's Sign the End is Near: Every time I hear about some washed-up rock band on tour I think about that scene in "This is Spinal Tap" where the band members, in the midst of a big comeback tour, hear a radio DJ refer to them as in the "where-are-they-now file." It's really funny but also really pathetic. Of course, real life is always more pathetic than the movies could ever be, and the current Whitesnake, Scorpions and Dokken (yes, the Dokken) touring cemetery is playing rooms as large as Tingley Coliseum and the Pepsi Center.
This Week's Album Worth the Price of Admission: The Shiners' most recent release "See Rock City" finds the band turning up the volume and the tempo from last year's "Bonnie Blue." The Shiners are a Virginia-based roots-rock six piece, with the husband and wife team of Wes and Jyl Freed at its core. The mountain music influence is apparent – fiddles and banjo run throughout the record – but the songs are delivered at such a tempo and with rock drumming styles that make this far from a hillbilly record. Anyone familiar with the southern rock of the Drive by Truckers has some idea of what I mean. "See Rock City" is a healthy dose of mountain music that was raised square in the city. Find out more about The Shiners at www.planetaryrecords.com

What's happening? mpsheahan@yahoo.com