'Monologues' return to Durango
Plays aim to raise awareness, money to fight violence against women
written by Jen Reeder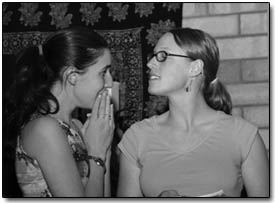 Katie Brost, left, and Krista Malek, right, practice a scene for Fort Lewis College's upcoming performance of the 'Vagina Monologues.'/Photo by Todd Newcomer.
"If your vagina could talk, what would it say, in two words?"
"Slow down...Feed me...Yum, yum...Think again...Stay home...Let's play...Don't stop...Come inside...Not yet... Rock me ...Bonjour... Where's Brian?"
—The Vagina Monologues
The sight of women reading these words onstage this week can mean only one thing: "The Vagina Monologues" have returned to Durango. Like last year, there will be two productions – one community production and one Fort Lewis College production – to celebrate Valentine's Day as part of the "V-Day" movement to end violence against women.
Helen Gregory, director of the community play that will take place at the Smiley Theater, said "The Vagina Monologues" are based on interviews by Eve Ensler, who asked hundreds of women to talk about vaginas. The resulting interviews led to a collection of monologues – some verbatim, some inspired by a combination of women – for a play that "runs the gamut of emotions," Gregory said. The monologues also were compiled into a book of the same name.
Monologues range from humorous ("Let's just start with the word 'vagina.' It sounds like an infection at best, maybe a medical instrument: 'Hurry, Nurse, bring me the vagina.'") to solemn, such as the Native American woman who discusses her experiences with domestic violence. No two productions are alike, as the script allows directors to select which monologues to include. "Vagina Facts" are interspersed throughout the play, and people from the community can give personal testimonials before the plays begin.
"I like to give women the opportunity to empower themselves," said Sam Christenson, an FLC senior and director of the campus production. She said it is important to make it acceptable to talk about the vagina, and that giving it an identity makes it harder for violence to continue to be so prevalent in society. Many of the 22 cast members, only one of whom is a theater student, have become more comfortable with the subject matter, even though before production began some "couldn't say vagina without crossing their legs or blushing," Christenson said.
She said audience members usually relate to at least one monologue, particularly the last one in her play, which is about giving birth.
"There's not one person who can say that this is not an issue that affects them, because we all enter this world through the vagina," Christenson said.
"The Vagina Monologues" debuted in 1998 in New York City, where 2,500 people flocked to see the celebrity cast that included Whoopi Goldberg, Susan Sarandon, Glenn Close, Winona Ryder, Lily Tomlin and Rosie Perez. The production raised more than $100,000 to launch the V-Day movement. In 1999, 70 V-Day events were held throughout the country, and last year that number grew to 800 events that raised more than $7 million for nonprofit organizations dedicated to eradicating violence against women around the globe.
Gregory said it's great to have the play produced locally.
"People think that we're in a small community and that we're immune to the violence that surrounds our country and our world...but we're not," she said.
Because the actors in "The Vagina Monologues" are volunteers, almost all of the money raised by the community production will go to Alternative Horizons, a Durango-based domestic violence advocacy group. Additionally, audience members can take their ticket stubs to Steamworks Brewing after the show for $2 pints, with all the proceeds also going to Alternative Horizons. Last year the production raised close to $5,000 for the organization, Gregory said.
Most of the proceeds from the FLC production will be donated to the Rape Intervention Team, with about 10 percent going to the Feminist Voice, a campus organization that sponsors the college play as well as Domestic Violence Awareness Week at the college, among other activities. Last year, the play raised $3,900 for the Rape Intervention Team and $400 for the Revolutionary Association of the Women of Afghanistan (RAWA), which sought to liberate women from the oppression of the Taliban.
Roseann Kutzleb, executive director of Alternative Horizons, said the V-Day event is a great start to the organization's 25th anniversary. "It's a big fund-raiser for us, which is wonderful in stringent economic times," she said. "What it means to the organization is outreach and education."
She said that Gregory, who has extensive professional theater experience, is "phenomenal" for pulling this event together two years in a row.
"I think it's an unbelievably funny and fun event, and brings awareness to women's issues," she said, adding that the play also is special because it also touches on more serious issues as well.
Members of the Rape Intervention Team had similar praise for the production. "The Rape Intervention Team is extremely thankful and appreciative to the students producing 'The Vagina Monologues,'" said Executive Director Liane Jollon. "Not only are we happy to be the beneficiary, we're also very excited to see this powerful play in this community. Even if we weren't getting the donation, we'd be really excited for them."
FLC director Christenson said the Rape Intervention Team is particularly close to her heart, as a volunteer on the group's hotline and a survivor of a sexual assault.
"We aren't getting any (school) credit for this or monetary reimbursement – we just think it's important," she said.
But despite good intentions, the two directors faced some misconceptions and challenges when bringing a play with "Vagina" in its title to Durango for the first time last year. Gregory said that a skeptical woman asked her, "Do they show body parts?" and that a male protester blew an air horn in the first moments of last year's production until audience members forcibly escorted him out of the theater. Christenson has faced challenges in promoting the event, such as not being allowed to hang posters in dorms because of breasts on the posters, and was told "by the powers that be" that it was unacceptable to have a person in a vagina costume walk around campus.
Still, the plays should appeal to most adults.
"You don't have to all of the sudden stop shaving if you come see it," Christenson said with a laugh. "This is not some sort of feminist manifesto – it's great entertainment."
Gregory said that men should not be afraid to attend, either.
"People think it's an evening of male bashing but it's not," Gregory said. "It's a celebration of women."