---
Dear Diver,
My wife and I are expecting our first child this spring (a boy). Since our first names both start with the letter E, she wants to give the baby an "E" name. She was suggesting things like Eli and Emmett and Eldon. Trying to lighten things up, I said "What about E-Bot 2003?" She didn't think that was funny and said she didn't want to talk about it anymore. It's been two weeks now. I'm starting to worry that she might just stick my kid with the name Ebenezer or something like that. Any advice?
– Please don't print my name
Dear Nameless,
The first thing that came to my mind was what else? Name the kid "Elvis." But that might be a little controversial, so then I thought what about just "E." It's simple and easy to spell. It would stand out, like the names Cher or Madonna. However, Ebenezer would be better than Eeyore.
– Word to your mother,
The Diver
---
Dear Diver,
I am a well-educated, witty and wealthy woman. Why can't I get a date in this town? Men avoid me like the plague. I'm told it's because I'm beautiful. That's twisted. Why are men in this town so full of fear? I've gone to some parties where I literally stand by myself for hours unless I do the approaching. Wake these men up! Smell the roses!!!
– Sincerely,
Beautiful but not a Bitch
Well Beautiful,
You need to stop playing around with these boys and step up to a real man. You need to step up to a Diver. Come on, the Diver needs a date.
– Sexily yours,
Diver

---
Dear Diver,
I'm a 17-year-old turning 18 next month. My dad is bugging me about voter registration and wants me to register as a Republican. Problem is, he is way more conservative than I'll ever be. How can I say I just want to support people like Ralph Nader and not George W?
– Roger,
Durango
Dear Roger,
Just tell your dad that you're a tree-thumping, tofu-eating, natty dreadlock-sporting, VW Bus-driving, Birkenstock-wearing, patchouli oil-stinking, granola-eating, Phish-loving, ganja-smoking, cheeba-monkey, wacked-ass, Dark Side-of-the-Moon loving hippie! And you'll vote for the Green Party if you damn well feel like it.
– Peace, love and hemp,
Diver
Diver: Nick Phoenix Wilson from Joey's Italian Cafe
Facts: Rumored to be the top Diver at DMR. "You won't find a diver north of town that can top me," he was heard muttering over a plate of calamari.
* Disclaimer: The Telegraph does not endorse any advice dispensed by its divers. Follow at your own risk.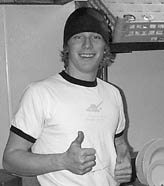 Got a dirty little secret?
Looking for guidance to remedy a sticky situation?
Seek help from the master of the kitchen! The Dish Diver has solutions to life's little messes. Send your problems to "Ask the Diver." - By mail to Durango Telegraph - Attn Diver -534 Main Ave., Durango, CO 81301; by email at telegraph@durangotelegraph.com, or by fax at 259-0448.
---

Dear Diver,
I need to ask this girl to prom, and I want to do it now before someone else does, even though it's months away. What can I do to sweep her off her feet? I'm nervous as hell.
– Thanks,
Bill
Bill,
You should get a ski mask and some duct tape and kidnap her. Once she spends time with you she's "bound" to fall for you. It's like Superman and Lois Lane, only with kidnapping.
– Your faithful love doctor,
The Diver
P.S.: Remember to be sneaky.
---
Dear Diver,
Why doesn't it snow anymore?
– Jordan,
Hermosa
P.S. Summer is going to suck again, isn't it?
Jordan,
I've got three words for your snow queries, George W. Bush. Yes, summer will suck.
– Yours truly,
The Diver