The rise and fall of the ski town
written by Allen Best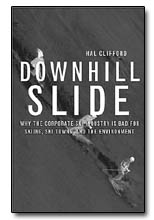 From today's perspective, the golden age of skiing and ski towns occurred in the 1960s, 1970s and even the early 1980s. Ski areas grew robustly, cashing in on outdoor athleticism and pristine mountain intimacy.
But by the mid-1980s, ski towns were sprawling into lifestyle valleys. Real estate edged ahead of skiing as the dominant economic driver. Chalets were razed to make way for mansions. Immigrant laborers arrived to toil. The gap between rich and poor widened. And ski areas resorted to robbing one another of skiers. There was growth but not particularly on the slopes.
Finally, late in the 1990s, Wall Street got involved. The industry consolidated, led by three new publicly traded companies. These companies brought new skill to the sport of making money, with slopeside real estate being the easiest. Meanwhile, down along the highways, franchises started crowding the highways with big box stores, burger joints and designer coffees.
In Downhill Slide, Hal Clifford dives into these changes and finds a bad guy, as identified in the book's subtitle: "Why the Corporate Ski Industry is Bad for Skiing, Ski Towns and the Environment."
Skiing, he says, has been transformed into a "come-hither amenity" to sell real estate. Agents of this change, he says, are the "Big Three" – Vail Resorts, Intrawest and the American Skiing Co. In Colorado, Vail Resorts has Vail, Beaver Creek, Breckenridge and Keystone; Intrawest has Copper Mountain, operates Winter Park and is building projects at Snowmass and Keystone. The American Skiing Co. has Steamboat.
Clifford argues that ski resorts are losing what made them special in the first place, thus becoming "more like the rest of America." Is this, he asks, the ordering of the world for ski towns?
Regardless of whether you accept this question or its premise, Clifford has done an often-wonderful job of analyzing ski industry economics and history. He argues that skiing started down the wrong road with Vail, which opened in 1962 and made skiing essentially an amenity to real estate. That idea, copied later at Snowmass, has since become the model for ski area development, he says.
Downhill Slide is well written and at times fascinating, such as when it explains how Intrawest has taken the "village" concept to a new level. Even the chocolatier at Copper Mountain works in a window positioned to be seen by pedestrians as they round the corner. Nothing is left to doubt. Disney, long feared in mountain towns, seems to have arrived wearing the name of Intrawest.
Clifford also charges that the U.S. Forest Service, which manages most lands used for downhill skiing in the West, often kowtows to the industry and reneges on its responsibilities as an environmental watchdog. His alternative? Have ski communities buy ski-area operations, if necessary condemning them, as was considered in Vail a decade ago. He envisions ski towns as places where artisans, writers and other lone-eagle entrepreneurs can do business, fashioning the ski hill as an amenity or economic force as they see fit. Locals will gain control, he says, instead of being controlled.
In wagging his finger at corporate ski companies, Clifford gives them more blame than deserved. The boom in mountain living is larger than publicly held ski companies or, for that matter, the ski industry. Skiing has to do with second-homes and urbanization. Perhaps an even more telling analysis would be of how transportation shapes the flow of money in the West. He acknowledges that link but does not dwell on it.
At times, Clifford comes up short. He blames Vail Resorts, for example, for fatalities on Highway 24 between Leadville and I-70. More careful research would have revealed that virtually none of the fatalities were commuting workers.
At other times, as when he accuses Vail Resorts of having too much power, his research doesn't support his argument. He doesn't produce a smoking gun so much as just smoke. Although I happen to agree that Vail Resorts has a potentially unhealthy influence on Colorado and other places, I've seen nothing but speculation about improper influence.
Finally, although Clifford denies indulging in nostalgia, I think he veers in that direction to no good end. I detect favoritism for the old towns where miners and ranchers did the dirty work of real estate development. This is a little bit like old money looking down its nose at new money.
Nevertheless, Downhill Slide connects in many ways – both intellectual and emotional. There is a general sense in ski towns that our valleys have become too driven by material things. And that's his point – that the ski valleys have become places of excess, whether it's too many gimmicks on the slopes, too many burger joints along the highway or too many mansions that sit empty. When the mountains are almost incidental to ski town living, as they seem to be in many cases, we're all the poorer for it. n
If you can pardon his excesses in making that point, this is a good start to a long-overdue discussion about how the West wants to develop. To the extent that Downhill Slide helps us look to that future – and not nostalgically at some foggy notion of our youth – it's a valuable book.