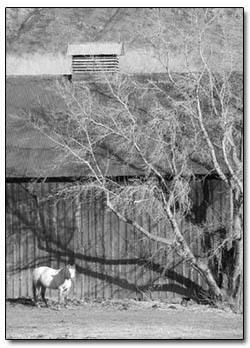 The old gray mare: A horse takes in the sun in a
pasture along CR 203 on Monday./Photo by Todd Newcomer.
Gun-toting student arrested
A Needham Elementary School fifth-grader was arrested last Thursday for bringing a gun to school. The youth was apprehended after a fellow student's parents were informed that the boy was showing off the gun and teachers were notified.
The 11-year-old boy brought the .25 caliber handgun to school Jan. 22 and apparently showed it to three classmates. Word traveled quickly among fellow classmates, and one of them told a parent. Word then got back to Needham Principal Pete Harter that night.
The following morning, Harter interviewed the three students, and the handgun was eventually found in the boy's backpack. A clip containing six rounds also was found in the student's shoe. The school's resource officer Jeremiah Lee, of the Durango Police Department, was called, and he arrested the boy.
Durango Police Capt. Dale Smith said that the student and parent who notified teachers deserve all the credit. "These are the real heroes in the whole story in my opinion," he said.
Smith noted that while police believe that the boy was just showing off, the incident could have been tragic. "The day before all he was doing was showing and telling, but this thing could have had a tragic ending if there had been an accidental shooting," Smith said.
The boy lives with his grandparents, and he was released into their care for home detention. He will remain there pending formal charges. The police determined the gun belongs to the boy's grandfather.

Ex-con ranch draws more concerns
La Plata County commissioners got their first taste of the controversy surrounding a Christian group's plan to relocate ex-convicts to a ranch southeast of Ignacio earlier this week. During an open comment period Monday, a group of Allison residents informed the commissioners that they were concerned about the group's plan.
Christlife Ministries is a recently formed ministry that plans to return ex-offenders and their families to normal places in society. The group hopes to provide this opportunity on the 525-acre Big Elk Meadows ranch between Ignacio and Arboles in southeastern La Plata County. Christlife Ministries has entered negotiations with the ranch's owner to buy the ranch for $5 million, and Christlife Ministries was going to begin leasing the property on Feb. 1 for one year while funds were being raised. There also was a plan to have the first of up to 12 ex-offenders and their families on-site by April 1 of this year.
However, 200 area residents signed a petition opposing the plan, and 10 of them were on hand Monday to let commissioners know that they were worried.
"There was no action requested," said Joanne Spina, county spokeswoman. "It was more of an attempt to make the commissioners aware of the community concerns."
Spina said that the commissioners also informed those present that they have no regulatory authority over the ministry until it submits an application to the Planning Department. "In the absence of having an application to the Planning Department, the county doesn't have a leg to stand on," Spina said.

Monument sees more vandalism
Pothunting, vandalism and illegal off-road-vehicle use are continuing to plague the Canyons of the Ancients National Monument. Over the past two years, at least half a dozen incidents of illegal digging and vandalism of archaeological sites have been investigated, according to a Bureau of Land Management release.
Cultural sites have suffered graffiti scratched into prehistoric masonry walls and adjacent sandstone cliffs; campfires built in masonry rooms and alcove sites; and illegal digging in trash middens, rooms and kivas. Even when the perpetrators are not pothunters, their activities damage sensitive cultural sites.
Vandals also have been using monument signs for target practice. Multiple shotgun blasts at close range recently mangled a new sign near Sand Canyon Pueblo. Nearby signs at Burro Point and the register box and bulletin board at the Sand Canyon Pueblo Trailhead also have been damaged. In addition, BLM officials recently discovered extensive damage of natural resources in Risley Canyon from illegal off-road-vehicle activity. Multiple tire tracks were found leaving a main road and climbing up a fragile wash bed. Large portions of juniper trees were cut off to clear a path, rocks were smeared with rubber marks from spinning vehicle tires, and tire tracks were cut through wash banks.
"These acts of vandalism show disrespect for Native Americans whose ancestors lived here and to everyone who values these irreplaceable natural and cultural resources," said LouAnn Jacobson, monument manager.
Canyons of the Ancients is a recently designated national monument located west of Cortez. It contains the highest density of Ancestral Puebloan (Anasazi) artifacts in the country. People noticing suspicious or illegal behavior in the monument are encouraged to contact the Anasazi Heritage Center at 882-4811.

Mercy turns down smallpox vaccine
Citing risks that outweighed benefits, Mercy Medical Center has decided to not vaccinate personnel for smallpox.
In the first wave of U.S. smallpox vaccinations, health-care providers are being given the option of receiving the vaccine so they could respond in the event of a terrorism attack. However, the vaccine carries potentially severe side effects, and vaccinated people can also be contagious for a couple weeks following. Dr. Chuck Salka, infectious-disease specialist at Mercy Medical Center, said that the dangers of a local attack are too remote to warrant accepting such risks. In particular, the local hospital had reservations based on the chance of spreading smallpox to patients.
"We've weighed the potential risks versus the benefits," he said.
He added that Mercy may decide to vaccinate before that time based on the national experience. He also noted that the next planned phase will be vaccination of all health-care providers.
"It was a difficult decision and one we could change in the future based on the national experience," he said.
A small group of employees at the San Juan Basin Health Department will receive the shot since the agency will be responsible for dealing with any local smallpox outbreak. A small group of Health Department employees have volunteered to receive the vaccine, according to Salka. The vaccine will be administered Feb. 11. The second phase of the national plan is to vaccinate all hospital workers and first-responder personnel. The third phase is to offer the vaccine to the general public.