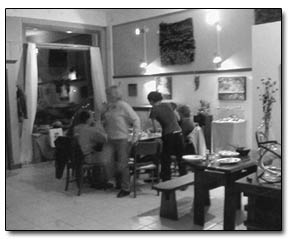 A typical scene inside Mancos' La Boheme. The gallery/wine room/cafe is owned by Nick Keefer and Daniela Marinache, former San Franciscans who opened the restaurant as a way to showcase the work of local artists as well as to provide a gathering place for creative types./Courtesy photo.
On a recent Friday evening I stepped into La Boheme, Mancos' new art gallery/wine room/cafE9. My senses were greeted by soft jazz and tantalizing smells. Vibrant paintings in acrylics and oils, clay prints, textiles, and found-object art hung on white walls. Nooks were filled with stone sculpture, cases of contemporary silver and gold jewelry, shelves of pottery, glasswork, gourds – all by local artists.
Sitting at a handmade wooden table, owners Nick Keefer and Daniela Marinache explained their vision for La Boheme (meaning follower of the arts and literature), saying "We wanted to provide a gathering place for artists and creative people to not only show their work but also to talk about the arts and about literary interests and to stimulate new ideas, foster contemporary art and serve gourmet food." Besides exhibiting works of local artists, they plan to host poetry readings, performance artists and musicians, and will be showing films one night per week.
La Boheme is a new venture and adventure for the couple. Last summer they said goodbye to city life in San Francisco. The city's fast pace and expensive lifestyle distracted them from their art, sending them on a road trip that eventually landed them in Mancos. Marinache, who is originally from Romania, said they settled on the small town between Durango and Cortez because it was "beautiful, close to nature, healthy, real."
"Mancos has a relaxed atmosphere, and we met friendly, open people," she said.
Of La Boheme's beginnings, Keefer added, "We rented an apartment with a retail space in front and then explored how to use our talents to make a living with the space."
Eventually, their love of the arts and cooking evolved into the idea for a gallery/wine room/cafE9.
A versatile artist and chef, Keefer said that he dabbles in all kinds of art. Included in the work on display in the gallery is his large acrylic on canvas, "Matapos Dawn." The painting depicts solemn Nigerian masks, which resemble heads or monoliths from an ancient culture and seem to rise or sink in a rocky blue landscape. Distant bats flutter up in a desolate yellow sky and accentuate the feeling of antiquity, reminiscent, he said, of the actual place in Zimbabwe.
Another work by Keefer is a stone sculpture called "The Offering" – alabaster streaked with light reds and greens, about 20 inches tall and mounted on a green stand. It is the bare figure of a man kneeling with his head bowed. He is lean, and his stone shoulders round forward making his chest concave, almost hollowed out, as he holds forth a warm, red human heart in the palms of his extended hands.
Marinache, an art major and student of literature, said Keefer's love of cooking is "another part of his artistic side; he rarely uses cookbooks." Keefer elaborated that he grew up cooking for himself and eventually realized he "could make better food than he could buy in a restaurant." Marinache, who said she finds cooking not only a creative outlet, but relaxing and therapeutic, specializes in soups and salads. She is intent on using fresh, seasonal foods and making dishes from locally grown food. She also serves wine from a local vineyard, Sutcliffe winery, in McElmo Canyon, and said she is eager to get acquainted with other organic growers in the area.
On this Friday night, Mancos residents and couples from Cortez fill the cafE9. Several young women cozy onto a couch and on rockers around a coffee table in the corner, browsing through books and conversing over wine and imported cheeses, meats, homemade breads and salad.
One diner, Jay Fann, a wood carver and custom door maker who recently moved to Mancos from Santa Fe, said La Boheme's offerings are notable given the size of the town. "The venue they have here at La Boheme is as interesting and entertaining as anything I'm familiar with in Santa Fe or this area," she said. "Plus there's truly gourmet food."
La Boheme is located at 128 Grand Ave. in Mancos and is open every day except Tuesdays; 533-9837. Local artists interested in showing their work at La Boheme can call for an appointment.