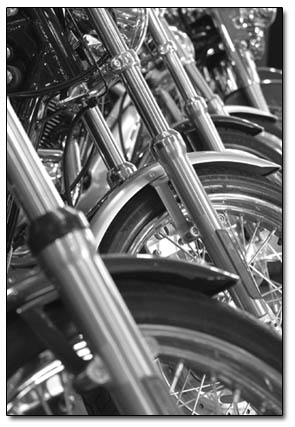 Efforts are underway to make sure that up to 20,000 Harley Davidsons rumble smoothly through Durango and the Four Corners this Labor Day weekend. Organizers of the Four Corners Rally in the Rockies say they are working closely with area law enforcement to alleviate concerns and create a community-friendly motorcycle rally.
U.S. Sen. Ben Nighthorse Campbell, R-Colo., founded the Iron Horse Rally 10 years ago as a way to share the region's motorcycle riding with riders from around the nation. Hosted by the Southern Ute Tribe, it has attracted as many as 25,000 participants a year to Ignacio and the Four Corners area. However, greater participation has also meant greater liability, and the merits of the perennial "Best Chest" wet T-shirt contest, biker bull riding and regional riding were outweighed by nine accidental deaths in 2000 and 2001. Consequently, last year the tribe decided to increase the rate charged the rally from $40,000 and a $20,000 deposit to $150,000 and two $20,000 deposits. The higher price sent rally organizers scrambling for another location and specifically into a real estate search for a permanent home for the beleaguered Iron Horse. An attempted land purchase north of Ignacio failed to materialize, and requests for the city of Durango, Durango Mountain Resort and the Town of Silverton to host the rally also fell short. However, the bikers rolled into the area anyway last year, and Durango, in particular, was packed with chrome for Labor Day Weekend. Estimates of the numbers of visiting bikers ranged wildly between 5,000 and 10,000.
Not long after this unofficial rally, a new group announced in mid-November that it would take up the rally's reins, renaming the event the Four Corners Rally in the Rockies. With an emphasis on running a "professional event," the group reached an agreement with the Southern Ute Indian Tribe to lease the Sky Ute Event Center for Aug.28-Sept. 1 of this year.
Cleaning it up
Dan Bradshaw, of Farmington, and Creig Wallace, of Aztec, have budgeted a hefty $1 million for the Rally in the Rockies and hope to attract more than 20,000 motorcyclists to a larger, polished rally, featuring top entertainment.
"We want to really clean it up," said Bradshaw in November. "Most of these people who ride motorcycles are making above $75,000 in income and are over age 30. Those are the kind of people we really want to put on a rally for."
In recent weeks, Bradshaw and Wallace have been laying groundwork for this year's event, and they have been working specifically with local law enforcement. Contrary to some reports, Bradshaw said that the La Plata County Sheriff's Office and Durango Police Department have been extremely helpful.
"These law enforcement people are really nice folks," he said. "They are really bending over backwards to work with us."
Durango Police Capt. Gary McKnight concurred, saying, "We're working with them and they seem receptive to our suggestions. They're telling us they're working to make this a good event."
Sheriff Duke Schirard added, "At this point, it's going pretty well. We've had some positive meetings."
What is a patch club anyway?
For the most part, the meetings have been largely logistical, dealing with issues like the amount of overtime officers will have to work and the number of badges that will be on the street at any given time. Schirard said that there also has been some inconclusive discussion of motorcycle gangs.
"It's definitely a concern, but I cannot prohibit anyone from coming," said Schirard. "Hopefully, if they come, they'll come and behave themselves."
Bradshaw noted that there has been some unfortunate press coverage saying that rally organizers had invited "patch clubs" to the event and likened these clubs to motorcycle gangs. Bradshaw is quick to dispel misconceptions, saying, "Everyone who wears a patch is not a member of a gang. When you say patch clubs that includes the Christian Motorcycle Association. That includes the Blue Knights, who are police officers and motorcycle riders."
Bradshaw continued, "When you brand people by their patch, you hit a serious nerve. You're talking about tens of thousands of people who are hard workers and good citizens. Everybody's welcome. We can't discriminate against the color of their skin or the color of their patch."
Gearing up
Nonetheless, Bradshaw said that rally organizers and law enforcement will be prepared to deal with problems if they arise. "(Law enforcement) worries about the community," he said. "That's their job, and we admire them for doing their job. If any one situation comes up, we're all prepared to defuse it."
However, he noted that the rally has not been a significantly high weekend for crime. "In nine years of the rally being here, there's been not one significant thing that's happened involving law enforcement," he said. "We prevent problems before they arise."
This prevention has made for the Durango Police Department's busiest weekend of the year, nudging out this weekend's Snowdown for top honors.
"This is probably the largest special event we have to handle throughout the year," said McKnight.
Durango police are expecting the Rally in the Rockies to be on par with past Iron Horse rallies. "I think we'll look real similar in terms of activity levels and the number of officers we'll use," McKnight said. "I don't see much change for how we'll gear up for that weekend."
McKnight had been concerned about plans to host a bike and car show and the moving Vietnam Memorial at the La Plata County Fairgrounds. A La Plata County commissioners' discussion on the request was delayed Monday. However, McKnight said that Bradshaw and Wallace have addressed his concerns.
Fun for the entire family?
Schirard, who has been openly critical of past rallies, said he sees one crucial difference with the new rally. Rally in the Rockies is a for-profit organization versus the nonprofit Iron Horse, a difference Schirard said he appreciates.
"I think they would like to see this rally occur, be successful and continue to grow," he said. "Hopefully we can use that motivation to make this more of an acceptable event the community will allow to continue year after year."
He also added that he hopes to see the rally grow in a positive direction in terms of the types of events offered. "Hopefully, they will see that a more family-oriented event will continue to perpetuate itself versus some of the things that have happened in the past," he said.
As for this year's events, Rally in the Rockies is currently listing such things as poker runs, biker bull riding, a tough man and woman contest, parade, bike shows, beer tents and more.
As for the big-name concerts, only one band has been signed so far – Billy Gordon and the Blue Rockers, a band that plays biker classic rock and blues and includes an on-stage motorcycle that is run as an instrument through an amplifier. Bradshaw said the remaining concerts will be announced as contracts are signed.
"I'm not going to release the others until we get final contracts," he said in closing. "But we will have four nights of top-name concerts."
The discussion of the use of the La Plata County Fairgrounds will appear on a future county commissioners agenda. The date has not been set.