Bringing music to the masses
Channel 61's 'Downtown Live' showcases local musical talent
written by Bryant Ligget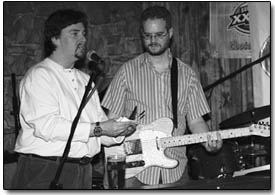 Brett Steven, program director for the Point and 'Durango Live' emcee, introduces Erik Jones and band, the Lawn Chair Kings./Photo by Todd Newcomer.
Durango channel surfers who rarely bother venturing past Channel 60 for fear of obnoxious static, test patterns or the unfriendly stare of a blue screen, now have a reason to keep on clicking. Channel 61 has put a local face on the list of cable offerings, including Durango's newest entertainment show, "Downtown Live." The show features local musical performances, taped weekly at a local bar, interspersed with snippets from everyday Durango life, as experienced by a cast of local characters.
"Downtown Live," which hit the airwaves about a month ago, was the brainchild of Jim Attebery, a former AT&T employee, organizer of the Durango Songwriter's Expo and a familiar face on the local cable-access scene. He says he created the show as a way to support the sometimes-struggling local music scene and spread awareness of the community's musical talent.
"I had a fairly good sense of what was going on, and it's cool to have an artistic thing," said Attebery, who says he has worked with songwriters from Los Angeles to New York. "With respect to Durango, 'Downtown Live' is a cool way to do it."
Attebery joined forces with local radio station 99.7 The Point, which simulcasts the live weekly music performances. He said his dream was to create a program that would have a strong local presence while combining local TV and radio.
Brett Stevens, Point program director and emcee for the weekly "Downtown Live" musical performances, said the show is an attempt to draw bigger crowds to local venues, thus supporting the local music scene.
"Supporting arts in a town like this is an incredibly important thing to do, whether it's pop, rock or country," he said. "Whatever the artists are doing, we try to support them."
The list of bands that have performed thus far on "Downtown Live" is a reflection of that diversity. Bands ranging from folk duo The Wild Blooms to the rootsy Americana of Sand Sheff and the suburban rock of the Lawn Chair Kings all have been played on the program.
"Downtown Live is positive because it's exposing us and other local musicians to a wider audience," said Erik Jones, frontman for the Lawn Chair Kings, who performed at the most recent show Jan. 15 at Solid Muldoon's. Jones said that the broadcast attracts an audience that otherwise may not go out to see music.
Another mark of "Downtown Live's" diversity is that it is filmed and broadcast from various local venues. In addition to Solid's, Storyville has been featured, and there are plans for shows at the Summit and Scoot 'n Blues.
As for band selection, Attebery says he is open to anything, from acoustic to rock. Future shows also may feature acts from outside the area, like Standing Wave, from Santa Fe, or Steve Boyton, out of Boulder. "Our idea is to go beyond, but to encourage the local thing as well," Attebery said.
And although he welcomes diversity, Attebery notes that quality is a priority. "The key is, it's got to be something good," he said. "If it's not good, it's not going to work."
Nevertheless, in a town like Durango, where one can see punk and folk one night and jam bands and country the next, the overall goal remains getting people out of the house and into the venues, Attebery said. "We just have to get people out."
The next Downtown Live will take place at Solid Muldoon's on Wednesday, Jan. 29. The featured band will be Prima Facia. 259-9747 for more info.