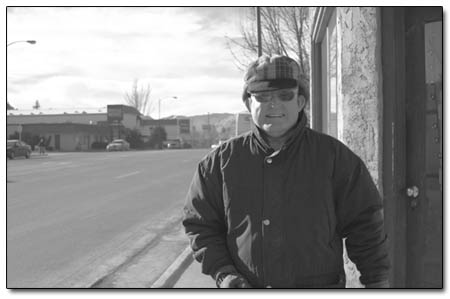 John Sinkiewicz, aka Sheriff John or Little Johnny, embarks on one of his daily trips downtown./Photo by Todd Newcomer.
I imagine that on Durango's winter nights when people gather in small, tight-knit enclaves – wine glasses clinking against scratched wood tables, voices rising as stories are told – conversation often turns to a local legend.
You may know him by the name Sheriff John, Little Johnny or possibly even by his given name, John Sinkiewicz. Perhaps you've never heard these titles, though you have memorized the stocky, straight-legged gait that carries him to and from downtown several times a day. Maybe you've seen his arms fly out from his body in hearty salutations, undiscriminating waves meant for everyone, sent out with his high-pitched greeting "Hello, my friend!"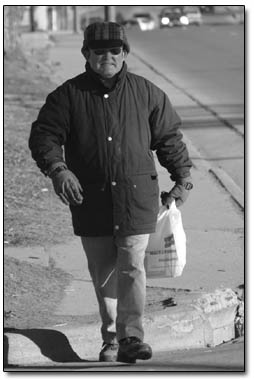 Little John ventures downtown to his job at
Gardenswartz, where he has worked for 15
years./Photo by Todd Newcomer.
John was born to a loving Oklahoma family 55 years ago. He is one of four brothers, whom he has kept in touch with throughout the years. He sees his brother Rick, who lives in South Fork, once a month. "I love that guy!" Johnny says.
Though far from Oklahoma, Johnny – who has been calling this valley hemmed by scrubby hills home for more years than most – makes no bones about his feelings for this town. "I love Durango so much!" he beams as his arms sweep out from his sides and rest elevated in the air, palms upturned as if holding all the affection he feels for his hometown.
Without a driver's license, and not one to rely on buses, Johnny's life takes place on foot. Walking with purpose at 6 a.m., he heads to the Texaco, on Main Avenue and 17th Street, to fill his ceramic mug with coffee. While sleep lies heavily on the eyelids of his neighbors, his unmistakable voice booms throughout the streets. Like a proud DJ on helium working the morning show he announces, "I'm an early-morning cowboy!" his enthusiasm rising in octaves. Sometimes the morning show is tuned to a different frequency, bringing to the community a more practical, though no less cheerful side of Johnny. "Got my work gloves on. I'm going to work!" he announces. And on the rougher mornings, when falling snow turns to ice on jackets, and we all need an extra push, Johnny struts down the street in thick, army green layers, reminding himself with confidence: "I'm happy. I'm gonna have a good day today!"
After the day's first coffee is downed, Johnny returns home through dusky early light for breakfast, only to set out again an hour later. He makes his way down Main Avenue alongside rush hour's stream of cars – hands busy waving and telling stories – ready to report to his job at Gardenswartz.
"I love my job," Johnny tells me when we meet at Durango Bowl in the Durango Mall where he can be found every Tuesday. Johnny has worked at Gardenswartz's for more than 15 years and at Ted's Rentals for nearly as long. He reports that his duties at Ted's entail sweeping, mopping, taking out the trash, shoveling snow and dusting; at Gardenswartz he earns his keep by taking out the trash and performing odd jobs. He watches as I record the list on paper, nodding proudly as I repeat each item. I ask if there's anything else he'd like to say about his job. He thinks for a quick moment before his arms lift to his sides, seeming to be the force propelling the words from his mouth. "I'm happy with my job! I love my boss!"
This is not lip service; this is the truthful confession of a happy man. I cannot help but think of all the psychologists who espouse replacing negative thoughts with positive; the New Age community that heralds the benefits of daily affirmations; and the devotees to various spiritual practices that promote the power of repetitive mantras for internal change.
And then there is Johnny, making his way down the same street he travels daily, to the same job he's held for more than a decade, simply declaring: "I'm happy. I'm gonna have a good day today."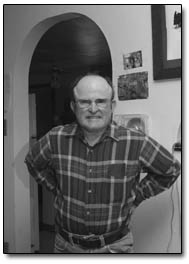 Johnny relaxes at home, where he typically begins his day around 6
a.m./Photo by Todd Newcomer.
However, Johnny is human. He has difficult moments and bad days. For months following Sept. 11, he felt great, inconsolable sorrow for those who lost loved ones. Perhaps the biggest difference is that Johnny doesn't seem to berate himself for his hard times; they come, they pass, and his self worth is sustained.
If Johnny's part time jobs are at Gardenswartz and Ted's, his third job is surely socializing and keeping up on the goings on about town. He walks approximately 5 miles a day, sometimes making three trips downtown in a day, always waving and calling out "Hello big guy!" or "How 'ya been doing?" to his many admirers. "I love to exercise" he tells me as he pats his belly. "No blizzard or snow storm can stop me." Although some are taken aback by Johnny's outgoing friendliness, those with open minds and friendly hearts are blessed with snippets of Johnny's mind. For example, when Johnny met neighbor Paige Newman's dog and assured her that "this dog'll keep you safe from the Christmas criminals," Paige said she was pleased to see that someone else saw the virtues of her sweet mutt.
It is best to throw out social norms when Johnny lets you into his life. Conversation does not always flow with distinct beginnings, middles and ends. But without the fluff, one usually can get to the heart of things in half the time. During our interview, as I struggle to ask all the right questions, Johnny simply announces "I'm having a good day today." The easy, clear explanation follows: "Sun shining, snow crunching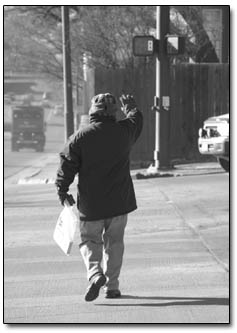 Johnny waves to passersby. The 55-year-old longtime resident is known by many, perhaps because he walks everywhere, typically logging 5 miles a day./Photo by Todd Newcomer.
under my boots." His fingers tap the air as he pantomimes flakes of snow falling. Johnny suddenly stands up and extends his hand. "Time to socialize," he explains. After all, Tuesday is his day to walk the mall greeting old friends and meeting new people. I persuade him to sit for just a moment longer so we can talk about movies. He watches movies almost every night at home and when asked his favorite he says, "John Wayne – write it down!" He also likes "Hook" and does a convincing Captain Hook: "I hate Peet-ah Pan." In the next instant he becomes Darth Vader, breathing heavy and face serious as stone he deadpans: "Luke, I am your father." Despite his well-rehearsed impersonation, he reassures me that his favorite character is Luke Skywalker, "because he fights bad guys."
With this Johnny stands, shakes my hand and bids me good day.
The following day, as I walk to my own downtown workplace, I try out something I've learned from my friend. "I love Durango," I whisper quietly to myself. Hmmm, feels kind of silly. "I love my job," I try this a little louder, letting my arms swing out from my sides. "I'm going to have a good day!" I exclaim loudly now. I can't deny that at least I'm smiling.