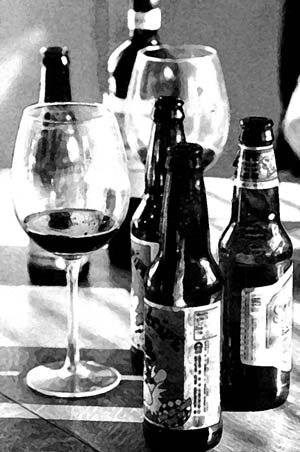 It's pretty simple: No one likes drunken drivers. But the new Durango Police Department program that sends cops into bars to educate patrons about drunken driving with voluntary Breathalyzer tests has some wondering if this is the solution – particularly those who frequent or work in bars.
So far 16 certified officers in the Durango Police Department have voluntarily signed up to visit local drinking establishments to discuss drunken driving laws, answer questions and offer Breathalyzer tests, usually from 8 to 9 p.m. The program is being funded by a $45,000 grant from the Law Enforcement Assistance Fund for drunken driving prevention. Some of the grant money will also go toward placing extra officers on the streets to specifically seek out DUIs.
Steve Gould, assistant kitchen manager at Cuckoo's, stressed that his statements reflected his personal opinions and not an official stance of the establishment. He said he thinks the program is an invasion of privacy.
"I don't like it – not at all," he said. "I don't agree with drunken driving at all, but I don't think they should be going into a place of business."
He said the presence of police might prompt patrons to feel uncomfortable and leave.
"Do your work out on the streets, not in a place of business," Gould suggested.
"I've played around with Breathalyzers and had fun, but it's not fun when it's a cop sticking it in your mouth," he added.
Though some may agree with Gould, there's a mixed opinion among bar owners. A group of 15 bar owners met Tuesday to discuss upgrading their image in the community and alternative ways to curb drunken driving.
Ron Pond, owner of Pongas, said the meeting was more positive then negative in nature. He said the topics ranged from transportation and overserving to ways to work with the city.
"It was very caring," Pond said. "We want to find positive alternatives – and better serve our customers."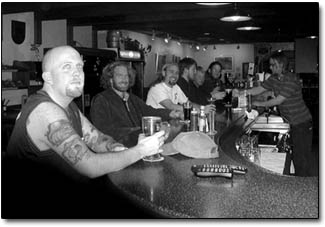 Patrons of a local watering hole enjoy an after-work drink Tuesday night. A new educational program implemented by Durango Police that involves officers entering local bars and offering Breathalyzer tests to customers is being lauded by
some bar owners and residents but rejected as intrusive by others./Photo by Jennifer Reeder
Antoinette Carr, owner of the Wild Horse Saloon, said one reason she attended the meeting was because of concerns she had with the new police program of education and increased enforcement. She said she had friends stay at Tamarron who wanted to dine in town but chose not to "because they like wine with their food."
"The Wild Horse Saloon could be a big tourist draw, but people are afraid – not afraid, terrified – to drive at night, and it can only get worse," Carr said. "So we're going to lose tourist business, in my opinion."
She said the police are her "heroes" because they help keep her establishment "clean," but nevertheless, the new program is problematic.
"I have nothing against them. They're as nice as they can be – but having this town carpeted (by police looking for DUIs)?"
Carr said she hoped bar owners would unite to create a voice for themselves.
"As a collective group, we pay a lot of taxes, create jobs and bring a lot of revenue into the town," she said.
When the police department announced the program, suggested alternatives to drinking and driving included designated drivers, calling a taxi, riding the Buzz Bus or staying at home. However, at least one of those options is no longer viable.
The Buzz Bus – or Durango LIFT's "Late Night Service," as it was known in its last few months – officially ceased operation last week. The service, which ran Friday and Saturday nights during the college semester, was cancelled because of its high operating cost and low ridership. The service cost $10,000 to operate each semester, $1,000 of which was offset last semester by Fort Lewis College. Nevertheless, cost was not the main prohibitive factor, according to one city official.
"The bottom line is, nobody used it," said Greg Caton, assistant city manager. "The ridership wasn't there."
Caton said that in its last weekend of operation, only 11 people used the service.
"I know there were more than 11 people out and about drinking that shouldn't be driving," Caton said.
Tim Maher, an organizer of the original Buzz Bus that started in the fall of 2000, said ridership was initially high when eight of the bars were footing the bill – $336 apiece – and selling tickets for a few dollars. He said about 3,500 people rode the bus in its first year, but a slumping economy and the monthly expenses led to a decline in payments from bars. The city took over the costs after the first year, but asked bar owners to put a value on the service. When it came time to cut a check for the second year of operation, Maher said only $800 was donated.
"In order for the program to succeed, there has to be a shared arrangement between public and private (sectors)," he said.
The private transportation options are taxis from Durango Transportation or limousine or motor coach rides from Noah's Ark, the latter of which must be scheduled in advance. Bryan Conner, office assistant and driver at Durango Transportation, which provides 24-hour taxi service, said there is usually a rush around 2 a.m. when bars close. He said the average cost of a ride from Main Ave. to FLC is about $8 per person, which includes a $2 surcharge for rides between 11 p.m. and 5 a.m.
Cynthia Trausch, parking administrator for the city, said another option to avoid drinking and driving is to park a car overnight in the parking lots where it is permitted: the one near Denny's, and the three on East Second Ave. between Sixth and Eighth streets. However, people are required to remove their vehicles by 7 a.m. the following day, when permit parking resumes, she said. Also, Trausch said that if someone gets a ticket for parking in an area without overnight parking, bringing in a taxi receipt from the night before will get the ticket excused. If ticketed for parking in a metered space, one can try to get the ticket excused by explaining the situation in a protest form. The issuing officer or a judge will decide whether to forgive the offense, she said. "We don't want you to drive drunk so we will definitely work with those who come in," she said.
However, not many people have taken advantage of this leniency, she said.
"It doesn't happen very often – maybe they just pay the tickets or don't know about this," she said.
Durango resident Shireen Symonds, 34, said new solutions to curb drunken driving must be devised, such as a group of on-call volunteer designated drivers.
"People love to give to the community," Symonds said.
She also said that she feels drunken driving education in bars is not a viable solution to the problem.
"Going into bars and talking about it isn't the answer, and taking away the Buzz Bus definitely isn't the answer," she said. "I believe it will hurt downtown business. People will be afraid to have one beer."
Ultimately, people need to stop drinking and driving, said Sgt. Doug Embree, Durango Police DUI coordinator, who lost his brother-in-law to a drunken driving accident in November.
"We're going to be working this pretty hard – we want to get the drunk drivers off the streets," he said.
"I take it seriously," Embree said.
Ben Bachman, owner of the Summit, said he agreed to participate in the educational program but stipulated that he be present when the police visit to make sure his guests are in no way threatened. Nevertheless, he said he felt the program may have merit.
"I don't know if this is the answer, but it's a creative approach to the problem," he said.