Ice craze sweeps Four Corners
Locals get their puck fix at Chapman Hill rink
written by Missy Votel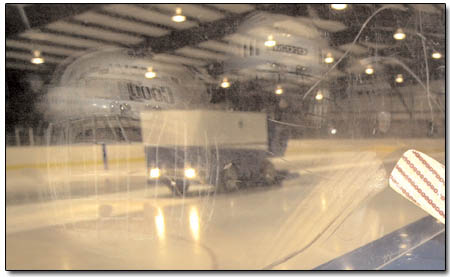 Eager, young hockey players wait for the Zamboni to put a slick new finish on the Chapman rink on Tuesday./Photo by Dustin Bradford
Ice hockey and the Southwest go together like... well, they don't. But that hasn't stopped Durangoans and other Four Cornerites from descending upon the Chapman Hill Ice Rink in droves, anxious to get a fix of the fast-paced sport traditionally relegated to environs north of the 40th parallel.
Since opening for business about three years ago, the rink has seen a dramatic increase in recreation-league hockey participation, said rink supervisor Matt Morrissey.
"Three years ago there were nine teams; last year there were 18 and two levels," he said. "Now we have 21 teams and four levels."
Brian Wendt, program coordinator for the rink and an avid hockey player from the Midwest, said the addition of refrigeration to the Durango rink in 2001 has made all the difference.
"We used to have to be at the rink at 5 in the morning because it was the only time the ice would be set up," he said. "Now we have ice from November through March," he said. "The public has really taken to it."
And it's not just the Durango public. Morrissey said the rink, the only refrigerated one in the Four Corners (the next closest ones are in Santa Fe and Gunnison), draws hockey players from as far away as Cortez, Pagosa Springs and Farmington.

"It's a huge league for a town this size," he said. "We suck everyone in from the Four Corners. I don't think the rest of the general public realizes how busy this ice rink is."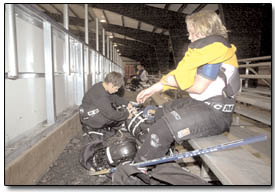 Two young players suit up in the bleachers before a youth hockey session Tuesday. Brian Wendt, program coordinator for the rink, said he expects more than 100 kids to participate in this winter's program. /Photo by Dustin Bradford.
It has become so busy, in fact, that last Sunday night, players were turned away from a drop-in hockey session. With heavy rock blaring from the rink's sound system, about 40 players took to the ice to warm up before an hour-and-a-half scrimmage.
The drop-in sessions are held several times a week and are open to various levels, from beginning "C" players to intermediate "B" players and advanced "A" players. Sunday night was to be the inaugural drop-in game for Dean Garland, a member of the Nini's Taqueria team, which plays in the C division.
"I'm a complete novice," said Garland, a teacher at Miller Middle School who, up until this season, hadn't skated in 25 years.
Garland, who grew up near Denver, said playing hockey is a realization of a childhood dream – of sorts.
"I always wanted to play hockey as a kid," he said. "But basically, my mom said 'Like hell I'm going to get up at 5 a.m. and take you to practice.'"
Garland said the hockey flame was re-ignited when he recently visited the Durango rink with his family and ran into a friend who played in the league and encouraged him to join. Garland said his misgivings over being a little rusty quickly vanished when he talked to his prospective teammates.
"They asked 'Can you skate backwards?' and I said 'Yeah,' and they said 'Can you stop?' and I said 'Yeah,' and they said 'You'll be great then.'"
Wendt and Morrissey said that although Durango has its share of "rink rats," die-hard division A players, it is the beginning C players, such as Garland, that account for the most vital portion of the league.
"The beginners are what build our program," Morrissey said.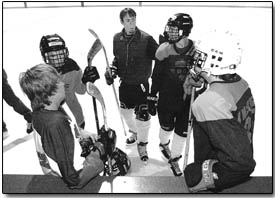 Brian Wendt, center, goes over some of the finer points of the game with his young proteges./Photo by Dustin Bradford
In order to foster beginners' interest in the sport, the city offers adult clinics with a hockey coach as well as daily "stick-and-puck" sessions.
"This way beginners can actually train and learn the sport," said Morrissey, who grew up playing hockey on a frozen pond in the northeast. "You can't learn how to play hockey just playing games. It's one of the most difficult sports to learn."
In addition to novice players, Morrissey said the Durango league also is seeing an influx of female players – off all levels. This year, the league even has two all-female teams – Chicks With Sticks and the Mother Puckers – who will be participating alongside co-ed and all-men teams in the C division.
Stacie Rappaport, of Durango, grew up playing hockey with her brothers in Vermont and went on to play noncompetitively in college. She now plays on the Nini's team and estimates that more than half of the team is female. She said she has played in both all-female and co-ed leagues and prefers the co-ed version.
"I like it much better playing with guys," she said. "It's more of a challenge."
Rappaport said she feels she receives the same treatment from her male counterparts on the rink. However, she did note it can be a bit unsettling playing against the oftentimes larger and stronger sex.
"It can be intimidating, especially when they're out of control," she said. "I fear getting sacked."
But she said this shouldn't deter potential female players.
"To them I say, 'Come on out and have fun,'" she said. "'Give it a try. You only live once.'"
In addition to cultivating adult players, the city also tries to cater to younger players.
Wendt said the city has hockey programs for kids 3-years-old and up. He said he expects to see 100-plus kids in this winter's programs and that the city is in the process of trying to set up competitive kids games between Durango and Telluride.
"It's hard to motivate the kids to practice when they can't play real games," he said.
He said there is even talk of forming a high school team, although the logistics of long-distance travel could be a deal-breaker.
In the meantime, some high school players looking to advance their skills have opted to play in the adult league. Jeff Dunn, 17, who plays for Ice Jam, a level B team, started playing hockey four years ago after seeing a professional hockey game.
"I went to an Avalanche game one time, and after that I was hooked," said the teen, who took up a part-time job to help pay for his gear.
And although he said he harbors no dreams of furthering his hockey career past recreational status, he said now that he has mastered the basics, he will continue to play.
"Once you get it, it's kind of like walking," he said. "You never forget it."