Tourism no longer driver of Taos economy
TAOS, N.M. – For the better part of a decade, tourist towns of the West have been in the process of transformation. They're no longer just ski towns but "amenity towns" or "lifestyle valleys." Real estate is the name of the game, not filling beds or slopes.

In Taos, a new report is out that puts numbers behind the transformation. Bill Stevens, who puts out something called the "Taos Economic Report," announced that tourism is no longer the force driving the local economy. What is driving the economy is what he calls "in-migration," he told the Taos News (Dec. 19) – second-home development, vacation-home development, retirement homes and so forth.

Stevens, who has been tracking the Taos economy since 1998, found that tourism accounts for 27.1 percent of the top gainer industries.
Man drinks, dashes on $541 wine bill
KETCHUM, IDAHO – Police were investigating the report of a man who drank three bottles of wine at the Sun Valley Wine Co., then walked out without paying his $541 bill.

According to the Idaho Mountain Express (Dec. 24), the session began with a bottle of Etienne Sauzet Puligny Montrachet, worth $46.69, then proceeded to a bottle of Louis Roderan Cristal Ros`E9, worth $300, and concluded with a bottle of Champagne Salon, worth $195. He shared the wine with other customers, police said.

The man then opened a fourth bottle but declared it undrinkable. The police report said the man "is known to be a frustrating customer because he frequently returns opened bottles of expensive wine."
Man credits Tai Chi for avalanche survival
GRAND TARGHEE, WYO. – Toni Piva credits his training in Tai Chi for his survival in an avalanche that buried him for 12 minutes.

Piva, a bagel baker, had gone into the backcountry from Grand Targhee with friends, and forsaking an earlier decision, skied into an open bowl with a 34 degree slope. Snow broke off from a layer that had crusted during a no-snow period after Thanksgiving, and he "swam" in the slide, keeping his head on top until near the end, when the snow flooded a stand of trees, flipping him.

At first, he was terrified. His mouth full of snow, his arms and legs pinned by the weight of compacted snow, his adrenaline kicked in, and he started to hyperventilate. Then he was able to cough out the snow and created a small air pocket by wiggling his head.

Sometime after his terrifying first minute of burial, Piva told the Jackson Hole News & Guide (Dec. 27), he gained control of his mind. "I wasn't mad or angry. There was no fear. I knew everything would be OK if they got me out or not." While he focused on breathing and remaining conscious, his thoughts swirled. "I kept thinking of my son and `85 people's (smiling) eyes, and music and mountains and dancing," he said.

He also recalled his Tai Chi meditations from the day prior. "The prayer meditations I did the day before saved me," he said.

From the darkness, he also recalled a clear sphere of light, a vision he finds difficult to verbalize.

Piva and his friends had all been equipped with avalanche transceivers, probe poles and shovels, and knew how to use them. They dug him out from under five feet of snow. For several days afterward he had no interest in skiing, but promised he would soon. "Skiing is my favorite thing in the world," he said. "I love it."
Telluride nurses complain about wages
TELLURIDE – As of Jan. 1, the new Telluride Hospital District will take responsibility for the local medical center, including both family practice and emergency clinics. Already, the district's board of directors has its hands full with politics.

The politics are about who – doctors or nurses – will get what percent of the budget. A roomful of nurses at the board's December meeting argued they're getting short-changed, reports The Telluride Watch (Dec. 20).

The board, in response, points to wage increases for nurses. For example, nurses will get $250 per night shift, up from the present night-call wages of $60. Nationally, emergency room physicians get $80 to $120 an hour, depending on skills, experience and volume of work.

The upshot of this tussle is that some nurses are muttering about decamping for Denver, which has four new hospitals being built but not enough nurses to staff them.
Parents worried over church-state separation
STEAMBOAT SPRINGS – Several parents of middle school students are concerned that a Christian organization is improperly being allowed to proselytize at the school.

The organization, Young Life, is allowed to be on campus but cannot initiate contact with students. The same rule applies to other groups, such as ski clubs. A school principal told The Steamboat Pilot (Dec. 22) that administrators have closely monitored visiting groups, and the Young Life representative doesn't discuss religion with the kids.

One parent, Jeff Troger, was not convinced. "With this age group, religion is still very much a family issue. I feel like this activity is trying to bypass the family," he told the newspaper.

The group's website said the group's mission is "introducing adolescents to Jesus Christ and helping them grow in their faith." It does this by "going where kids are, building personal relationships with them, winning the right to be heard, sharing our lives and the Good News of Jesus Christ with adolescents."
Summit County opposes scenic helicopters
SUMMIT COUNTY – Planning commissioners are scheduled to hear a proposal by a helicopter company to offer scenic flights in the area around Dillon Reservoir. Pete Pelayic plans flights that would start from Farmer's Korner, taking off and landing 20 times per day in winter, 60 times daily in summer.

The Summit Daily News (Dec. 27) found residents who, in the words of one, were "incensed, violently mad, and irritated beyond description." Another said, "If people want to see Summit County, they should get off their dead asses and see Summit County."

The promoter called the helicopter flights a "world-class amenity, designed to let visitors see how truly majestic the area is from the air. This is an amenity whose time has come."
'Medical marijuana' provider sentenced
SOUTH LAKE TAHOE, CALIF. – A self-described medical marijuana provider was sentenced to nine months in jail and three years probation after pleading no contest to possession of marijuana with intent to distribute.

At issue in the case of Matte Macosko was whether he distributed marijuana only to those suffering from medical problems. California's Proposition 215 allows for such things, but the judge in this case described the law as poorly written. "The long and short of it is the law is a mess," she said.

Although at least one woman testified that he had acted out of compassion, giving her marijuana to help her in sufferings from hepatitis and cancer, prosecutors said witnesses didn't see him check identification or people's prescriptions. He had been before the court in 1996 on much the same charges, reported the Tahoe Daily Tribune (Dec. 23).
Gunnison County home breaks price record
MT. CRESTED BUTTE – Sale of a 6,400-square-foot house on a 1-acre lot for $2.5 million set a record for the most expensive home sale in Gunnison County. The old record, $1.6 million, was set only last June. Average sales prices of single-family homes in the town has inched upward from $437,250 two years ago to just shy of $500,000 this year, notes the Crested Butte News (Dec. 26).
Bears continue roaming in Breckenridge
BRECKENRIDGE – It was the fortnight before Christmas, and at the Breckenridge Nordic Center, skiers reported seeing two bears, a decidedly late time of year to be seeing bruins.

But Kirk Oldham, of the Colorado Division of Wildlife, says the late hibernation is no need for alarm. This year's drought and the resulting lack of food may have contributed to the late hibernation date, he told the Summit Daily News (Dec. 26). He used the occasion to dispense the "welfare" message, namely that giving bears handouts makes them dependent on people and unable to function naturally in the wild.

Aspen could reach 90 percent occupancy
ASPEN – Hotel occupancy levels were nearing 90 percent for the weekend between Christmas and New Year's Eve, the highest mark since March 1998. That would compare with 79 percent last year.

The week of Dec. 29 was already booked at 83 percent, but the Aspen Daily News (Dec. 27) reports last-minute bookings are even more of a phenomenon this year than in the past.

Bill Tomcich, president of Stay Aspen Snowmass Inc., a central reservations agency, foresees a solid chunk of business for the resort because of the way the holidays fall this year. A January drop-off is expected, but hotelers are encouraged. Richard McLennan, general manager of St. Regis Aspen Hotel, reports "outstanding" reservations in January, while The Gant is expected to nearly fill again after Jan. 17.
$1,000 offered for old wood stoves
SIERRA NEVADA, CALIF. – Residents in three California mountain counties who use old wood-burning stoves as their primary source of heat are being offered $1,000 vouchers to replace them with newer models that send fewer particulates into the atmosphere.

The program, announced by the Great Basin Unified Air Pollution Control District, is offered in Alpine, Inyo and Mono counties, reports the Tahoe Daily Tribune (Dec. 27). Any stove built before 1993, whether wood or chip burning, does not meet air-quality emission standards set by the Environmental Protection Agency.

Vail went through a similar incentive upgrade program around 1993, and as a result, the Gore Valley has seen significantly less air-pollution pall. Other mountain towns have adopted similar measures.
Vail plans to harness mountain winds
VAIL – Twenty years ago, Vail Associates investigated the possibility of erecting turbines on the ski mountain to harness wind. Now, those plans are finally coming together.

If constructed in 2004, as expected, the four 100-kilowatt generators will generate enough electricity to power three lifts. The initial cost is $400,000, but the payback time is expected to be eight to 10 years.

Driving the project, reports the Vail Daily (Dec. 27) is a narrowing difference between the cost of coal-fired electricity and the cost of alternative energy sources, including wind. In addition, the ski area operator, Vail Resorts Inc., gets a warmed-up image out of the deal.

The turbines are expected to be 55 feet tall, just one-ninth the size of turbines found at wind farms on the high plains of Colorado and elsewhere in the country. Still, that's tall enough to take advantage of average annual wind speeds of 17 mph.
Vail Resorts, along with the Aspen Skiing Co. and the City of Aspen, has purchased wind-generated power through the local electrical cooperative, Holy Cross Energy, but coal remains the source of three-quarters of the electricity used on Colorado's Western Slope.
Whitewater park could cost $1 million
GLENWOOD SPRINGS – The Glenwood Springs City Council has received a plan to configure the Colorado River for several miles to create a whitewater park for kayakers that the designers say would be among the best in the world. Estimated cost is $1 million, reports the Glenwood Post Independent (Dec. 20).

The planners, Gary Lacy of Boulder and Mike Harvey of Salida, propose a series of deflects, drop structures and other devices to create a mix of kayaking opportunities. They also propose to beautify the river, ripping out the exotic tamarisk and reconfiguring the unsightly outlet pipe for the hot springs.

– compiled by Allen Best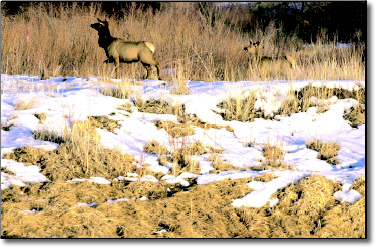 Winterstroll: Members of the local elk herd graze in the Animas Valley
earlier this week./Photo by Dustin Bradford.