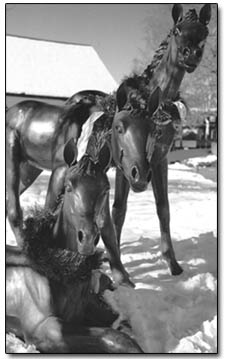 Whinney and Friends: A sculpture by artist
and former Durango resident Joyce Parkerson is adorned with wreaths outside the Durango and Silverton Railroad Depot. Parkerson passed away last Thursday, Dec.19, of complications from ovarian cancer.
She was 55./Photo by Todd Newcomer.
Dry Fork closure raises eyebrows
An Indian summer and increased awareness about the Perins Peak State Wildlife Area may have been responsible for recent concerns about a gate closing Dry Fork Road and access to the Dry Fork Trail. Since Nov. 15, a gate and "road closed" sign have been in place on the spur off of Lightner Creek Road, County Road 207. However, a Division of Wildlife official said the closure is a routine one.
Dry Fork Road accesses the Perins Peak State Wildlife Area, which is managed by the Division of Wildlife. It also accesses the Dry Fork Trail and Hoffhein's Connection, both of which connect to the Colorado Trail and the Junction Creek drainage.
DOW Area Wildlife Manager Tony Gurzick said that while he had heard concerns about loss of access, the closure is a routine step to protect wintering wildlife in the area.
"The Dry Fork trailhead is seasonally closed," he said. "We close it at the end of big game season, and it doesn't reopen until April 1."
Gurzick said that the gate has been in place for a few years, and the closure has been ongoing for decades.
"The gate's been there for several years, and we've been closing that area since the 1960s," he said. Gurzick added that people are likely concerned because of the attention a proposed extension of the Colorado Trail has gotten lately. He noted that the trail is still open but must be accessed from the Junction Creek side.
DOW planes flew over the area earlier this week, and Gurzick said that 400 elk were wintering right around the trailhead and gate. He said spotters counted a total of 1,200 elk inside the wildlife area.
"The reason for the closure is so that we'll have an area where the elk won't be harassed, even inadvertently," Gurzick said.
The gate and closure may violate a U.S. Forest Service easement on Dry Fork Road. However, Richard Speegle, of the San Juan Public Lands Center, was unavailable for comment.

LPEA to sell struggling subsidiary
Tired of nursing struggling subsidiaries, La Plata Electric Association has announced plans to sell its beleaguered line-installation company, Western Energy Services of Durango Inc. (WESODI). David Waller, LPEA spokesman, said the sale may be required by Rural Utility Service, a USDA branch.
"It's part of an exit strategy that's required," he said.
LPEA recently took on $5 million in debt incurred by WESODI and will be writing off the amount as a loss. An additional nearly $8 million in debt was assumed from Fast Track, another telecommunications subsidiary formerly known as REAnet. To make matters worse, LPEA investments in fiber-optic cable tumbled by 88 percent recently, losing $8.7 million in value.
Waller said that these financial woes will not affect LPEA's role as the local electric coop. "The big devaluation is not going to affect our service or our reliability," he said.
He added that there should also be no future rate hikes.
"It shouldn't affect our rates after the upcoming increase," he said. "We don't foresee any more increases in the near future."
For the second time in nine months, La Plata Electric Association will be raising residential rates after the first of the year. The 10 percent hike will primarily cover rising power costs, but a portion of the increase will cover the WESODI debt. Residential customers' monthly electric bills will increase by $5.90 beginning in January. Currently, the average residential bill comes in at $59 per month. The rate jump will add increased revenues of up to $4.3 million for 2003. Approximately 38 percent will go to cover LPEA debts.
LPEA last raised its rates by 7 percent in March 2002. Prior to March's jump, LPEA had not raised rates since 1990, and during the 1990s, the electric cooperative twice decreased rates.

FLC play earns eight awards
Fort Lewis College theatre students and staff were honored with eight awards recently for their production of "The Air Inside the Rose" at the Kennedy Center American College Theater Festival, which took place at San Juan College in Farmington.
Students Jill Davis, Eagle Young and Caleb Creel were nominated for the Irene Ryan Award. The Irene Ryan Award is given to up-and-coming actors and once nominated, actors compete at a regional level for scholarships. Davis and Young also were recognized for excellence in puppetry.
Associate Professor of Theatre and Women's Studies Kathryn Moller received honors for excellence in both directing and choreography. Costume designer Ginny Davis received an award for excellence in workshop presentation.
Moller said the Irene Ryan nominations were the most notable awards they received. "A Fort Lewis College student has never received an Irene Ryan nomination," Moller said. "These awards will help give Fort Lewis College recognition."

County to swear in new coroner
The La Plata County Board of Commissioners voted unanimously last Thursday to appoint Dr. Carol Huser, of Durango, to fill the vacant post of county coroner.
The post was vacated after former coroner Dick Mullen decided in September not to run for reelection.
According to a La Plata County release, Huser is currently certified by the American Board of Pathology, the Anatomic and Clinical Pathology Board, and the Forensic Pathology Board. She is in private practice in forensic pathology locally, is a deputy coroner and has lived in the area since June of 2001. The county coroner is normally an elected position and is responsible for heading investigation of deaths.
Huser will be sworn into office Jan. 14.
– compiled by Will Sands