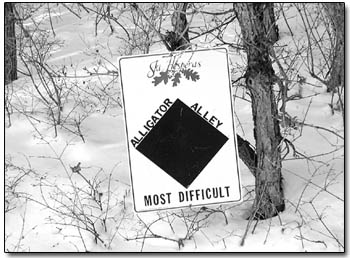 An inconspicuous sign, affixed to one of Ski Hesperus' trademark oak trees, marks the entrance to Alligator Alley. Although the ski area is often frequented by beginners, about 40 percent of its terrain is designated as most difficult. "It's a challenging mountain,"said patroller Terry Niemeyer./Photo by Missy Votel
With more than a foot of fresh snow falling earlier in the week, I anxiously awaited a lull in my work week so I could steal away to the slopes. When Friday morning rolled around, the anxiety turned to full-blown panic. I could see that, without a little intervention from me, my date with gravity wasn't gong to happen. I mumbled something to my coworkers about research for a story, and made a break for it. Buoyed by the liberation that comes only with petty deviance, I quickly rounded up my gear, loaded up the truck and set out on the highway. Only difference was, instead of pointing her north, as is my typical custom, I headed west.
No, I wasn't Telluride-bound to catch last chair up Lift 9. I knew that this late in the game, most of the untracked powder at the bigger resorts was likely to be gone. But I had a plan. Friday was opening day at Hesperus, and something told me that there – in the land of mom and pop, scrub oak, tow ropes, and rickety two-seaters – I would find my stash.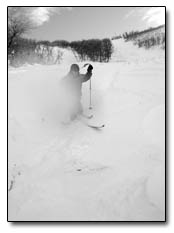 Dr. John Calder, of Crownpoint,
N.M., gets in the thick of it at
Hesperus on opening day./Photo
by Missy Votel actioncam.
I pulled into the parking lot a little after noon, got out and surveyed the hill – good coverage and plenty of fresh. I hastily threw on my boots and headed into the doublewide-cum-ski-lodge to get my ticket. Inside, the "mom" of the operation, Lexa Pitcher, was minding the store while "pop," Jim Pitcher, tended to business in the back. As I peeled the backing off the lift ticket and secured it to the wire wicket – no plastic twist ties here – I divulged to Lexa that this would be my first time skiing Hespie during the day.
She assured me it was basically the same, except "the views are a lot better."
As I readied to leave, I noticed I was not the only one playing hooky – a group of young snowboarders also was lacing up boots, pulling on goggles and fastening loose objects. In an attempt to reach out and bond with the younger generation, I let them know that their secret was safe with me, and that even an old lady such as myself was still hip enough to play hooky now and then. But my attempt failed. Seems school was cancelled thanks to a power failure, and they were legit – although Lance Alsum, a senior, assured me it was his plan to come here all along, school or no school.
At last, I thought I had found a comrade in slack, until I found out he had clearance.
"My mom said it was OK; she's the one who gave me money to come up here," he said.
I couldn't help but ask the group how they ended up at Hesperus. While I had the lure of nostalgia working in my favor, as well as an insatiable greed for untracked powder, I wondered why the younger set hadn't opted for the glitz and glamour of the bigger hills up the road.
Their answers were beyond their years.
"Because it's convenient, less money and just as good," said Jon Yaseen, 16.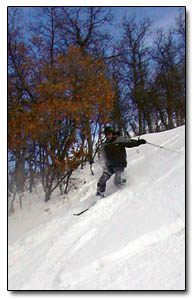 Calder gets fresh on the west side./Photo by Missy Votel
Alsum, who grew up riding Hesperus, said he comes for the "everyone-knows-your-name" family atmosphere. Indeed, his theory is put to the test when, upon noticing he forgot his hat, he calls out to Jim (known to his young clientele as "Pitch") to find him a hat in the lost and found.
A few seconds later, Alsum's wish is granted as Pitch lobs a hat over the counter.
"Thanks, Pitch," he shouts back.
Aside from the familiarity of the place, Alsum and friends also say they appreciate its user-friendliness.
"It's the best mountain to teach someone to snowboard," said Alsum, who that day was teaching friend Lacey Hammach the basics of the sport.
She was still smiling after 2BD hours of instruction – a good sign.
"I like it," she said.
Corey Lawson was more succinct in his praise (mom, you may want to avert your eyes here).
"Hespie is the shit," he said.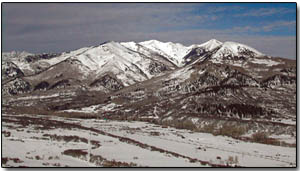 Seldom scene – the view from Hesperus by day./Photo by Missy Votel
Testing the product
I decided to put Lawson's words to the test and headed out to the lift. As I bent over to secure my bindings, the kids passed, taking note of my mode of travel.
"A telemarketer," one said to me in passing. "I've never seen anything so funny looking, but you guys sure do get the best lines."
I refrained from telling him I had never solicited anything over the phone in my life and instead, took it as a compliment. Feeling old but still cool in an old school sort of way, I bid them adieu.
As I rode the chair, I scoped out my plan of attack. The upper part of the mountain, if you can call it that at 8,880 feet, was virtually unscathed. I decided to head over to a cult favorite among my night-skiing crew, Alligator Alley. There were only four tracks down it; mine would be the fifth. After disembarking, I set off in a dead heat along the ridge to the top of the run. I was fairly racing, so as to beat any encroachers, when I realized not only was I the only person on the ridgeline, but the only person on the entire upper flanks of Mt. Hesperus. I slowed down to a more leisurely pace. With the entire run at my disposal, I arced wide, looping turns down the oak-brush dotted landscape, giggling at my good fortune. With good coverage and just the right amount of new snow, it was vintage Hespie.
I took a few more runs before encountering anyone – my people as luck would have it; two telemarkers from Crownpoint, N.M. Both doctors, they had the weekend off and were enroute to Durango for a night out on the town to celebrate one of their birthdays.
"Opening day at Hespie; you can't get better than that," said David Josephs, one of a small group of telemarkers from Crownpoint who makes regular pilgrimages to the San Juans.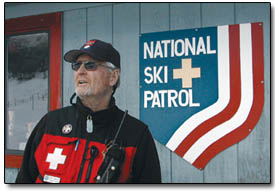 National Ski Patroller Terry Niemeyer
reflects on opening day./Photo by Missy Votel
Birthday boy John Calder said he didn't mind the two-hour drive or the lack of apres ski frills at Hesperus.
"It's nice to get away and enjoy the fresh snow," he said. "I brought a couple of brews, that's about as aprE8s as it gets."
After taking a few runs with the doctors, both making an impressive showing in their old school gear – one wearing leathers – I headed back to the base. That was where I met Terry Niemeyer, a National Ski Patroller from Yosemite, Calif., who was soaking up the last of the day's rays in front of the patrol shack. Unlike larger ski areas, Hesperus depends mostly upon volunteer members of the National Ski Patrol, such as Niemeyer, to serve and protect its slopes. So far, Niemeyer, who is one day into a three-day patrol stint at Hesperus, said it had been pretty quiet. And after doing patrol at Big Bear, Heavenly Valley and Boreal ski areas in California, it was a welcome change of pace.
"This is what it used to be like years ago," he said, extolling the unpretentious atmosphere and virtues of Lexa's homemade chili. "This is a neat little place."
Niemeyer, who is visiting family in Cortez, happened upon Hesperus almost by accident. He said he was driving by a few days earlier, when he slowed down to take a look and noticed two guys trying to set everything up by themselves. He stopped and volunteered his services.
"I thought, 'Let's just stop for the heck of it,' and I'm glad I did," Niemeyer said.
In fact, Niemeyer was so impressed with the ski hill that he planned to return with his 3-year-old granddaughter and 8-year-old grandson the following day.
"It's such a friendly, family place," he said. "And the good thing about it is, you can't lose anybody here."
Looking for new blood
The way owner Jim Pitcher sees it, it's the local families that make up the ski area's bread and butter.
"You get a lot of local kids out here; they just love it," he said, while drinking a cup of hot chocolate in the lodge under a sign reminding skiers that "our rental shop does not rent shaped skis." Pitcher estimates that his after-school program brings in 30 to 40 kids on weekday afternoons. "Then, you take the young marrieds with kids at the age of 3, 4, 5, 6, and they come to Hesperus because they don't want their kids sitting in front of the TV."
However, after a succession of bad winters and flat skier numbers, Pitcher admits staying afloat is becoming harder to do.
"Skiing's a dying sport," he lamented.
After 15 years at the helm of Hesperus, and several more before that at a small ski area on Mt. Lemmon near Tucson, Ariz., Pitcher says it's time to hang it up. He put the 60-acre operation, which is run on land leased from a local rancher, up for sale last spring. Hesperus, which by Pitcher's estimates has been around for about 35 years, needs an infusion of new blood and money, he said – someone with the manpower and finances to make upgrades that will keep the little ski area competitive.
When asked if he will miss the area once he sells it, he shakes his head.
"You mean kind of how you miss a mother-in-law that never leaves?"
However, as one of his young regulars leaves, I get a different impression.
"Thanks Pitch; I had some fun today," the boy says on his way out.
Pitcher looks after him, again shaking his head – but this time in disbelief rather than denial.
"He's been coming here since he was this high," he said, holding his hand at hip height.
Although Pitcher is adamant about getting out, he admits that after a lifetime spent in the business of family ski areas, he's not interested in selling out.
"People who come out here with their kids all say, 'I learned to ski here,'" he said. "I want to see that keep going."