The Goods' guide to New Year's and 2002's Top 10
by Mike Sheahan
Christmas is over, and that can only mean that New Year's is right around the corner. Those of you who read the Halloween edition of "The Goods" know exactly how I feel about New Year's. It is an amateur night that brings wildly inexperienced people to the bars and restaurants where they drink way more booze than they should. The streets are littered with drunk drivers, and people pretend to be so happy that they want to kiss everyone they see. I'd rather watch my car's odometer roll over. Man, am I grumpy. As with Halloween, I'm sure I can't convince you to stay home so I've prepared a list of ways to amuse yourself on Jan. 31.
Scoot 'n Blues is offering live music and champagne and food at midnight for the low price of $15. The music will be provided by Hues of Blues and the folks at Scoots will be raffling off a trip to Las Vegas or Lake Tahoe.
As a reprise of the now infamous Punk Rock Breakfast of a few weeks ago, Storyville will be hosting a Punk Rock New Year's featuring The Thirteens and Gina Go Faster. If the New Year's bash is even remotely like the breakfast, this is probably the place to be. The Thirteens are fun, energetic and a little dangerous.
All of Durango's Japanese businessmen and American Idol wannabes will be happy to know that Pongas is reviving the ancient art of karaoke for its New Year's celebration. This is your chance to show the world just how badly you can butcher "New York, New York" or "Love Shack." In honor of Joe Strummer's death, I will not be doing my pitiful version of "Should I Stay or Should I Go." Lucky you.
On the rural side of things, the Billy Goat Saloon in downtown Gem Village has the group the Crawdaddies performing for no cover. The guy I just got off the phone with said that at midnight "I guess we're gonna blow the horns or somethin'."
The Strater Hotel will be hosting a benefit for the Durango Arts Center at the Diamond Circle Theater on New Year's. This ritzy affair will feature funny-money gambling, a four-course meal and a performance by Durango Dot Comedy. The $100 price tag is bit steep but this is your chance to hob nob with Durango's elite, and there will be a tarot card reader. Plus there will be a drawing for a trip to Cabo San Lucas, which is where Sammy Hagar lives. This sounds like a lot of fun if you can afford it.
The truth is I can't think off a better way to spend this cheesy holiday than seeing one of the cheesiest performers there is. Neil Diamond will bring his travelin' road show to the Pepsi Center in Denver on New Year's Eve. If I had my druthers, that's just what I'd do – pack up some friends and get a room across from the Pepsi Center. In my mind, Neil Diamond is the perfect match for New Year's Eve. He's much bigger than he should be and full of false sentiment.
If you're going to take my advice and stay home next Tuesday, be sure to catch The Cartoon Network New Year's celebration starting at 10 p.m., featuring four solid hours of "The Brak Show," "Sealab," "Birdman" and "Aqua Teen Hunger Force." Those of you who are familiar with these cartoons know exactly what I am talking about; those who aren't have a great chance to get to know them. They are all incredibly funny adult oriented shows. This is by far the best thing happening on TV that night.
This Week's Sign That the End Is Near: Another year has gone by in Durango, and I am left with one burning question. Why the hell doesn't anybody support live music in this town? It seems like if you're not a hippie jam band or the grandson of someone wildly famous, then your shows are sure to tank. 2002 saw some great music come through (The Hot Club of Cowtown and The Damnations on back-to-back nights is a perfect example), and 2003 will prove the same. If we don't go, they'll stop coming, and then we'll all be stuck with the club DJs we deserve.
The Ten Best Albums of 2002: Instead of reviewing one album this week I have compiled, with the help of Bryant Liggett, a list of the year's best albums. This list is thorough and definitive and is by no means open for debate.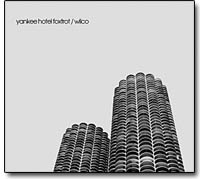 10. Paul Westerberg, "Stereo/Mono" – This is a two-disc release from the former leader of the Replacements. The first disc "Stereo" features standard Westerberg solo material but is better than his two previous efforts. The "Mono" disc, recorded under the alias Grandpaboy, features Westerberg turning up the volume and the distortion again. And that's a good thing.
9. Jay Bennett and Edward Burch, "The Palace (at 4 a.m.)" – After being dumped by his former band, Wilco, Bennett and his buddy Edward Burch immediately produced this pop masterpiece.
8. James Luther Dickinson, "Free Beer Tomorrow" – Legendary Memphis producer/sideman releases first solo project in 30 years, and it's spectacular.
7. The White Stripes, "White Blood Cells" – This is a loud, reckless record that you will not believe was made by a duo. Heavy one second, then soft and touching the next.
6. Los Lobos, "Good Morning Aztlan" – Easily their best since their debut "How Will the Wolf Survive." Hard rockers, Mexican folk and stripped-down production make this a must-have.
5. Jason Lowenstein, "At Sixes and Sevens" – This is the first solo release from the one-time member of Sebadoh. The most interesting record of the year, this is one of those rock records you have to hear several times before you get it.
4. The Hives, "Veni Vidi Vicious" – Technically not allowed on this list as it's a reissue from last year, I'm putting it on because no one noticed it until it's re-release. Part of the so-called "garage rock" revival, it best listened to with the volume at eleven.
3. Jorma Kaukonen, "Blue Country Heart" – A collection of blues and country standards and features Jerry Douglas and Sam Bush, Jorma somehow takes songs I have heard a million times before and makes them interesting.
2. Original Sinners, self-titled – Fans of the legendary punk/country group X will love Exene Cervenka returning to her punkabilly roots. Almost as good as X itself.
1. Wilco, "Yankee Foxtrot Hotel" – Collaborator Liggett disagrees, and my friends will say I'm just voting the party line, but I really think this is the year's best. It's dense and lush and sometimes downright hard to listen to. It features some of Jeff Tweedy's best lyrical work and is probably the only record on this list that I'll be listening to in 10 years. That's saying something.

Remember, only an ignoramus drives drunk. mpsheahan@yahoo.com