---
Dear Diver,
What ever happened to good dramatic television? Remember TV shows like "Adam 12" or "Starsky and Hutch?" How about the great "Falcon Crest?" Hell, even "Father Murphy" with Merlin Olson was good! Do you remember when Mr. Belvedere replaced Tattoo on "Fantasy Island?"
Jeff, Chicago,
via e-mail
Jeff,
We hear ya man!! What in the C-R-A-P happened to television? You tune into ye olde boob tube to check some crap, and there it is, crap, crap and more crap. I mean, "Adam-12" was great. Diver Jeff here even had an "Adam-12" lunch box as a kid, and I really, truly thought I could be Hutch when I was older, like 14. But if you truly want to talk about dramatic television and the lack thereof, let's talk about "Saturday Night Live!" Sure Tina Fey and Jimmy Falon will bring a chuckle, but nothing like Joe Piscapo and Eddie Murphy. "I'm Chevy Chase and you're not," oh what a knee slapper; we really don't know where we're going here... oh yeah, TV is crap you're right.
–Divers
---

Dear Diver,
Is there really a Santa Claus? I have trouble believing Santa and the Easter Bunny can make it to each house in the world in one night.
– Your friend,
Michael Teri, via e-mail
Dear Michael,
Now we're only going to tell you this once, THEY'RE REAL... YOU HEAR!! And if you don't believe us, how's about we come over and knock-out your teeth so you can see if the Tooth Fairy is real?
– Divers

---
Diver,
Is Meatloaf's "Paradise by the Dashboard Lights" a true rock anthem?
– Jerry in Hermosa
Jerry,
I don't know, let me sleep on it... I'll give you an answer in the morning.
– Divers
Diver: Bill Graham and Jeff Ogden of Ska
Interesting Facts: When Telegraph editors sought advice regarding newspaper production, they were told "drink two beers and DON'T call us in the morning. Instead, drink two more beers." They did.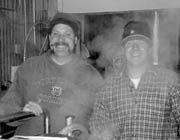 Got a dirty little secret?
Looking for guidance to remedy a sticky situation?
Seek help from the master of the kitchen! The Dish Diver has solutions to life's little messes. Send your problems to "Ask the Diver." - By mail to Durango Telegraph - Attn Diver -534 Main Ave., Durango, CO 81301; by email at telegraph@durangotelegraph.com, or by fax at 259-0448.
---

Dear Diver,
At the airport the other day I noticed that some of the car rental companies add an extra charge if the car is returned "excessively dirty." As someone who has experience cleaning up messes, what do you think constitutes "excessively dirty?" Is there such thing as "excessively clean?"
– Just wondering,
Joan
Dear Joan,
There is only one true definition of "excessively dirty" and that would be the front office here at the Ska Brewing Co. In fact, the local representatives of Avis and Hertz use this office as comparative evidence if a customer disputes these added charges to the point of arbitration. Sure it's cumbersome to have a 12-person jury in the office, but at the end of the day, it's satisfying to know we've done our part to keep the wheels of truth and liberty well oiled. As far as "excessively clean," it can happen courtesy of your local divers. But as the saying goes, "If you have to ask" 85 you can't afford us.
– Thanks,
Divers
---

Dear Diver,
Every year I make a New Year's resolution, and every year I seem to blow it by Super Bowl Sunday. Any suggestions?
– Yours, Red
P.S.: I am eligible for parole this March
Dear Red,
Yep, we've all been there a thousand times, you make all those hasty resolutions in a extasyial haze of booze and drugs on New Year's Eve, and the next day, you find yourself violating a pesky restraining order wearing nothing but a rhinestone jock strap, frantically searching for that jar of ether you dropped in the snow, something you swore you'd never do again. So try this, this year resolve to believe in yourself. Resolve to be the best Red you can be. Resolve to be the best criminal you can. Say to yourself, "Red, if I'm a better criminal, I won't be here in jail."
– Divers