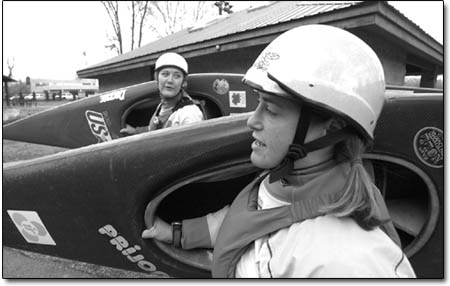 Mary Marshall Seaver, foreground, and Eleanor Perry shoulder their boats to the top of the slalom course at Santa Rita Park last week. The two are among a handful of local racers who brave the frigid Animas to train in the winter./Photo by Dustin Bradford
The sun had long since dipped behind Smelter Mountain last Thursday as Mary Marshall Seaver and Eleanor Perry slipped into their matching pink drytops. But don't let the pastel colors fool you. These ladies, who spend five out of seven afternoons a week braving the frigid waters of the Animas, are tough.
"Today's not even cold at all," said Seaver, as she hoisted her long boat onto her shoulder for the hike from the parking lot to the slalom course below Smelter Rapid. She and the other members of the Durango Whitewater Center for Excellence were heading out for a swift water workout – running gates in the river's current while coach Cathy Hearn times them.
Durango Whitewater's winter training sessions draw about 13 racers, ranging in age and ability from 11-year-old Rogan Brown, who is barely big enough to see over his cockpit, to Seaver, 29, a former world champion silver medalist. And while the racers may differ in stature and skill, one thing is constant: the cold doesn't bother them, and if it does, they don't show it.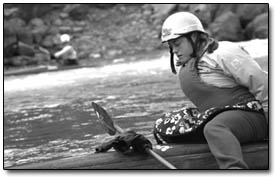 Seaver slips into her boat before practice./Photo by Dustin Bradford
According to Durango Whitewater coach John Brennan, a world-class racer who competed from 1988-96, finding the motivation to overcome the cold is easy.
"If you want to be a great kayaker, you have to kayak," he said. "There are few flukes in slalom racing. If you want to be good, you need to train."
Brennan, who has been involved with the group since its inception in 1990, knows all too well the pitfalls of cold-water paddling: frozen life vest buckles, icicles hanging off the blade of the paddle, numb fingers, driving home in iced-over gear that refuses to budge.
"I've done it many times," he said.
But for Brennan, and other members of the team, the cold is a small pittance to pay for a greater reward.
"So what if it's cold? I've flipped when it's been below zero," he said. "But the fact is you get to go kayaking. I'll take that any day."
And for the Olympic hopefuls on the team, there is an added incentive to roughing it: a spot on the U.S. Team, which is holding the first of several trials in February, and ultimately, a shot at the gold.
In the spring of 2000, Seaver was poised for such a shot. However, her plan was cut short by a case of mononucleosis. Chronically fatigued, she was forced to give up the team and take a desk job in Washington, D.C. Thinking her racing career was over, she decided to move on with her life.
"I got sick, quit paddling and moved here as a quality of life decision," she said. However, once in Durango, the call of the water proved too strong. She dusted off the racing gear and got hooked up with Durango Whitewater.
"After Salt Lake, I said 'I'm ready to race again,'" she said. "I've got the passion again, and I'm back."
Seaver said she is further motivated by fellow Olympic hopefuls on the team, Ryan Bond, a national C-1 medalist, and Perry, an 18-year-old rodeo champion from Carbondale who moved here to make the cross-over to racing and go to college.
"All of a sudden, we had this amazing crew, and we all wanted to go to the Olympics," Seaver said.
Perhaps the biggest factor in motivating the team this year will prove to be Hearn, a three-time Olympian who moved to Durango a year ago to coach at the urging of Brennan.
"I had spent a lot of time in Durango and was pestered by years to get out here for good," said Hearn. "I should have done it sooner."
Brennan said Hearn is an invaluable asset to the team.
"I think she's the best coach in the country," he said. "For her to finally move here, it's almost like life is complete."
Furthermore, Hearn, who started her own racing career at the age of 11, has an edge over other coaches in that she's still active in the racing scene.
"If I race at team trials, I can give them information about the course that other coaches can't," she said.
And although Hearn said some of the team's members are still too young to race competitively on a national level, the long-term prospects are good.
"We got them young, that's the good thing with these little guys," she said. "They mentor each other."
Hearn admits that winter training is not always ideal – last week 13-year-old John Gerstenberger slipped on the ice and hurt his arm, and a few days earlier a younger paddler went for a swim. But overall, it is an advantage.
"There aren't many people training year round, especially groups as big as this," she said.
With Hearn at the helm full time, Brennan, who can't devote all his time to coaching because of his job as a designer for Prijon Kayaks, still takes part in workouts when he can.
"I always do the Thursday workout just to prove that I can still kick their asses," he said.
However, he noted this is becoming increasingly harder to do.
"A lot of the kids are getting close to beating me, and Ryan already has," he said. "And I love that. That, to me, is one of the proudest moments."