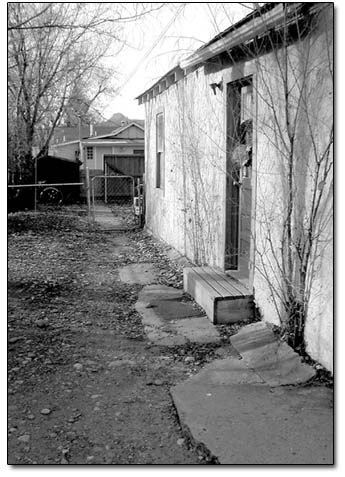 Second housing units as well as homes retrofitted to include additional apartments are the subject of an ongoing battle between Durango homeowners and the city. According to the city's 1989 land-use codes, many of these structures and additions are illegal. However, because current laws governing such structures are ill-defined, city officials are running into a problem in determining which structures are illegal and which can be grandfathered in./Photo by Will Sands.
All over Durango, drywall is going up, plumbing is being added, and single-family homes and their outbuildings are becoming duplexes, triplexes and even four-plexes behind closed doors and without official permission. However, city of Durango officials are continuing their longstanding quest to put an end to rogue rentals and plan to add some teeth to regulations in the near future.
Since the adoption of Durango's land-use code in 1989, the city has been trying to crack down on structures it tags as "nonconforming." The title refers to homes and sheds or garages that have been retrofitted to include additional units and boost the owner's income. Though enforcement against such converted structures has been ongoing for more than a decade, the city has yet to see dramatic improvement.
"Thorny issue," "ongoing headache" and "tough nut to crack" are all words that come to Durango Planning Director Greg Hoch's mind. Hoch says that while converted homes are not on his department's front burner, profit prevents them from going away. "I think in an economy and a housing market like Durango has, people realize that real estate is a money maker," he says. "People also seem to think it's easier to beg forgiveness than ask permission."
If they get busted, a large number of Durango residents will be begging forgiveness and undoing their conversions. Steve Jamnick, Durango's code compliance officer, says that he's been dealing with a steady number of fly-by-night rentals this fall, and he knows that there are many more that have not come to his attention.
"I know there are a lot out there," he says. "I'd hate to even speculate on the number."
Millisa Berry, of the City Planning Department, concurs. "There are probably a ton out there that haven't been turned in. A lot of them seem to be turning up now."
Both Berry and Hoch agree that while nonconforming units are zoning violations, they also provide housing in a stretched real estate market.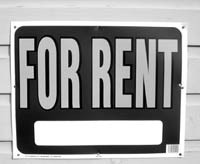 "We have a housing problem right now, and we need to remedy it somehow," says Berry.
Hoch adds: "The flip-side is that we're short on affordable units in this town. Conversions can provide relief."
The highest incidence of nonconforming uses in Durango occurs on the town's historic, east side, according to the Planning Department. That side of town carries an "RST-8" zoning, which allows duplexes only on lots that are 7,500 square feet or higher and have two off-street parking spaces per unit.
One Durango woman, who chose to remain anonymous, was renting a second unit in a home that did not meet these criteria. Shortly after she moved, she said a city inspector deduced that her apartment was a retrofit. However, she was not thrown out on the streets and continues to pay rent.
"I moved out for two days while they sawed through the pipe behind the sink and got rid of the kitchen," she says.
She says she found the whole situation ironic, because not only did she move back into her now legal but kitchen-free apartment, she left her belongings and dog there for the second inspection.
Jamnick was likely the inspector who caught this non-conforming use and says he is clued into violators in a number of ways.
"A lot of times, I look for a real estate sign in a strictly single-family area that's advertising a duplex for sale," he says. "A lot of times, I see basement apartments for rent in single-family areas. But mostly, I react to a unit because of complaints from neighbors."
A local Realtor, who also chose to remain anonymous, related a recent transaction of a duplex he was involved in. The seller reported to him that as far as he knew the residence had traditionally been a duplex, and it was marketed and eventually sold as a duplex. However, after closing, the city sent the owner a letter saying the house may be nonconforming. After an investigation, both units are now occupied, and the agent and the home's owner have not heard back and are going forward on the assumption that the duplex is legitimate. Jamnick notes that it is not always easy to differentiate legal, long-standing construction from recent retro-fits.
"It's an ongoing problem with us as far as legitimizing one from another," he says. "It's kind of tough to really prove how long they've been there."
However, Jamnick says he typically looks for new construction as a tell-tale sign and says that frequently the add-ons are made obvious by their newness.
"A lot of times it's obvious that they were recently constructed, and it's obvious they skirted all the legalities," he says.
However, the anonymous Realtor questions: "What if it's an old duplex that was recently renovated?"
An additional twist comes into play with how new the construction is. While 1989 serves as the date for land-use code adoption, Durango first enacted zoning in 1941. Though the Planning Department has been focusing on newer construction, the date for grandfathering in converted structures has not been set in stone. To this end, Hoch says that he will be sitting down with the city manager and city attorney in the near future to gain more clarity.
Until then, the city will respond to complaints, look for flagrant violations and focus most of its energy on bigger-ticket items like Grandview development and developing an ordinance to encourage dark skies.
"It's not that it's not an important issue to us, it's that our plate is full of more pressing issues," Hoch says.