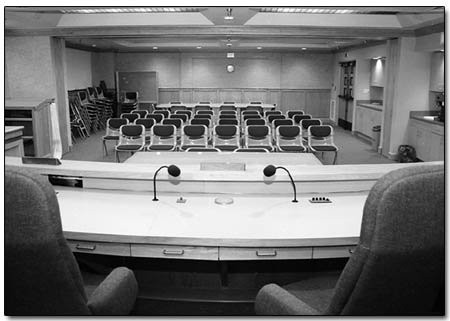 Anyone out there? La Plata County commissioner chambers, the sight of many a contentious debate over the years, have been a little quiet as of late, according to at least one county official.
Lately, several calls of "where are the people" have sounded through meeting rooms throughout the basin. And while local activism may appear to be on the wane, opinions from planners, activists and officials run the full spectrum. Many believe it's as strong as ever and just refocusing, while others think we're seeing an unfortunate trend during a critical time in Durango's history.
Perhaps the biggest current blip on the Durango radar screen is development in the Grandview area. As proposed by the Southern Ute Indian Tribe and the Crader family, up to 2,000 new dwelling units would take the place of 920 acres of open space roughly two miles east of Durango. As an incentive, the group has offered to donate 35 acres to accommodate the overcrowded Mercy Medical Center for a new facility. And somewhat surprisingly, considering its seemingly huge density, the project largely has drawn public praise.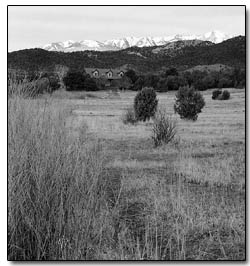 Most ironic, however, is that the same parcel was proposed for development in 1994. The California proponents were not pushing for thousands of units but a mere 250 on the land that became known as the Artesian Valley Ranch. After three years of heated meetings and solid opposition, La Plata County commissioners eventually approved the plan. However, not a single unit was ever built. In addition, up to 2,000 new units in the Grandview area are not alone in terms of proposed development around Durango's borders. The Kroeger Ranch and Ewing Mesa developments would throw another 2,800 units into the mix, making for a near doubling of Durango over the next 20 years. However, Durango residents have largely been silent about these changes.
In a similar fashion, Durango's new Home Depot has turned from a grassy lot to one of the largest warehouses in the county in recent months. Aside from a few jabs in these pages, the hardware warehouse's construction has gone seemingly unnoticed or been embraced with comments like "at least I won't have to drive to Farmington anymore."
However, in 1996, many Durangoans again turned out in force to oppose the construction of Wal-Mart. Again meeting rooms were filled and tempers flared as people opposed a business they felt would damage the character of Durango.
Right where it should be
In spite of these examples and others, Durango Planner Greg Hoch said he doesn't believe local residents have changed that much and that activism is right where it should be in the city. "I don't believe activism is on the wane," he said.
Addressing Home Depot's coast to final construction, he noted, "I think Wal-Mart was a watershed battle. Wal-Mart was seen as a town changer and a town killer. Home Depot's not seen as something that kills your moms and pops. In fact, people see it as something that stimulates competition."
Speaking of Grandview, Hoch said that the dynamic of the project has changed, making it more favorable to the community. "Grandview was a very contentious project in the county in the 1990s with considerably fewer units, but it was more sprawl oriented with large lots," he said. "I think the scale has changed considerably, but from what I gather, people also regard the hospital as a good neighbor."
Hoch also suggested that attendance at public hearings may be down because government in Durango is doing a good job. "I think some people stop being active when they have a confidence level that projects are going to turn out right," he said. "In this town, you often have a large number of people who support projects, but they don't show up to meetings."
He also added that a great deal of public input is going beyond complaining and into projects aimed at improving Durango life, like the dark skies effort.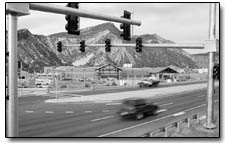 Right where it's never been
Joe Crain, director of La Plata County Planning Services, has a somewhat different perspective. Crain said he's noticed diminished public participation on county issues, particularly the smaller ones.
"I've noticed over the last couple of years, that unless something's going on in someone's neighborhood, participation is kind of light," he said. "Maybe it's because people are having to work harder and don't have time."
As an example, Crain cited a recent meeting on expanding on the future of commercial business on East Animas Road, County Road 250. A storage unit complex's desire to expand spurred the meeting, which eventually became a discussion and planning session for commercial use as a whole on the road. Crain said he was most surprised at the low attendance because East Animas Road is one of the only places in La Plata County that has set strict zoning and rigorous development standards.
"The whole intent of the meeting was to discuss commercial uses in the valley," Crain said. "I was kind of surprised that we didn't have more people show up. It seems like unless there's a major project that's objectionable and coming in right next to you, it's difficult to get people to show up. The participation level is just not what it used to be."
Having been directly involved in the controversy surrounding the Artesian Valley Ranch, Crain said he's been surprised by the lack of controversy surrounding the Grandview proposal, but he also attributes much of it to the hospital. "I'm amazed at what's happened, but I think a lot of the Grandview situation is because of the hospital itself," he said.
He added that he finds the lack of public involvement particularly disturbing given the amount of development that is currently proposed for La Plata County and Durango. "I wish somebody could tell me why the interest has waned," he said. "As we move toward the future, we're going to face pressures we've never faced before. The next few years are going to be instrumental for the future of the county."
However, Crain also noted that a hand-picked, public group is currently working on transferable development rights with great success as are other groups. "That group has been exceptional with their attendance and interest," he said.
He also acknowledged that the Durango Mountain Resort expansion drew a great deal of public involvement.
Keeping issues in focus
Colorado Wild Executive Director Jeff Berman was at the forefront of the controversy surrounding the DMR expansion. While he said that the current technical analysis of master improvement plans has not drawn much public interest, activism on the project is still strong.
"In reference to DMR, the initial application of the master conceptual plan was a key component and naturally, there was a lot of public involvement with that," he said. "I don't expect too much public involvement with the master improvement plans. Theyhighly technical in nature."
However, as planners move into the analysis of the village conceptual plans, which will lay out fairly concrete sketches of what is planned for construction at the resort, Berman said he expects the expansion to return to the forefront. "I expect a great deal of public input," he said.
Mark Pearson, executive director of San Juan Citizens' Alliance, also said he believes that the public is still passionate about the hard issues. However, he added that there may be a fixed amount of energy that's being focused in different places.
"Certainly, there's still the same amount of energy, but maybe it's focused in different places now," he said, noting that Kroeger Ranch, Ewing Mesa and Grandview have been particularly quiet.
One of those different places has been oil and gas, according to Pearson. "In terms of oil and gas issues, business has never been better for us," he said, relating a Durango hearing where 200 people showed up to comment on gas wells proposed for the Farmington area.
With respect to new development, Pearson said that the patina of New Urbanism, as a solve-all for growth woes, also may be keeping people satisfied. "All of these mega-developments are touting themselves as visionary, new-age, 21st century projects," he said. "They're all speaking a much different lingo."
Like Hoch and Crain, Pearson said he sees people putting positive energy into the community, citing efforts to relocate the library and Children's Museum as two examples. "There's a lot of energy focused on proactive projects that are improving the community," he said.
A time for every issue
Clearly, the amount of public participation and activism is a matter of opinion, Regardless of how you weigh it, everyone seems to agree that a good litmus test for local activism will be the forthcoming revision of the county's land-use codes. The county is attempting to take regulations that have been called "the worst of all worlds" and make them a modern, effective guiding document.

The process will demand public input in order to be effective.
"With the code changes, we're going to be trying really hard to get people without vested interests to comment," said County Planner Nancy Lauro.
Pearson said, "What might be most telling is how many people get involved
in the county's land-use revisions." However, Hoch noted that that decision rests in the public's hands. Whether the land-use revision becomes the hot issue of the day depends on the whim of the community. "Participation just depends on particular issues coming up at particular times," Hoch said.