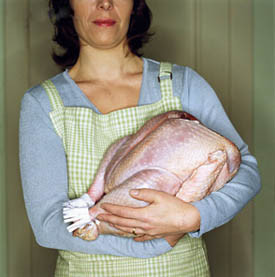 It's nearly every mother's nightmare: preparing a lavish Thanksgiving dinner of turkey with all the trimmings and being told, "Mom, I can't eat that. I'm a vegetarian now." This holiday season, that age-old question of "to turkey or not to turkey" rages on – and can cause potentially uncomfortable social situations.
"It can be hard blending meat-eaters with vegetarians at Thanksgiving," said Paige Newman, founder of the Durango chapter of the Vegetarian Society of Colorado.
Newman became a vegetarian at age four when she found out where Oscar Meyer baloney came from. She became a vegan, or vegetarian who also abstains from all dairy and eggs, about 10 years ago, and says she founded the vegetarian group this year because it can be a challenge to be vegan in Durango.
Still, it's harder to be vegan in other places, she said. For example, when she lived in a Mormon community in Arizona, she was once introduced, "This is Paige. She's a vegan." The person replied, "Where's Vega?"
"They thought I was from another planet because I was a vegetarian," Newman said.
Nancy Pollock, a deli assistant at Nature's Oasis, has been a vegetarian for six years and a vegan for about a year. She became a vegetarian after seeing a movie on how chickens were raised. "It was really disgusting and kind of scared me," she said.
She said it was initially challenging to spend Thanksgiving at home because her parents are "full-on meat-eaters" and would ask her to eat meat-based dishes and "just pick out" the meat. She had an ally in her vegetarian sister until her sister got pregnant and started eating turkey again last year, leaving Pollock alone to eat sides like stuffing and mashed potatoes.
This year, Pollock will forgo meat substitutes like Tofurky and stuff a butternut squash with steamed asparagus and a raspberry-tahini dressing. She'll also prepare more traditional dishes like stuffing, pies and mashed sweet potatoes.
According to Lou Steele, general manager at Nature's Oasis, many vegetarians don't want to "pretend" to eat turkey and make their own meal, like Pollock. He said the store will probably sell only 10 or 11 Tofurkys, which have to be special ordered.
"That's not a lot compared to 150 turkeys or so," Steele said.
The projected numbers are similar at Durango Natural Foods, said Ron Englander, the store's grocery buyer. Englander said the store will sell 140 fresh turkeys, but only 10 to 15 Tofurkys. He said it's usually "transitional" vegetarians who want to eat something like a Tofurky that mimics the taste of meat, though he added that the seasoning in Tofurky dinners is pretty good.
Full Tofurky dinners include vegan "giblet" gravy, tempeh drummettes, as much stuffing as will fit inside the Tofurky (about the size of a softball), and even a Tofurky jerky "wishbone."
Englander has been a vegetarian on and off for 40 years and doesn't support the meat industry but will eat local meat. He said that in the natural foods industry, the fastest growing sector is natural and organic meats, as opposed to the vegetarian demand of the '70s and '80s.
"We cater to everybody," Englander said.
Maggie Cowing, a Wells Fargo bank teller, said she was a vegetarian for four years until a turkey proved to be too tempting one Thanksgiving. She had gradually phased meat out of her diet because it had started to "gross me out," but then she went to an FLC professor's house for the holiday.
"That turkey looked so good, and I was like, 'You know what? There's got to be a reason (it looks good).'"
Cowing said she never tried Tofurky in her days as a vegetarian. "The first time I saw it, I thought it was a joke." But she said a friend in Durango recently slipped her some Tofurky deli slices and she liked them.
"I was pleasantly surprised."
Then there's carnivore extraodinare Jon Leonard, night manager at Wagonwheel Liquors, who friends say rarely eats fruit or vegetables and plans to attend a Thanksgiving dinner in Durango that will feature a deep-fried turkey.
"It's the best way to eat a turkey, so tender and juicy and good – I wish I was eating one right now," Leonard said.
Still, he said he could see himself eating Tofurky one day "just to say I've done it."
"As long as (vegetarians) aren't preachin' to me, I can respect their gig," Leonard said. He said a lot of his sister's friends are vegans, but it doesn't create problems.
"We just laugh at each other."
Jeremy Fuller, a woodworker who has been a vegetarian for 15 years and a vegan for 12, said laughter and tolerance can be the key to otherwise awkward social situations. One secret to a smooth evening is listening to the same meat-eater jokes he's heard for 15 years and pretending it's the first time he's heard them, like when friends knowingly offer him a hamburger.
"They always think it's hilarious," Fuller said. "They don't realize I'm laughing at what they eat 85 but as long as we're both laughing it's all good."
He said that it is important for people concerned about eating healthy to also consider the health of their conscience in eating animals.
"Healthy conscience, healthy mind, healthy body," Fuller said.
At least there's one point of agreement between vegetarians and carnivores this Thanksgiving: the time has come to gorge ourselves. Bon Appetit!