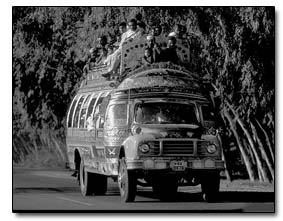 It began with a ragged postcard from an old college friend. The card had come to me from India, and judging from its appearance, it had been in transit for some time.
"This last year was pretty good to me. I was a lucky bastard (not counting three self-diagnosed cases of giardiasis - I won't indulge you with the tell-tale symptoms). I only had to pay baksheesh once at the Pakistani border, but that's a long story."
The card ended abruptly, hanging in my hands like more of a clue than correspondence.
However, a couple weeks later the blanks were filled when I received a call. Indeed, the postcard had been in transit for some time. My friend was back at home in Florida for a spell and eager to tell of his year exploring the back roads of Asia.
Apparently, mom was paying because he rambled on for a couple hours.
He told of his traverse across Europe, crossing the Bosphorus and his first descent into the Middle East. Courtesy of duel citizenship, he was able to skip through Iraq and was eventually welcomed into Iran, where he holed up for four months in the land of Ayatollah Khomeini. During that time, he was asked to marry a 16-year-old female, seriously considered converting to Islam and, as testament to this urge, slaughtered a lamb to celebrate the end of the Islamic month of fasting, Ramadan.
He elaborated on crossing Pakistan by bus, his life in the hands of a driver who habitually smoked heroin as he sped along narrow passes with elevations in excess of our highest peaks. With glory in his voice, he mentioned transcendent experiences on the Baltoro Glacier, the home of K2 and the Gasherbrums.
He finished out his tale and his journey in India, speaking highly of Ladakh, a hold-out of Tibetan Buddhism, and not-so-highly of Siddhartha's birthplace, now a crime-ridden backwater.
So ended his trip and our conversation, and after two hours, I realized that I had barely spoken. My half-assed comments were mainly kept to "wow," "all-right" and "cool."
At the time, it didn't seem right to speak of skiing powder at Wolf Creek, spending long weekends in canyon country or bringing a new human into the world. At the time, my experiences felt empty, and I was honestly more than a little envious. He was living a dream that I had once embraced, the dream of endless wandering and bumming across the globe. I was the guy who gagged down three-and-a-half years of Arabic and countless eastern religion classes. I thought to myself that I should have been at that Ramadan, walking the streets of Tehran and on that bus to Baltoro.
But after I hung up the phone, I thought twice about the tone of his voice and desperate nature of his words. It was true that he had lived a great dream, traversing Asia by foot and bus. But I realized that living that great dream had come at a heavy price.
He set out with limited knowledge of Asian culture and no understanding of the half dozen languages and hundreds of dialects he crossed. He was not wandering, but staggering, and it seemed that in his extravagant exploits, he had but scratched the surface. Throughout he remained only a visitor, a tourist.
And judging from our conversation and his diarrhea of the mouth, he was very much alone during those 12 months, very much apart from humanity. During a simple phone call, he latched onto me like a drowning man, starving for companionship and teetering on the brink of madness. Rather than the jovial friend I remembered, I was treated to a one-sided lecture from a man who was fresh out of 365 days of solitary.
And thinking back on our conversation, I should have expanded my comments well beyond "wow" and "cool." I should have spoken of the beauty of sharing a random conversation on Main Avenue, told of venturing on seemingly endless rides with great friends and mentioned the pleasure of waking to look out at the same red cliffs and noticing new alcoves. I should have explained that in my experience some of the best learning comes from exploring one place in depth and mentioned that it's best to put your roots down in people. I might have done this and more.
But, I know that friend of mine is still out there, cut loose of entanglements. The last I heard he was off to teach English in Japan. And there's still a big part of me that wants to be at that border crossing or squeezed into that tight bus.
But I take solace in knowing that I've found a big piece of what I've been searching for. I hope that one of these days he finds his.