Contrary to Muppet wisdom, it can be easy to be green – at least for members of Durango's Green Business Roundtable. Since March, local members of the business community have gathered for lunch once a month to network and listen to presentations on ways to further environmental values in the workplace.
"It was sort of a sit-up-in-the-middle-of-the-night deal, realizing that one of the things that holds back the environmental community is our relative lack of networking," said Kent Ford, who conceived the idea for the roundtables. "Here we have a town where lots of folks are concerned about environmental issues – or are dependent on the environment – and they weren't networked."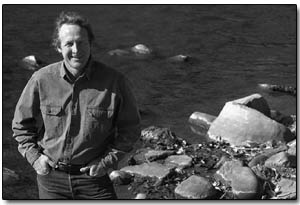 Kent Ford, seen here Monday alongside the Animas River, came up with the idea for the monthly Green Business Roundtables as a way for businesses with similar interests in the environment to network while learning green business practices.The meetings draw about 60 participants a month./Photo by Dustin Bradford.
Ford said the roundtable is not an advocacy group. Rather, the goal is to "inspire ourselves and other businesses to do right by the environment."
Ford, whose passion for the environment stems from his experiences as a World Champion whitewater paddler, brought the idea to the San Juan Citizens' Alliance, which now sponsors the lunches. Through word of mouth, around 60 people attended the first roundtable in March, and the numbers have held strong. Roughly 65 people attended the most recent roundtable, at which Tom Maynard discussed transferable development rights (TDRs), which advocates say could protect open space. Maynard is currently developing a TDR demonstration program for Durango and La Plata County.
Mac Thomson, a real estate agent who brought his 4-year-old son, Al, to the meeting, said he has been to several roundtables but was particularly interested in TDRs.
"I like business and the business model and the idea of finding a way to take care of the earth, and this seems to combine them," Thomson said.
Another attendee, Tim Wheeler, of the business management and planning firm Wheeler Consulting, said there are a number of reasons why he attends the roundtables.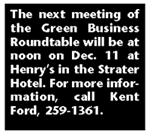 "I think first off (I attend) to show support for the concept of green business, second to network, and third to learn," Wheeler said.
Wheeler said that it is important to debunk the myth that "being green" costs more.
"The real fundamental truth is that being green increases profits when done properly – even done improperly sometimes," he said.
For example, he said that replacing traditional, incandescent light bulbs with compact florescent light bulbs, which are more energy efficient but cost up to $7 apiece, saves money in the long run.
"Compact florescent light bulbs seem to cost more in the beginning, but where else can you get a 30 percent return on your investment? Most businesses would kill for that."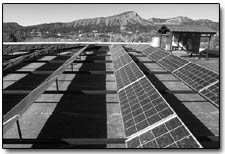 These solar panels on top of the Smiley Building help heat the water for the building. The system is among
the largest in the Four Corners./Photo by Dustin Bradford.

Charles Shaw, co-owner of the Smiley Building and past roundtable presenter, said using compact florescent light bulbs isn't the only way energy is conserved at the Smiley Building. In fact, a third of the electricity used there comes from solar power – the roof of the building boasts one of the largest solar panel systems in the Four Corners, he said. The building conserves energy in other ways, including energy-efficient boilers (and different solar panels) to help heat the building; separate thermostats in each room; and motion sensors to activate lights and bathroom fans.
"The solar stuff is expensive, basically because the fossil fuels are subsidized and the solar isn't," Shaw said. But he added that less expensive changes, like installing compact florescent light bulbs, offer a quick payback - usually anywhere from two to six months.
"I would think any business could afford that, or really, anybody," he said.
In fact, Ford stresses that "small steps" like energy-efficient light bulbs, proper insulation or the use of 100 percent recycled paper are the keys to environmental sustainability.
"I think what we as a culture will have to realize in the next 50 years is that the solutions to our problems are going to be in lots of these small steps," Ford said.
Of course, he doesn't mind companies taking big steps, too. Ford said that Mercy Medical Center is an example of a larger local business with representatives who have attended roundtables and taken an interest in environmental responsibility.
Brad Cochennet, chief operating officer at Mercy, said he has enjoyed roundtables in the past, and that last month the hospital hired a team of architects for the new hospital that includes an engineer on the L.E.E.D. Council, a national green building council.
"To have somebody on the national council 85 was certainly a plus," Cochennet said.
He added that he was impressed at the number of people the roundtables attract.
Corey Nielsen, president of Nielsen Trading Group and Summit Investments, a real estate investment company, said he tries to come to all of the roundtables.
"I've never seen the crowd size dwindle; it's always strong," Nielsen said. "Fundamentally, what's important is there's a group of business people in Durango that really care about what's going on in this community."
Margy Dudley, owner of the photography gallery Open Shutter, said one green choice she's made was opting to use bamboo grown on a farm for the floors of her gallery in order to prevent trees being cut down. She said she feels it is important to conduct business responsibly.
"The way we live our lives and the way we run our businesses – if we do it with integrity and set an example of how to make these changes happen – hopefully it will spread to the larger community," Dudley said.