Sidebar: AIDS benefit to help fund programs affected by state cuts
For most Four Cornerites, the Tuesday before last was like any other day. But for Tanya Sena, of Ignacio, Nov. 12 was a painful reminder of the day six years ago when her older brother died of AIDS.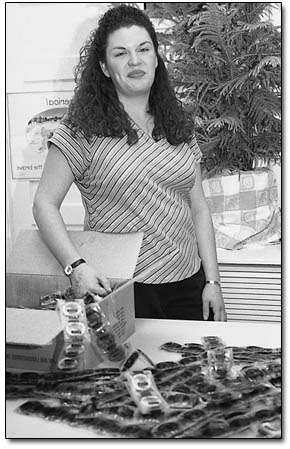 Tanya Sena, local AIDS activist and organizer of the annual Southwest Colorado AIDS Walk, displays her stash of condoms Monday. As regional condom distributor
for the Colorado Department of Health and Environment, Sena estimates she goes through as many as 40,000 condoms a year./Photo by Todd Newcomer.
Sena was 10 when she found out her brother had the then-rare virus. The year was 1985, and not much was known about the disease other than it was deadly and uncontrollable.
"My mom told me we couldn't tell anybody," said Sena, who grew up in Bernalillo, N.M. "It was really scary; we thought we'd get kicked out of town."
The secret was something Sena's family took to her brother's grave.
"We kept it in the closet until the day he died 11 years later," she said. "That's pretty sad. And what's sadder is that people are still living like that today, especially in these rural communities."
As a result, Sena has dedicated herself to AIDS prevention and education so others don't have to endure what her family did.
"I don't feel people need to be hiding," she said.
Sena is active in a number of AIDS/HIV advocacy groups, including Coloradans Working Together: Prevention of HIV and AIDS, and organizes the annual Southwest Colorado AIDS Walk, held each September in Durango. She also co-coordinates Peers Educating Peers, an HIV education program in Ignacio schools. It is this group and others like it that she sees as most crucial in the fight against AIDS. Since the HIV virus often lies dormant for several years before wreaking its havoc, Sena believes her brother could have contracted it while still in high school. Thus, early prevention and education is the best step in stopping the spread of the disease, she believes.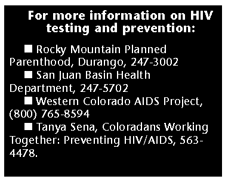 Sena uses high school kids trained in AIDS/HIV prevention to teach the younger students because she feels it is more effective.
"They'd rather hear it from their peers than adults," she said.
Outside the classroom, Sena takes a more hands-on approach, distributing condoms. In fact, she is the Colorado Department of Health and Environment's regional condom distributor, supplying entities such as Planned Parenthood and San Juan Basin Health Department, as well as bars, special events and individuals.
"Kids know where I am, so they'll come to me and get some," she said, estimating that she gives away as many as 40,000 condoms a year.
And although she can't hand them out in schools, where her programs must adhere to teaching abstinence rather than safe sex, she is adamant about making them readily available elsewhere.
"If I have to, I'll cruise up and down the streets handing them out," she said.
Fighting the stigma
Although Sena feels she has made inroads in AIDS/HIV education and prevention, she acknowledges that much more can still be done.
"I speak to adults in parenting classes, and people don't know how it spreads; they don't know how HIV is transmitted," she said. "I don't know if they really don't know the answer, or if they do but are just embarrassed to say it."
And therein lies the challenge in AIDS education and treatment in rural western Colorado, experts agree.
"When you live in rural Colorado, you don't go around announcing that you're gay," said Melissa Boyette, director of client services for the Grand Junction-based Western Colorado Aids Project, or WestCAP. "There's a stigma surrounding behavior that leads to HIV, and that stigma keeps people from getting tested. It feels like five or 10 years ago in that respect."
Sena, who is a family advocate for the Southern Ute Montessori Head Start, agrees. "In Hispanic and Native American families, it's not a topic you discuss," she said.
In addition to the stigma, Boyette said the possibility of early treatment is thwarted because those who may have been exposed to the virus are not getting tested early enough.
"People don't identify with their risk behaviors, and testing doesn't happen," she said.
Further complicating the issue is the reluctance of those who are infected to seek medical help, Boyette said.
"People don't go to a doctor in rural Colorado unless they're sick and dying," she said. "Typically, one will end up in the emergency room and do an HIV test and discover they're infected."
As a result, treatment is much more difficult because the disease has progressed to advanced stages. "People are getting tested very late in the disease process, and it takes them a long time to return to good health," she said.
Targeting trouble spots
According to Jeff Basinger, resource coordinator with WestCAP, 39 people suffer from AIDS in La Plata, Archuleta and Montezuma counties. Another 40 people are infected with HIV.
Basinger, who himself is infected with HIV and moved to Colorado from Austin, Texas, notes those numbers do not include people who moved here after their diagnosis.
"I suspect there are two or three times as many as state statistics reflect," he said.
And an increasing number of those people are women and Hispanics, Boyette said. She also said WestCAP, which was founded in 1985 to serve AIDS/HIV sufferers in 25 West Slope counties, has seen an increase in the number of infected young gay men. However, it is the rise among the heterosexual population that is the most troubling from a prevention standpoint, she said.
"We are seeing more and more heterosexual couples," she said. "It's hard to know how (HIV) has infiltrated those populations since we don't have a big IV drug problem in rural communities."
Boyette speculates one reason is the rise in use of methamphetamine. Although it is typically smoked rather than injected, she said it could lead to the spread of HIV because of the high-risk behaviors, such as unprotected sex, that are associated with it.
"Substance abuse does lead to riskier behavior, so in that way, meth does contribute," she said. "Meth use could lead to a resurgence of HIV infection in rural Colorado. We see it as a real area of problems."
Rates on the rise?
Although medical knowledge of AIDS and how it spreads has never been better, infection rates have remained at a steady level.
Dr. Chuck Salka, an infectious disease specialist, staffs quarterly WestCAP clinics at San Juan Basin Health Center in addition to treating patients through his private practice. He has 15 HIV-infected patients and said that number has remained steady over the six years he has been treating AIDS patients in Durango.
"New infections have not decreased, and if anything, they are increasing nationwide," he said.
Charisse Tuma-Meiers, health center manager of Planned Parenthood of Rocky Mountains in Durango, concurs.
"Sexually transmitted infection rate is on the rise again," she said, "it could be interesting."
Part of the problem, Salka said, is complacency. People no longer see AIDS making headlines and have been lulled into a false sense of security by newer, more powerful anti-retroviral medications. However, Salka points out the drugs may not provide a long-term solution.
"I think people have become complacent with the new medications and treatments, but I don't know how long those medications will work with drug resistance and different strains of the virus developing," he said.
Tuma-Meiers also points out that people who believe they are safe from HIV, or any sexually transmitted disease, by living in the relative isolation of southwest Colorado have another thing coming.
"We're right in there with national rates," she said, "and Montezuma and Archuleta counties are higher."
Basinger, with WestCAP, also cautions against the danger of underestimating AIDS. "If anyone has the belief that HIV or AIDS is manageable, they are sorely mistaken," he said.
And although the new generation of anti-retroviral drugs, called protease inhibitors, are promising, consideration should be given to their side effects, he said, which can take their toll on the body's internal organs.
"Many of our clients are dying from pancreas, heart and liver failure because of medications," said Basinger, who tried a regimen of anti-retroviral drugs a few years ago to treat his HIV but quit because of side effects, which included nausea, vomiting and diarrhea.
Salka said another new twist in the AIDS puzzle is hepatitis C, an incurable disease of the liver that often befalls AIDS patients.
"I think a lot of people with AIDS are going to die from that," he said.
Once again, all point their fingers at prevention and education as the main hope in stemming the spread and possible resurgence of the epidemic.
"The more education people get helps with prevention and decreasing rates," said Tuma-Meiers, who said Planned Parenthood does this by offering testing, HIV counseling and education. "We don't want to come out and terrify a community, but at the same time, you want people to be alert and aware and take precautions."
Signs of hope
Despite the real and looming threat of AIDS, experts agree that there is a silver lining. With the introduction of a new treatment protocol a few years back, referred to as Highly Active Anti-retroviral Therapy, or HAART, people no longer take just one drug but three in an effort to thwart the disease at various stages of its lifecycle. The so-called cocktails, made up of anti-retroviral drugs, seem to be working not only to delay the onset of AIDS, but to prolong the lives of AIDS patients.
"It used to be 10 to 15 years from infection to AIDS, but now that can be delayed for a long time 85 we hope," said Salka.
And although reactions to the possibility of an eventual AIDS vaccine are mixed, Salka said he is optimistic that one eventually will be found.
In the meantime, he said many of his patients, once established on a course of therapy, can resume their normal lives, for the most part. "Many folks get on a regimen, and generally they're well enough to work and take part in everyday activities," he said.
Basinger estimates that a third of WestCAP's clients works full time, as he does; another third works part time; and another third is disabled and cannot work.
As for life expectancy, Boyette said the prognosis is brighter than it was just a few years ago.
"All in all we went from five deaths a month to two or three a year," she said. "I categorize HIV as much more hopeful. HIV is changing from being a total death sentence to being a chronic disease."
This change has allowed WestCAP to shift its focus, from one of hospice and end-of-life care to that of improving quality of life for its clients.
"Primarily, we went from dealing with end of life, death and dying, and bedsides, to 'How can we help people live with this disease?'" she said. "It's been a change of mindset. Ten or 12 years ago people with HIV thought they were going to die. Now, we have more and more clients coming to us asking for money to buy books," she said.
And not only does an HIV diagnosis no longer translate to death, it no longer means residents of Durango need to leave home in search of care. Thanks to a grant from WestCAP, specialists from the University of Colorado now come to the San Juan Basin Health Clinic every three months to consult with Salka on problem cases, Boyette said. WestCAP also helps people pay for medication, which Salka said can run between $10,000 and $15,000 a year.
"Focusing on the Four Corners, there are a lot of resources thanks to WestCAP," he said. "For a town this size, it's not bad."
In fact, many people with HIV often move to Colorado to be near loved ones or for the quality of life.
"Many of our clients are people from other states who are either coming back home or want to move here for a small-town lifestyle," Boyette said.
Basinger, who has had HIV for 18 years without it erupting into full-blown AIDS, says the change of scenery from the Texas capital to the West Slope hasn't hurt him. That, combined with a holistic treatment approach that includes massage, herbs, acupuncture, vitamins and meditation (he swore off antiviral drugs in 1999), as well as a support system of friends and a sense of humor, seems to be keeping him healthy.
"I'm just lucky, I think," he said.
Nevertheless, he admitted that being one of the lucky ones has its drawbacks.
"For people living with AIDS, the quality of life sucks; they still struggle with fear, infections, discrimination and medication," he said. "The bottom line is, HIV is still not manageable, not desirable, and it is not fun."