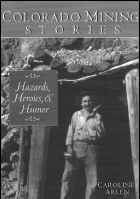 It has been nearly 20 years now since the big bust of the mining boom in the San Juan Mountains. Since then, the dearth of mining jobs has put a new face on Western towns built up by a once-flourishing commerce. Most mines have dried up. Gone with them is a generations-long subculture of miners who have all the stories.

But in Caroline Arlen's new book, Colorado Mining Stories: Hazards, Heroics & Humor, that lost subculture lives again. In it, readers are treated to an insightful romp through mining history as told by surviving miners or their kin.

Arlen, a Durango writer, digs up more than two dozen regional people who tell stories of their hardrock mining heydays. With Arlen's skillful editing and talent for picking out the gems, the character of each miner comes alive. There are themes that pervade the book – barroom brawls, tragedies narrowly averted, pain and laughter – but each person spins his or her yarn differently enough to weave an individual treasure. These miners are colorful, politically incorrect, curmudgeons, and funny.

Together, Arlen and the miners recreate a sense of camaraderie and expose the unfamiliar concept of choosing a job out of necessity instead of choice.

For many of these miners – women included – a job in the mines was their only ticket to survival. They were inured to the risks and dangers of mining and the hardships of a fickle industry, but they forged ahead with high spirits and humility into an underground world that many don't know exists. These people worked hard – and they lived hard. Younger readers (40 and under) will be exposed to an old-fashioned work ethic that some lament the death of – putting in an honest day's work, pledging decades of loyalty to one company and not complaining about mistreatment or lack of recognition.

It's obvious that miners were – and, though dwindling in numbers, are – a different species from other blue-collar workers. They watched out for each other like they did their own families, and their community was as strong and solid as the rock they excavated. This is what carried them through some of the roughest decades from 1870 and on. Though women were rare fixtures in those harsh mountains, they contributed mightily and earned their place.

This book also is important for its historical contributions (Arlen includes a glossary of mining terms), but it is not dreary textbook history. Each story is the cut and thrust, the kick and kiss of what hardrock mining contributed to this country's history and economy. By tracking down these storytellers, Arlen hits a vein of gold – something every one of these miners hoped to do themselves as they charged day in and day out into the deep, dark dampness. Unlike some gold diggers, readers won't catch Arlen high-grading the emotions and drama of this group of unpretentious history makers. This book is genuine, tender and rough. Pour yourself a glass of whiskey and settle in with it.