'Filth and Fire,' Texas Cage Match and 'Down From the Mountain'
by Mike Sheahan
Welcome to "The Goods," where I attempt to be much more hip than I really am by telling you how I think you should spend your free time and extra cash. There's plenty to do this week, so I'll dispense with the jibber jabber and dig right in.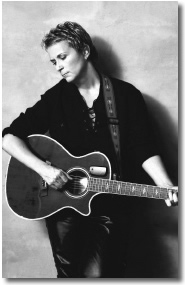 Mary Gauthier


Most people I know complain that there's never any good music to see in Durango yet never do anything about it. That is not the case with Two Nice Girls Productions. Tami Graham and Lori Eagle got into the music promotion business simply because they thought there wasn't enough good live music in town. And instead of whining, they put their checkbooks on the line to do something about it. Tonight, Nov.14, Two Nice Girls, along with the Durango Society for Cultural and Performing Arts, is bringing country-blues musician Mary Gauthier (pronounced "GO-Shay") to town. Her songs are dark and personal but escape the trap of sounding maudlin or cheesy.

Because of its tone and twang, Gauthier's voice and music invite comparisons to Lucinda Williams. In fact, the album Gauthier is touring behind, "Filth and Fire," reminds me a lot of Williams' break-out release, "Car Wheels on a Gravel Road." They're both moody and personal and are made up of slow- to mid-tempo tunes that feature organs, mandolins and slide guitars. Gurf Morlix, who played a large role in making "Car Wheels" sound the way it does, produced "Filth and Fire" and plays all over it.

Gauthier's work also can be compared to the quirky characters and off-kilter phrasing of John Prine, only not as silly. This will be a good show for people who like their music with a little meat on its bones; this is not bubble-gum pop country. The show starts at 8 p.m. at the Diamond Circle Theater and will be opened by local performer Sand Sheff who must be a cool guy because he once endured being interviewed by me on the radio without walking out.

The very next night (Friday) the Diamond Circle hosts "Shakin' in The San Juans," bluegrass and old-time Western music with the Bar D Wranglers, Salty Dogs and Badly Bent. There may not be any music I like more than authentic bluegrass, and that's just what the Badly Bent offers. The Bar D Wranglers play old-time Western music a la Jimmie Rodgers and Bob Wills, and The Salty Dogs provide a modern take on traditional bluegrass. What this gives you is a little something for everyone. The show gets under way at 7 p.m. The cover is a mere 8 bucks.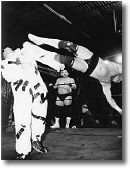 If you are going to be in Farmington this Saturday (Nov. 16th) you'll want to stop by McGee Park Coliseum (Farmington has a Coliseum?) at 8 p.m. for "Rage-N-Cage 2002." What in the world is "Rage-N-Cage" you ask? I'll tell you: Rage-N-Cage is a World Wrestling Federation and National Wrestling Association sanctioned pro wrestling Texas cage death match. Now, if I remember my days of professional wrestling fandom correctly, a cage match is when they put this chain link cage on top of the ring so none of the "fighters" can escape. The "fighters" are then required to remain in the cage until (as the name implies, I guess) one of them is dead.

This weekend's contestants, and I swear to god I'm not making any of this up, are Johnny Walker and a fellow named Honky Tonk Man. I'm sure no one has actually died in one of these "death matches" (outside of Texas, of course), and that makes me wonder how the promoters smooth it over with the fans. I would expect rioting. Oh, if only I didn't have to work on Saturday... .

Durango's own independent movie house, the Abbey Theatre, is celebrating its five-year anniversary in the coming weeks by showing encore presentations of five of its most popular films. This weekend, the 16th-18th, The Abbey will be showing "Down From the Mountain," a live music documentary featuring all of the artists on the "Oh, Brother Where Art Thou" soundtrack. If you are like me, you were sick of the Oh, Brother craze about one week after it started and have yet to listen to any of that music again. But I think it's been long enough now to warrant a revisit, and this is a chance to hear Emmylou Harris and bluegrass legend Ralph Stanley's performances on the Abbey's great sound system. I saw it the first time around and loved it. I'm sure it'll be just as good this time.



This Week's Sign That the End is Near:

Slam dancing is a form of dancing that became outdated somewhere around 1983. It made a brief comeback in the early '90s accompanying grunge rock and was called moshing. Still, that only lasted a couple of years, and the mosh eventually became irrelevant. Now it seems acceptable to engage in this activity at country and western shows.`People shouldn't behave like this at all, but especially not at a country show. What's next? Slammin' at the Symphony?



Next Week:

The dreaded return of the record review.


Keep me informed at mpsheahan@yahoo.com