In the aftermath of the Missionary
Ridge and Valley fires this summer,
local artist Shan Wells held a
metaphorical mirror up to his life, attempting to recognize how the fires' destruction had changed it. This was not a small mirror from a vanity case; it was enormous – to capture both the breadth of Wells' 6'3" stature and his emotions.
Wells saw a lot: fear, pain, loss and uncertainty; he saw raw wounds that
needed healing. Although Wells was not a victim of the fires' insidious path,
his inspiration was.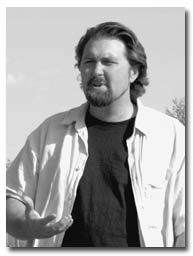 As an illustrator and environmental sculptor, Wells' art comes from nature –
literally and intellectually. He creates what some call "eco art" or "land art," a
movement largely popularized in the 1960s that focuses on the connection
between humans and nature. His work might include leaves, stones or flowers. Or it might include burnt twigs and thick mud, which are part of his sculptures currently on display at the Cordell Taylor Gallery in Denver.
Wells' exhibit, "burn works," showcases five pieces he created in response to the devastation of this summer's fires as well as past wildfires at Mesa Verde National Park. The Mesa Verde fires inspired three pieces, Zygote, Artifact and Arrested Languages, which he created last year and displayed in Durango. They are, by Wells' definition, more intellectual than intuitive. But this year, he added two new pieces to his suite of art, both of which carry a powerful punch of sorrow and rage, and have deeper meaning because of their proximity to this native Durangoan's back yard.
The most dramatic, Plume Drawing, is a black-and-white 7-by-10-foot triptych in pencil and charcoal. It is a vast spiral of smoke rising from an invisible landscape.
"This drawing is about the uncontrollable energy of these plumes," says Wells. "Its size is meant to evoke the power that was inside them."
Swab is a 12-by-10-foot sculpture of five auger-like farm implements wrapped in organic cotton and supported by rusted poles. The swabs are soiled with a slurry of mud and ash, which Wells collected from the mudslides that deluged the valley after the fires.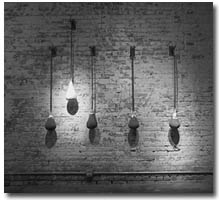 "The mud and ash from the mudslides were the color and consistency of chocolate pudding," he says. "I helped people who were buried in mudslides. And when I got into this mud, I noticed that it was like clotted blood. These mudslides were like the land was hemorrhaging – like the earth was trying to cleanse itself."
Swab, Wells says, conveys the pain that comes after the fire and the need for wounds to be tended to. One swab remains clean, however.
"This means that the jobs of conservation and reclamation aren't finished, and won't be for a long time. We also have a job to do of rebuilding from these fires' damage to our economy and to our social fabric."
Wells grew up on East Animas Road, so when the fires hit, along with his artistic wellspring, many of his childhood memories went up in smoke too. He spent much of his childhood picking chokecherries and mushroom hunting on Missionary Ridge. Many of his family members still live in the valley. Wells helped his aunt evacuate her home and helped an uncle clear brush on his property as a defense. This is why the two new pieces in his sculptural suite are so particularly painful and personal. However, these two pieces also are acting as catharsis, Wells said.
In 1996, Wells, whose father was a ranger at Mesa Verde, became interested in learning about the effects wildfires have on nature. That year and in 2000, he worked with firefighters to understand the regeneration of the land destroyed by fire and in turn incorporate it into his work.
"My art is about conceptual ideas. It is also like a series of questions about how humanity views nature, how we value it, interpret it, label it," says Wells.
"One of the main things I look for in my art is how to bring us back to the most basic thing, which is the earth. We use the earth's resources to separate us from it. But we shouldn't. If things are cut off, like water and snow, everything else falls away. It only takes a shrug of the earth's shoulders for it to crumble."
As Missionary Ridge was crumbling under the heat, Wells says he wasn't thinking about how it would impact his art, nor was he immediately aware of any inspiration for future works. He was immersed in helping family, community members and firefighters survive. He was also coming to terms with his own emotions.
"I felt guilty when the fires started," he says. "I had wanted to learn all I could
about what wildfires did to nature and the landscape. So, when they started, I
thought to myself, 'Well, here's your opportunity. Now you can learn all you
want to know.' I didn't want to learn this way. But I have much more respect for this natural process now."
Beyond his own healing, Wells also is concerned about healing the community. He's troubled by the divisiveness that emerged from the finger-pointing and name-calling once the fires were under control. Blame, he says, is not helpful. We all share the burden collectively.
"We came together so beautifully during the fires, and now we've become so
polarized," he says. "Blaming each other isn't going to help us protect ourselves and the forest from future fires."
Wells is unsure whether his two new pieces will be displayed in Durango, although that's his desire. But since they are intensely personal works, and, he says, are in many ways incomplete, he's comfortable using them and any future burn sculptures as salve on his own wounds.
"At the end of the day, I've come not to hate the fires," he says. "But there's
more I personally need to go through before I'm finished with this."