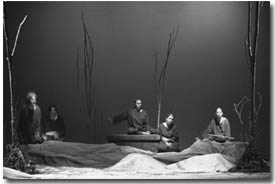 It's not every day that Durangoans have the chance to "explore exciting possibilities of mask, puppet, dance and shadow," so that's one reason to watch "The Air Inside the Rose." The show, brought to us by the Fort Lewis Theatre Dept., consists of three performance pieces and opens Friday.

"(The three pieces) all have different story lines, but the motif that keeps coming back is that thing we want or desire but for some reason can't attain," says Dr. Kathryn Moller, who directs two of the pieces. "All of them explore that in a very deep way."

The theme is certainly explored in a deep and esoteric way – David Lynch fans and people experimenting with hallucinogens will eat this stuff up. Moller describes it differently: "It might not be what people expect `85 but (it will please) theater-goers looking for something different than what they normally see."

It's true – and all three pieces create a unique theater experience in vastly different ways. The first piece, "The Black Pearl," utilizes 3-foot high puppets and "shadow play," or actors whose shadows are cast on a lit backdrop. In this case, the shadow actors are Deborah Wehmer and Caleb Creel, who move with precision and grace.

"The Black Pearl" also is distinctive because it was written by Beth Osnes, an Indonesian theater scholar who drew upon an ancient form of Japanese theater, "Japanese Noh," when she crafted her play.

But the star of "The Black Pearl" is an elderly female puppet (made of styrofoam and paint and operated by a hooded theater student, Jill Davis) scarred by the death of her young love, who drowned at sea. She is visited by an elderly male puppet (operated by Eagle Young) who turns out to be the spirit of her dead lover's greedy boss. The pace is on the slow side (though there should be pyrotechnics if all goes well), and the dialogue seems like it might have been a dubbing of a kung-fu flick: "I am she." "Yes, I know." "Won't you please come back in?"

Wehmer and Creel's shadows perform the flashback scene as the elderly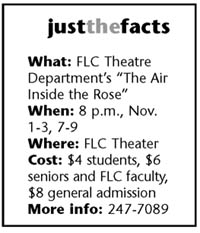 puppet tells her story of lost love to the stranger. She was lonely as a young girl until she caught a young man in her fishing net, and they fell in love. He proposes with a black pearl he hoisted while on the job as a fisherman/diver, explaining that the black pearl is one of the ocean's greatest treasures. She tells him she wants a whole string of black pearls as proof of his loyalty. The lover tragically dies trying to horde enough pearls, which sets the stage for a dramatic turn of events – and also provides the opportunity to practice cultivating empathy for an inanimate object.

The second piece is called "The Dreaming of the Bones," and was written by William Butler Yeats. Though best known as one of the greatest poets in literature, Moller says he "felt that he was more of a dramatist than a poet."
For this dramatic foray, Yeats included some musical compositions for words to be sung in parts, but Moller says it has been deemed "unplayable." Instead, she searched for dissonance within his compositions, and Durango's Lawrence Nass composed original music for it, as well as the first piece.
His haunting music is played intermittently by flute player Syneva Peters, while percussionist Matt McDonald might hit his drum or shake a rattlesnake maraca. A chanting character might suddenly sing a word in a dialogue, or the chorus might simultaneously sigh and lower their arms the same way, or make wind noises in between the actors' lines. To be honest, the background flourishes distract the viewer from Yeats' words, like "Even sunlight can be lonely here."

The story line involves a lost man, Creel, who wanders onto an ancient battlefield. Two 700-year-old ghosts, played by masked Young and Wehmer, tell their story of causing a war because of their affair – sometimes through dialogue, sometimes through dance. Creel could end their sexual separation by forgiving them, but instead he storms off, and they return to the ground.
The third piece, "Object of Screams and Whispers," initially seems like it will be fairly mellow – words are projected onto a screen behind the stage about a fairy who will give a tour of an island to members of a "vagabond skiff" as recorded opera plays. But then Emily Flood rushes down the aisle clutching and smelling white pumps while declaring "I'm ready," and things get interesting.

She's followed by a colorful assortment of characters, such as Kelly McDonald, who holds a plastic branch with leaves in front of her face while asking, "Why are you looking at me? I am not here!" or Matt McDonald, who fondles a blue and red Nerf ball and murmurs, "No, it's mine." There's also a woman on a tether, Gina Shure; a man with a bell and hat, Stephen Juhl, begging, "Just a little bit of love, please?" and then chastising "Greedy!"; Jill Davis, who tries to give away a fishing net; and a man with a suitcase, Ian Hanson, who collapses on the stage.

But these props are symbolic – this is Object Theatre, which Moller says is a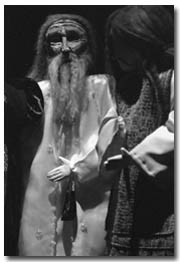 trend in Europe right now. The piece was directed by guest director Isabelle Kessler, who normally lives in France.

Hanson not only inserts the only humor in the entire show, but has an intriguing moment when he runs his fingers through the sand in his suitcase and starts feigning orgasm – then suddenly stops and says, "Until," and leaves the stage. The props – aka objects – all eventually find their way to the suitcase as actors change their tunes. For example, Kelly McDonald deposits her branches and runs offstage declaring, "Yes, I am here. Can you see me?"

"The Air Inside the Rose" is not going to have broad appeal, but it is certainly a one-of-a-kind performance. The target audience is probably theater aficionados with the sophistication to appreciate this ambitious project, but less-qualified critics might also find it at the very least entertaining. And if anyone out there is doing any Carlos Castenada-style experiments, attending this show will provide very interesting fodder for your research. One way or another, this is a performance you have to see to believe.