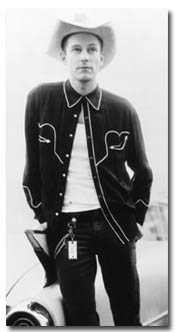 Country music. Whether you love it, hate it or just plain ignore it, it dominates American radio, with more than half of American radio stations dedicating their formats to it. It's an American art form that was created in the early 1900s, gained popularity through the 1930s and 40s, and then eventually landed in Music City USA, Nashville, Tenn. We're all familiar with the big players from early country – George Jones, Johnny Cash, Merle Haggard and countless others who left their mark on American pop culture.

Then, like most styles of music, things changed. Country went pop somewhere along the line, moving from simple three-chord songs about heartbreak and hard times to over-produced bad pop recorded in million-dollar studios. However, the roots still exist, and there are a handful of country musicians who revel in the style of their forefathers, yearn for a sawdust-covered dance floor in a seedy honky tonk and play a set of heartbreak classics followed by a set of traditional punk rock.

Punk rock?

Enter Shelton Hank Williams, aka Hank III, the grandson of that Hank Williams, and the son of Hank "are you ready for some football?" Williams Jr. Though he is the son of a "modern" country star, Hank III is more of a mirror image of his grandfather. His two country albums, released on Curb Records and aptly titled "Risin' Outlaw" and "Lovesick, Broke and Driftin'" are honky-tonk country at its finest. The albums are proof that country musicians still exist in and out of Nashville and can create music that is a reflection of early country – and then throw in something completely different.

Hank III was raised in North Carolina by his mother and was weaned on the same music as most kids who grew up in the '70s, including Kiss, Ted Nugent and Lynyrd Skynyrd. Eventually that love for harder music led him into the realm of punk rock. Bands like The Misfits and Black Flag were influential, leaving a mark on the young Hank that's still evident today.

In fact, it was punk rock that he played for years until, in his early 20s, he decided to make the move to country. He said he made that decision after being hit with a paternity suit and a quick realization that playing punk shows for $50 a night wasn't going to pay the bills. It was then that he saw a relationship between the musical worlds of punk and country. Although two very different styles of music, the bottom line is they both deal with many of the same issues: angst, alienation, loneliness, pent-up aggression, rebellion and the hardships of everyday life.

According to Hank III, the mix of the two styles comes purely out of a love for playing country and simply rocking out. And it's those two loves that enable him to play for diverse audiences, from country fans in Branson, Mo., to the punk rock set in New York City.

For some reason, Hank III works outside of the Nashville mainstream. Perhaps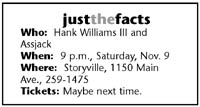 it's because his music is too rootsy, too raw or too real for "modern" country fans. The bubble-gum, pop country created today in no way reflects the early days of honky-tonk, which perhaps has led Hank III to a form of country-music rebellion, a rebellion aided by the likes of musician Wayne Hancock, one of Hank III's mentors. Hank's philosophy is that in Nashville's heyday most of the musicians were hell-raisers and younger than 30, much like himself.

Hank III has shared his touring schedule with a diverse group, having opened or toured with the likes of Beck, the Reverend Horton Heat, George Jones and hard rockers The Melvins. He's currently out on tour with his band, Assjack, and they'll be coming through town Nov. 9 to play an already sold-out show at Storyville. The beauty of this tour is that the audience will be filled with cowboys and punks, for Hank III promises equal representation of his diverse roots with one set of country and one set of punk rock.

It's refreshing to know that there are musicians out there who don't tend to label or identify themselves with one style of music, who can see and revel in the relationships between different styles of music. It's also good knowing that a hard-working man like Hank III can sell out a show in Durango without any airplay on commercial radio. But best of all, it's good to know that country music is cool again.