Pimpin', a worthy tribute band and the year disco died
by Mike Sheahan
It is Halloween this week, folks, and that means one thing: the bars, pubs and taverns across this great land will be filled with sloppy, anonymous drunks. Along with St. Patrick's Day and the granddaddy of them all, New Year's Eve, Halloween for some reason inspires people to leave their homes, create mayhem and meddle in other people's business. I'm not a big fan of this behavior and call these holidays "amateur nights." Now, I'm sure my attitude comes partially from being on the serving end of this equation for many years, but I don't think that is such a bad thing. If everyone spent at least one of the big drinking holidays bartending, the world would undoubtedly be a better place.

I'm sure my scornful words and condescending tone have done nothing to change your mind about going out tonight, so here are a couple of ideas for costumed fun. A quick warning though: A friend of mine once brought home a masked stranger only to soon realize she had worked in the cubicle next to him for about a year. WHOOPS!!

Storyville's "Pimp and Ho Ball" should be a lot of fun. Do you remember the disco nights at the old San Juan Room? It should be a lot like that, except with a lot of pimps and hos strutting their fine stuff. There will be a costume contest, a strut contest and, of course, a fake orgasm contest. Really, what Pimp and Ho Ball would be complete without a fake orgasm contest? Cover is $8, and you'll get a chance to wear your old pimping (or hoing) clothes again.

I told you about Candye Kane and the Transvestite Ball last week, so I'll bare bone it here. It's at the Diamond Circle Theater, tickets are $20, and Ms. Kane delivers an incredible show. This is where I'll be, and I'll be the only person in the room not in a costume.

Those wishing to express their inner devil or angel can head over to Steamworks for otherworldly fun. The cover is a mere $2, a DJ will provide music and there will be three bars open.

For the more traditional among us, Ralph Dinosaur and his Fabulous Volcanoes play at Scoot 'n' Blues. You know it is sort of a cool holiday when "more traditional" denotes a 40-some-year-old cross-dressing leader of a classic rock cover band.
Really, Halloween is, or should be, about the kids. This is what you really should do tonight. Carve a pumpkin, buy some over-priced miniature candy bars and stay home. Sure you may be contributing to the tooth decay of children all around Durango, but you'll feel great at work tomorrow. If you are going Trick or Treating, which I'm sure you're not or at least you shouldn't be, I hear the Crestview neighborhood has the best candy.

To create a tribute band is to be on shaky ground. The world may look at your group as a pale imitation of the real thing unable to make original music on its own. Very few bands in the rock and roll pantheon deserve tribute band status, but the original rock makeup band KISS is one of them. You see, KISS was as much an act as a group, its members more actors than musicians. Seeing a KISS tribute band is like seeing a touring production of a Broadway hit show. Sure, the big Broadway stars aren't there, but the show's essentially the same. In the case of the KISS Army, it'll all be there: four guys in leather suits breathing fire and drooling blood, explosions and loud, loud noise. Of course I'm sure plenty of people will be there simply to rock, and not have thought it out as much as me.
The original KISS combined the heavy sound of Detroit's The MC5 with the theatrics (and makeup) of the New York Dolls to create a musical experience that, for better or worse, became the biggest rock act in the world. That, to me, seems like something worth seeing.

The Kiss Army, which has opened shows for the real KISS, will play at the Sky Ute Casino on Friday. Tickets are $10.

This Week's Sign the End is Near: Thundersticks. Those inflatable tubes made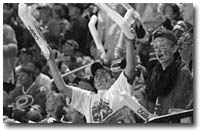 popular by fans of the Anaheim Angels in this year's baseball playoffs. They're obnoxious, and they obstruct the vision of other fans. In game seven of the World Series, a fan used her Thundersticks to whack the Giants right fielder in the back while he attempted to pull in a ground ball. Two runs scored on that play.

This Week's Albu m(s) To Buy: "Never Mind the Bullocks, It's the Sex Pistols" turns 25 years old this week, and that got me to thinking about what a great year 1978 was for rock music. First the Sex Pistols made their classic, punk rock debut. It may seem a little tame by today's standards, but it excited, titillated and angered the world in 1978. Van Halen also released its debut in 1978. It's a rock and roll powerhouse that holds its own against the best of today. Sure VH eventually became parodies of themselves, but "Van Halen 1" ought to be in any rock lover's library. Elvis Costello released his second album in 1978. "This Year's Model" is a new-wave classic boasting Costello greats "Radio, Radio," "Pump it Up," and "Lipstick Vogue." This is just a short list, other 1978 standouts include AC/DC's "Powerage" and Television's sophomore (and final) release "Adventure." The year 1978 should also be remembered as the year Disco died, and for good reason. People suddenly had other options.
Who else deserves a tribute band?