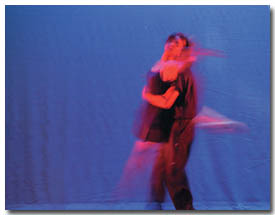 It's fairly common knowledge that the tango is one of the absolute sexiest things in the world. So "Desire" is the perfect title for this year's installment of the 3rd Ave. Dance Company's annual performance, which features the requisite tango as well as salsa, jazz and contemporary dance. There's even a number where three dancers – portraying writer/lovers AnaEFs Nin and Henry Miller and his wife, June Miller – tango together. The dancing is incredible and may even stir desire in more than a few viewers.
But don't be misled – the show is not just about sexual desire.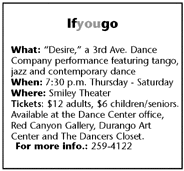 "This show is based on all different desires," says Suzy DiSanto, a co-founder of the dance company and choreographer of "AnaEFs," the three-way tango number. "It runs the gamut of emotion."
For example, "Petticoat Burden" explores what women feel when men go off to pursue dangerous occupations, such as firefighting, DiSanto says. This number is special because it was choreographed by K.T. Nelson, artistic director of ODC San Francisco, which is "the modern dance company in San Francisco," DiSanto says.
DiSanto and partners Lisa Bodwalk and Shannon Mitchell commissioned Nelson to create the dance specifically for their company. Nelson visited Durango for just one week in August, which meant the dancers rehearsed for five to six hours a day to learn the dance.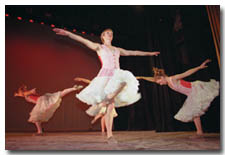 It paid off. The dancers in this piece – and in all of them, for that matter – combine grace, athleticism and flexibility to cast a spell over the voyeuristic viewer. "Petticoat Burden" features a charged duet by Talia Bamerick and Fred Houser as she tries to get him to stay with her by playing on his desire. Back-up dancers wear over-sized petticoats that create an illusion of dust falling (to conjure images of the World Trade Center, DiSanto says) and intermittently toss tissues on the floor – which they manage to make look graceful.
"K.T. really pushed us further than the company had gone before," DiSanto says.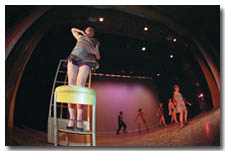 But the week after Nelson left, the dancers had another intense week of rehearsals as they learned a dance commissioned from Nancy Cranbourne, who came from Boulder to teach them "The Long Walk." This jazz number is the finale and it should be – the exuberance of the dancers is obvious.
"This piece is about having fun and the joy of the moment," DiSanto says. "It's really fun to dance."
In fact, Bodwalk grinned so ecstatically as she performed the piece in rehearsal with other troupe members that several off-stage dancers giggled at her contagious enthusiasm.
Bodwalk also shines in a solo performance to an Eva Cassidy cover of Sting's "Fields of Gold." Mitchell choreographed it specifically for Bodwalk, who only wanted to perform in Desire, rather than choreograph as well. The piece explores turning 40, which Mitchell will do in February.
The show is rounded out by "From Here to There," a piece choreographed by Durango's Laurel Schaffer that delves into relationships through contemporary dance; a sprinkling of short tango or salsa duets that feature DiSanto's spice and fantastic lighting, costumes and sets.
Bringing a production of this caliber to Durango thrills the three partners in 3rd Ave. Dance Company, which they founded in 1999.
"There's just not stuff like this in Durango," DiSanto says.
The 11 dancers in Desire are essentially volunteers and have to hold down jobs while finding common time to rehearse, DiSanto says. Their dedication is matched only by the passion of the founders.
"It's really nice with the trio if people want to explore their different artistic impulses," DiSanto says. "We feed off of each other."
In turn, audiences will feed off the energy created by the artistry of all of the dancers in the 3rd Ave. Dance Company's performance of Desire. From sassy shrugs and kicks and leaps and twirls to slinky duets and unique maneuvers – like a dancer rolling over a row of people – this show has it all.
And with a subject matter like desire, there's no question that this is the No. 1 date night of the year.