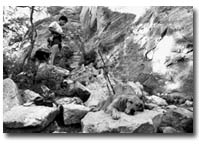 Wells dry up on Mesa
Last week, a well in the Southwest Horizon Ranch subdivision went dry and sent its 200 residents looking for other sources of drinking water. Southwest Horizon Ranch is an affordable housing subdivision southwest of Durango near Elmore's Corner. The housing development includes 61 homes on 35 acres.
Residents were forced to haul water for three days after a 300-foot deep well went dry Oct. 17. In addition, a pump in a second well stopped functioning Thursday, cutting off all water to the subdivision. As a result, residents were forced to haul water for three days until the pump could be replaced last Saturday.
Joe Crain, director of La Plata County planning services, said that he suspects this may be just the beginning of dry wells on the historically wet "Mesa" area. With the proposed annexation of the Southern Ute Tribe's planned Grandview development, city of Durango utilities would be extended to the area.
LPEA raises rates
For the second time in nine months, La Plata Electric Association will be raising residential rates. The 10 percent hike will primarily cover rising power costs, but a portion of the increase will cover $5 million in debt accrued by an LPEA subsidiary.
Residential customers' monthly electric bills will increase by $5.90 beginning in January. Currently, the average residential bill comes in at $59 per month.
According to LPEA spokesman David Waller, the increase is the result of increased rates by the electrical company's power supplier, Tri-State Generation. Tri-State raised rates roughly 7 percent in September, claiming the drought had dramatically dropped hydropower production and growth statewide had increased demand.
"We've been doing everything possible to keep rates down, but (Tri-State) is caught up in a vicious spiral of incredible growth and the drought has affected their hydropower production dramatically," Waller said.
The rate jump will add up to a $4.3 million total for 2003. Approximately 62 percent of the increase will cover the increase from Tri-State, and 38 percent will go to cover LPEA expenses.
"A portion of this rate increase will go to cover some of our debt," Waller said. "Some of it is interest and amortization, some is inflation, and some will cover subsidiary debt."
LPEA recently took on $5 million in debt incurred by Western Energy Services of Durango Inc. (WESODI), one of its subsidiaries, and will be writing off the amount as a loss. WESODI had borrowed the $5 million from the National Cooperative Services Corp., which finances diversification of electrical co-ops. Waller said that roughly $1.50 of each customer's increase will go toward reducing this debt.
LPEA last raised its rates by 7 percent in March of this year, again responding to an increase by Tri-State. Prior to March's jump, LPEA had not raised rates since 1990, and during the 1990s, the electric cooperative twice decreased rates.
Local MD pioneers stem-cell surgery
A local surgeon was the first in the nation to perform experimental stem-cell transplants, and thus far, his four Durango-area patients are pleased with the results. Dr. Jim Youssef and his staff at Durango Orthopedic Associates performed the experimental procedures between late August and mid-September.
Durango Orthopedic Associates is part of a national study on the procedure along with 10 other medical institutions, including the Cleveland Clinic, UCLA and the University of Utah. Doctors at these facilities are performing an experimental procedure where bone marrow stem cells are removed from a patient's pelvis, harvested and placed in the lumbar region of the back to alleviate lower-back and leg pain.
"We have not received any reports of adverse events, but it's very early in the study and these patients are followed for two years," said Virginia Salas, Ph.D., research coordinator for Durango Orthopedics.
Salas went on to add that the procedure could be a promising addition to an orthopedic surgeon's repertoire.
"Our patients are very enthusiastic about this option because it does address this chronic problem of lingering pain at the graft site," she said.
The procedure could replace other surgeries that are more expensive, more painful and have a longer recovery time. The procedure could be available commercially as early as January.
McInnis pushes water plant upgrade
Congressman Scott McInnis is working to try to acquire funding for upgrades to the Durango water-treatment facility. Last week, McInnis forwarded a letter to the appropriations committee urging a $500,000 contribution.
McInnis' letter explains, "The combined impact of the unprecedented drought and the devastating Missionary Ridge Fire that have ravaged Colorado this year has taken a devastating toll on many areas of my district."
He goes on to write, "Most dramatically, the fire has caused dramatic changes in the quality of raw water available to the city of Durango and has made city water-supply facilities vulnerable to damage from resultant flooding and ash flows."
With that in mind, he urges the Appropriations Committee to support the request before the U.S. Senate.
"The congressman sent this over to the Appropriations Committee to tell them how important this project is," said Blair Jones, McInnis' press secretary. "He wanted to make sure it didn't get overlooked."
In August, the Durango City Council approved $1.2 million to protect the city's water supply from ash and silt. At the time, Mayor John Gamble said the city needed additional federal help.
Bank bags stolen from business
The Durango Police Department is investigating the theft of two bank bags last week. On Oct. 14, two bags filled with money were stolen from Scrapaholics, a business in the Main Mall.
Prior to the theft, a male suspect entered the business and asked the clerk several questions including: "Are you the manager?", "Do you work alone?", "Can you cash a $100 bill?", "Does the back room have people in it?"
A day later the man returned to the business. After his departure, the clerk noticed that two bank bags were missing from the store's office area.
The suspect is between 25 and 30 years of age, has black hair, acne scars on his face and smelled strongly of cigarette smoke, according to the clerk. The Durango Police and Durango Crime Stoppers are looking for businesses that may have experienced a similar situation and people who think they might know the suspect. People with information can contact Investigator Ron Wysocki at 385-2930.
– compiled by Will Sands