Saying 'no' to food on the go
Slow Food eating away at fast-food culture, one meal at a time
by Missy Votel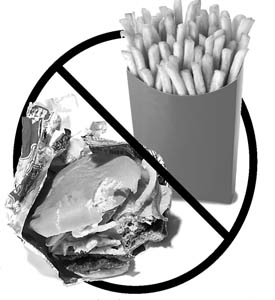 If the old adage "you are what you eat" is true, then a large portion of Americans, and foreigners, are cheap, fast and easy. And while many may see nothing wrong with a lunch handed to them by a stranger through a window and eaten in the car, a growing number of concerned gastronomes, including some from Durango, are just saying no to fast food.
In fact, such folks have even formed their own anti-fast food movement, appropriately called Slow Food.
"I think we get more people hooked on McDonald's every day than we do smoking," said Jen Roser, one of about 70 locals who sat down to a five-course Slow Food dinner spread out over four hours at Carver Brewing Co. on Sunday night.
Rather than viewing food as something to be shoveled in between picking the kids up at school and dropping off the dry cleaning, Slow Food advocates seek to elevate food to its rightful status – that of one of life's greatest pleasures, something to be savored.
"People need to slow down, chew the food, taste it 85 and enjoy it and be grateful," said Darsie Olson, who also attended the dinner. Olson said she moved to Durango 10 years ago to become a farmer and since then has worked at the Old Grove House Farm at the base of Missionary Ridge Road and helped out at Sunshine Gardens, a farm on the Florida Mesa.
She is one of many people worldwide who directly or indirectly participate in the growing Slow Food movement. Using the return of the two-hour lunch and four-hour dinner as its rally cry, Slow Food was founded in 1986 in Italy as a response to a McDonald's going into Rome's famous Piazza de Spagna. In keeping with its name, the movement, which chose a snail as its mascot, slowly made its way north, with the founding of Slow Food International in Paris in 1989. It eventually crossed the Atlantic in 2000, with the founding of Slow Food USA. Today, Slow Food continues its leisurely growth, counting 65,000 members in more than 35 countries. The group also has garnered the attention of the national media, from National Public Radio and The Utne Reader to the Atlantic Monthly and Wall Street Journal.
"It started with Italian winemakers and blossomed into something for everybody," said Erik Maxton, head brewer at Carvers who organized the Slow Food dinner with the help of cook Aaron Seitz. "Slow Food is an international movement, spread the world over, but it's all about preserving local and regional food."
Saving the black asparagus
In addition to bringing people back to the dinner table, Slow Food backers aim to preserve food diversity by championing the cause of endangered food species – such as the black asparagus of Albenga or, closer to home, the New Mexican native chili.
"A hundred years ago, people ate between 100 and 120 different species of food," Slow Food founder Carlo Petrini told The Nation last year. "Now our diet is made up of, at most, 10 or 12 species."
In the same vein, Slow Food aims to persuade gourmands to found their own branches of the group, called convivia, in the name of holding tastings of local products in order to promote their use. In so doing, not only do consumers end up with higher quality product, but the area's economy and environment also benefit, Slow Food supporters contend.
Supporting the local farmers is something that Maxton and Seitz also believe in. Maxson said without such suppliers, the local food landscape wouldn't have nearly the variety it does now.
"(Without them) the diversity of local food diminishes; we all lose," he said. "Fortunately, there is a choice, and there should be a choice."
In addition to giving the proceeds from the dinner to the Durango Farmer's Market, Maxson and Seitz tried to use local products as much as possible in creating the dishes.
"We got 90-plus percent of ingredients from Colorado," said Maxson. "Some we just couldn't get because of the time of year, drought or fires, but we tried to keep as close to La Plata County as possible."
Seitz said the eggs, eggplant, greens and garlic all were produced locally, as was the flatbread, which he made himself. A majority of the rest of the meal – from the bison in the picadillo chili to the elk that constituted the main course – came from in state, he said. Even the beer, which accompanied each course, was brewed at Carvers using only natural ingredients, Maxson said.
"We don't do anything funny to our beer because it's meant to be consumed in six weeks," he said. "We don't use processed anything. If it's a fruit beer, I guarantee there's real fruit in there."
Maxson said he came up with the idea for a local Slow Food dinner after reading about a similar event in New York City.
"I thought 'Geez, we have all of those resources, if not more, right here in La Plata County, so why not expose our fellow members of the community to that.'"
Although there is no official Slow Food chapter, or convivium, in Durango (there are ones in Boulder, Denver, Fort Collins and Colorado Springs), Maxson and Seitz say they would like to do another Slow Food dinner in the future.
"I would love to do it again," said Maxson. "I was incredibly satisfied with the turnout and the support, on more than one occasion."
Slow Food pioneers
Although the notion of Slow Food is new to many Durangoans, there are local ranchers, farmers and restaurateurs who have been practicing the Slow Food credo of sustainable, low-impact production and consumption for some time.
Seven years ago, Dave James, of the 450-acre James Ranch in the north Animas Valley, decided to eschew pesticide-ridden feed and finish fattening his cattle, which do most of their grazing on public lands, on the family's grass pastures. Originally, this was just a way to utilize the grass that grew on the ranch, but James admits he inadvertently stumbled upon something bigger.
"Now research shows that key restaurants are going with grass-finished beef because it's good for you," he said. "It's the wave of the future."
And although such production practices tend to be more time intensive and expensive than their mass-produced counterparts, there are many who believe the end result is well worth the added effort and cost.
"I became interested in slower methods of baking because it just tastes better," said Jeffie Morehart, a baker at Bread, a local bakery that specializes in hearth-baked, old-word style bread. "It's real food instead of something that takes two to three hours to make. It's a lot more flavorful."
On any given day, Morehart says there are eight to 12 different kinds of bread available at the bakery as well as pastries. The flour for the bread comes from mills in Colorado, and she estimates that 99 percent of the flour is organic. No additives or preservatives go into the bread, most of which is made using natural sourdough starters (fermented flour) as leavening. "It's just food: water, flour and salt," she said. "It's simple."
And although people need to go out of their way and make a special stop for what Bread offers, Morehart said it doesn't seem to be a deterrent.
"People like it; we have daily customers who come in for bread," she said. "It's not produced in mass quantities, and you can't get anything like it in the grocery store."