Glass breaking, Candye Kane and the Rhett Miller
by Mike Sheahan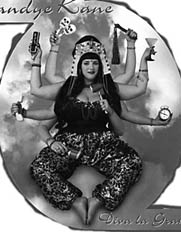 This week finds me returning for just a week to the bachelor life. My house is already a wreck, and 48 hours after Cari left town I was eating Taco Bell. It's sad really, but I've clawed my way through the pizza boxes and beer bottles to provide you with these entertainment ideas. I thought this brief reprieve from the rigors of family life might be fun but I realize that I'm better off not left to my own devices. I break things.
I bet the only thing Dianne Reeves has broken lately is glass when she hits the high C on the highest of the seven octaves in which she sings. If you don't know, seven octaves is a real lot to be able to sing; the average guitar neck covers around five. Reeves does not, however, strive to prove to you (a la Mariah Carey) that she can sing every note at once or in the same song. She has taste. The Grammy winner will be bringing her jazz show to the concert hall at Fort Lewis College on the 25th. Soon after her appearance here, Reeves departs for a tour of all of Europe. Once again the concert hall has provided us with "a once in a Durango lifetime" chance; she probably won't be back our way.
Reeves is widely considered to be in the upper tier of female jazz singers, and it is quite the coup that she's playing here. Tickets are $25 to $30-go to durangoconcerts.com for specifics.
I often recommend shows to see outside the Four Corners area, and for some reason all the ironic and silly shows seem to happen in Albuquerque and the real, vital stuff happens in Denver. That's a column for another day, but if you are going to Denver this week, make time to see Doug Martsch play at the Bluebird on the 26th or at the Fox Theater, in Boulder, on the 27th.
Martsch is the only constant member, and by default frontman, of the legendary indie rock band Built to Spill. He currently is touring behind his recent solo album, "Now You Know." This release finds him playing rootsy slide guitar and folk music that's a big departure from his angle rock background, but Built to Spill fans will not be disappointed-this music sounds right.
The idea of tribute bands confuses me. On the one hand it seems as if the tribute bands, love another band enough to devote their music career to re-creating the songs of the group they love so much. That seems fine. On the other hand, it seems tribute bands are filled with musicians who have great chops but lack the imagination to make their own music. So, I'm not sure how I really feel.
Either way Phish fans will be happy this weekend because Phix, a Phish tribute band, will be at the Summit on the 25th and 26th. That's right, two days of Phish lovin' fun. Trey won't be there, but I'm sure if you close your eyes, it'll seem like he is. Come ready to Phish out. The cover charge should be nominal.
I'm breaking with tradition now and writing about something that happens next week. Halloween is next Thursday, and KDUR's annual Transvestite Ball brings us something very special (should be legendary). Ex-porn star/current Tupperware saleswoman Candye Kane brings her jump blues revue to the ball, held this year at the Diamond Circle Theater. I've seen Candye Kane a couple of times, and I must say that she puts on a show unlike any you've probably seen. Her offering is one that is as much a gospel tent revival as it is an unfettered sexual celebration. The bottom line is that either way, no one leaves the room unconverted. If she can make me dance, and she has, then anybody will or can dance during her show. Candye Kane will make you party and maybe think a little at the same time. That's cool. Call 247-7262 or 247-7628 for tickets.
This weeks sign that the end is near: A friend of mine, who's name I won't say but whose initials are a letter away from C.C. and E.E., recently lost a tooth at a rock-n-roll show. This fellow is a jazz and blues aficionado who was, for some reason, in the front row of a Seattle grungeman's concert. Word is hazy as to what tooth was lost but the real question is why go to a Jerry Cantrell show?
This week's album to consider: When I first discovered the Old '97s, I was sure I found something nobody else knew about. They were a country-punk band with two records and a sound that I thought no one had heard. I began telling my friends about them and dubbing tapes to spread the news. Like the Ramones and the Replacements before them, the Old '97s were here to save rock and roll, I said. Of course that didn't happen, but Rhett Miller, the singer and primary songwriter for Old '97s, seems to be here to save pop guitar rock with his solo release called "The Instigator." As much as I like Miller's song writing, I've had a hard time liking this record. At times, it is as smart as it can be. Behind a driving guitar and talking about his own song writing in "This Is What I Do" he says, "I can hide it in the attic/ I can bury it in static/ I can only put it out in Japan./ I can tape my mouth closed/ I can take another dose/ I'm dancing as fast as I can."
This is an honest self-assessment of all of his writing and most importantly the writing on this record. In the next song Miller wonders if he's "gonna be lonely for the rest of my life." He's all dressed in blue "because he's remembering you and the dress you wore when you broke my heart." Miller gives us an incredibly cool lyric, one track away from an incredibly banal one. You decide, I can't.
Do you know someone who lost a tooth? mpsheahan@yahoo.com

Next week: A tribute band I can sink my teeth into.