In one of my former ski town lives, a good friend began an experiment. He took roughly a dozen quarters and painted them green. Then he grabbed his loot, went out on the town and started spending. A few of the quarters disappeared down the slot at the local laundromat. A couple more were left as a tip for a pint at a local watering hole. A few more jingled into a waiter's pocket, and the rest were eventually exchanged for a carton of eggs and a gallon of milk at the locally owned grocery.

Within the week, the green quarters achieved some notoriety, namely because they started popping up everywhere. One would show up in a guy's change at the liquor store. Another would come down the automatic-change dispenser at the grocery. And a majority of them circulated throughout the local waitron community. However, after a few weeks, those green quarters vanished almost as if the treasury department had gotten word, blown into town and swept them off the streets and back to some secret vault.

In fact, those quarters are still out there. They just started traveling. More than a few probably hopped inside some local's pocket and motored off to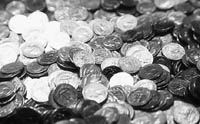 Montrose or Grand Junction. Chances are they eventually wound up in the pay-off bin of a Las Vegas slot machine, in a Los Angeles parking meter or a big city bank vault, lost forever to the community that kicked off the gimmick.
For the record, this experiment was conducted in a town of 1,200 people where trips to the outside world were infrequent. To accomplish the same in Durango would take quite a few more quarters, but after this summer, it feels like it might be an experiment worth repeating.
Here at the Durango Telegraph, we've been on the financial front lines lately. Starting a new business in one of the worst economic seasons in local and national history tends to get you there. And as we've cycled through town and tried to ply advertising, we've heard it all. Above all, we've listened as business people and particularly small business people share tales of struggle.

On the one hand, signs of prosperity appear everywhere in Durango. Foundations are being poured in late October, vacant land is vanishing at an alarming rate, and contractors are working overtime to keep pace with demand. Durango real estate has been pressure cooking lately, and home sales are up in both quantity and value. Meanwhile, development proposals for thousands of units on all sides of Durango are waiting in the wings.

However, as the earth-movers work their magic and another batch of real estate pamphlets are mailed out, a trip inside a local, downtown store-front paints a different picture. The ring of Main Avenue cash registers has grown fainter.
Early this summer and before wildfires started burning, I was floored after a conversation with a friend and business owner. The gist was simple: His business was dropping off.

"What do you mean?" I asked. "More people seem to be in town than ever. I can almost smell the dollars moving down Main Avenue."

He was quick to reply. "Your sense of smell needs some help. The business isn't coming through my door this summer."

Most troubling of all was that his business relied primarily on local dollars. And thanks to an errant spark on Missionary Ridge and the efforts of George W., times have not gotten easier. Unfortunately, I've heard the same sentiment from a lot of merchants and restaurant owners since.

Ironically, we have one sector enjoying unprecedented growth and another unprecedented struggle. There can be only one answer. Those green quarters don't seem to be circulating around Durango like they should.
I know you need to travel to buy some necessities and I, myself, have gone outside La Plata County lines hunting for better deals. But I've also lived in towns where you can't buy underwear or Levis, yet residents have made commitments to shop locally.

The truth is, your dollar has a great deal of power, and you choose how you use it.

You can easily send it to Farmington, Amazon.com or the land of mail order and bask in the ease of modern American life. Or you can do your best to make it work locally. With a little luck that dollar will travel around the community, help pay your neighbor's wages, do a little to keep your favorite restaurant's head above water and possibly wind up back in your own pocket.
-Will Sands