Turmoil rocks FLC education department
One, possibly more lawsuits pending as staffers resign
by Will Sands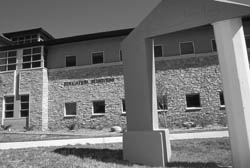 A pending lawsuit, an investigation into a civil rights violation and the resignation of seven staffers are shaking the education department at Fort Lewis College. And while everyone involved is shying away from specifics, the once noteworthy department at the local liberal arts college appears to be in crisis.
Fort Lewis College's teacher education program has traditionally been considered one of the college's greatest assets. The program touts itself as having national pre-accreditation with the Teacher Education Accreditation Council as well as approvals from the Colorado Commission on Higher Education and the Colorado Department of Education. In promotional materials, it is noted that FLC Teacher Education students have attained a 95 percent composite pass rate on the state licensing exam and that students in Elementary Education reached a 98 percent pass rate. In addition, the college plans on dedicating a new, state-of-the-art, $11 million education/business building later this month.
However, appearances can be deceiving.
"There have been five grievances filed against (dean Virginia Engman)," says Gene Taylor, associate professor of teacher education, noting that one or more lawsuits are likely. "There is a civil rights investigation underway. There are problems there."
And, he notes, things will probably get worse.
"You're looking at the tip of the iceberg," Taylor says.
At the start of this semester, Taylor began a one-year leave of absence and is now working as principal of the Southwest Open School in Cortez. However, a total of six staff members in the education department have formally resigned, and at least one more will resign in the near future. Linda Simmons, associate professor of education, plans on stepping down at the end of this school year.
"It's obvious that there are some problems because of the number of people who have left," she says.
While Simmons chose to avoid going into specifics because of potential legal ramifications, she said the problem began with new mandates from the state, and the Colorado Commission on Higher Education in particular.
"Our problems really began when we received these state mandates," she says. "That caused people to start butting heads."
When asked for the details of the mandates, Simmons is blunt.
"It was a hundred things," she says. "Their fingers were in everything."
She briefly mentioned that Engman has been the department's dean for several years, but the real rub came in July of 2001 when a new department chair was appointed without any consultation of the faculty.
At the end of the summer, Tim Cashman left Durango and his teaching position with Fort Lewis College for a post at the University of Texas-El Paso. He says that the reason for his departure was not the new mandates but the way they were handled by the administration and Dean Engman in particular.
"I don't know if it was the directives so much as the way they were handed down by the administration," Cashman says. "There was an overall lack of leadership at the level of the dean's office."
Cashman notes that he was offered a position at Fort Lewis College again this year but chose to follow "his best interests" and move to El Paso.
"I loved the department at FLC, but the overall environment created by the dean's decisions encouraged me to look at other options," he says. "I was offered a position to teach again this year. I just didn't think the future looked very good."
Gary Knight is the interim chair of the teacher education department, a post formerly held by Maggie Cason. Knight taught in the department for 27 years before retiring three years ago. He agreed to return for a one-year appointment and kept his comments on the situation brief.
"That's all personnel stuff," he says. "We just don't talk about personnel issues."
He did note that the department is currently working to fill two of the vacancies.
"We're in the process of a search for two faculty members," he says. "That's all we have funding for. But we also have some very good people here on one-year appointments."
Taylor says that he is enjoying his stint at the Southwest Open School and is unsure of future plans.
"I can go back in a year, but I'm really enjoying the calm waters," he says.
He also notes that a grievance committee is currently looking into some of the problems with FLC's education department.
"My hope is that it's settled within the college," he says.
Simmons also hopes that the problems are remedied even though she is leaving the college after this year.
"I still have tremendous respect for Fort Lewis," she says. "But something has got to be done, because we've got to heal."
Engman did not return the Telegraph's phone calls.