The best 'est' fest in the West
Annual Womenfest presents opportunity for women to learn, connect
by Jen Reeder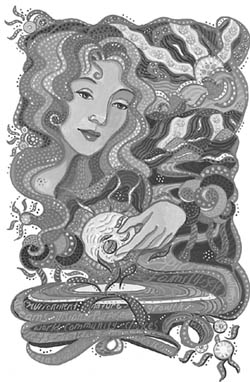 The time has come again for hundreds of exuberant women – and some curious men – to come together at Womenfest. The annual event, hosted by the Women's Resource Center, will take place at Durango High School on Saturday, Oct. 26, and features 53 workshops, 30 booths sponsored by local businesses and nonprofits, three keynote speakers, entertainment and prizes.
This year's theme is "Pebble in a Pond – Small Things Make a Big Difference."
"I hope all women come out for Womenfest," said Jennifer Gay, executive director of the Women's Resource Center. "It's a chance for women from different walks of life and all ages to have fun and learn some new things as well."
Tracy Korb, membership and communications coordinator at the center, said the event could not occur without the help of numerous volunteers and women hosting booths – many of whom have received help from the Women's Resource Center in the past.
"It's wonderful to see them keeping contact with the Women's Resource Center through Womenfest," Korb said.
One such person is Heather Leavitt, who designed this year's Womenfest program. In 1999, Leavitt started a handmade soap business, My Mother's Soap Co., with Michelle Parker, after attending the center's Ready Set Go workshops geared toward women starting small businesses. The soap company also donated samples to Womenfest for door prizes.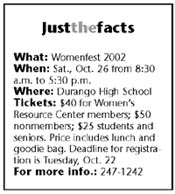 Leavitt is not the only fan of the event. Each year, Leavitt's mother drives a vanload of women from Leavenworth, Kansas, to attend the event.
"You have that many women in a room, and you don't even need a topic – something magical just happens," Leavitt said. "I think sometimes we forget, and it's a nice reminder."
But Korb stresses that Womenfest is not as "touchy-feely" as some might think.
"The perception has been 85 that a conference for women will be only spiritual in nature, but Womenfest isn't about that," Korb said. "It's a chance to connect and learn about a variety of different things."
Durango Mayor Pro Tem Virginia Castro, a keynote speaker at last year's Womenfest, agreed that the variety of workshops is important.
"I don't know where else you can do everything from belly dancing to learning about an exotic religion to managing your money," Castro said. "One of the neatest things about it is there's such a diversity of strong women in this community, and at Womenfest you get a chance to get a taste of that diversity and their strength."
Robin Duffy-Wirth, who is co-teaching a fitness workshop entitled "A Nice Butt Doesn't Make You Live Longer," said she wanted to get involved because she has "grown" from previous Womenfest experiences and always wanted to give something back in return.
She said she is teaching the workshop because people need to take a realistic approach to fitness. Instead of worrying about having a shapely figure, it is more important to have a body that will allow you to do things like snowboard with your kids, she said.
"What happens is, we compare our butts to 20-year-old butts, and our butts have been on this planet longer," she said.
Other workshops range from "Elevator Speech: 60 Seconds to Success" and "Introduction to Genealogical Research" to "Celebrating Living, Local and Wild Foods" and "Yoga for Hips, Knees and Feet."
But in addition to the workshops, booths and entertainment, Gay said she is looking forward to hearing the keynote speakers, all local women, which include author and activist Nancy Jacques; M.B. McAfee and Rose Chilcoat of Great Old Broads for Wilderness; and Marti Bourjaily, a cancer survivor and organizer of the American Cancer Society Relay for Life.
"I'm really excited to listen to the keynote speakers because they are women in the community who are making a difference on issues that are really important to them," Gay said. "And they have a lot of wisdom to share with us."
Gena Castle, a Fort Lewis College senior, said she is looking forward to her first Womenfest and hopes to get the word out at the school by hanging posters, running a booth in the C.U.B. and talking to other students.
"I think a lot of students don't know the Women's Resource Center exists," Castle said. "I just think it's important to be involved."
In contrast, Tekla Miller, a Durango writer, has attended every Womenfest since it began seven years ago. In fact, she brought the idea for the conference from Michigan to Durango.
"It was a remarkable beginning and continues to grow and become more remarkable every year," Miller said. "Each year it gets better and each year gets more people – and men. Not just men attending but men presenting."
Korb said that because this year marks the 15th anniversary of the Women's Resource Center, the "Pebble in a Pond" theme is particularly relevant.
"(The Women's Resource Center) is the classic example of pebble in a pond: 15 years ago a handful of women came up with this idea for a center and now today we serve over 10,000 people a year and have over 400 members," Korb said. "It's a community center, and without the support of the community we wouldn't be here.