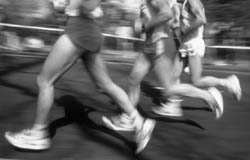 Matt Kelly, founder of the Durango Marathon, bills this weekend's first-ever race as a destination marathon – an event that will draw runners to Durango. However, he also notes that spectators won't be disappointed as an intense local duel is shaping up.
Kelly hatched the idea for a Durango marathon just more than a year ago.
"I was directing the Steamworks half-marathon, and we started talking and wondered, 'Why doesn't Durango have a marathon?'" he says.
From there, Kelly had to decide what type of marathon to create.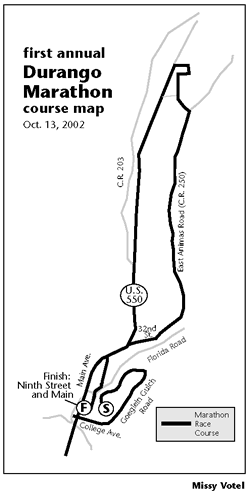 "We could have done a 26.8-mile screamer that loses major elevation or done the opposite and have people climb 5,000 feet," he says. "But those kinds of races already exist. We decided that we wanted to create a destination marathon. To make the race have a broader appeal, we crafted a course that has broad appeal."
The course has been designed to be runner friendly – no killer hills. Racers will begin at 8 a.m. Sunday at Fort Lewis College. The course then quickly, but gently, drops 360 feet in elevation as runners make their way toward down Goeglein Gulch Road toward Main Avenue. From there, the course will head north through the Animas Valley on Highway 550, cross the highway in the vicinity of Dalton Ranch and come back to Durango on County Road 250. Runners then will return to downtown Durango via the Animas River Trail and finish the 26.8 mile loop at Ninth Street & Main Avenue in the midst of the Harvest Block Party.
Kelly says that spectators should see an impressive duel between two locals, Ken Flint and John Ndunga.
"As far as I know Ken holds the fastest marathon time of anyone around the area," says Kelly. "But John actually won the Steamworks half-marathon in August, beating Ken by 15 seconds."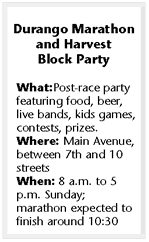 After the Steamworks race, the rivalry headed south to Albuquerque, where Flint won the Duke City marathon by just six seconds over Ndunga. "They've raced almost 40 miles and been separated by only 21 seconds," says Kelly.
To make things even more interesting, Boulder runner Mark Werner will be in town to "tune up" for the Olympic trials in December. In addition, Mike Smedley (not that Mike Smedley), an Olympic hopeful for triathlon, will set the pace for at least the first portion of the race.
"We're going to send him out doing six-minute miles, and he's going to set the pace for 10 miles," says Kelly. "It'll be a real battle between John and Ken, and it'll be something of a strategy race depending on whether this Mike Smedley keeps going after the first 10 miles."
Regardless of the race's outcome, Kelly is looking forward to a successful first event. "The folks volunteering in the community and the sponsors have gotten behind it so well that it's running beautifully," he says.
For information on the numerous events happening in conjunction with the Durango Marathon see "On the Town" on pages 18-19 or check out www.durangomarathon.com.