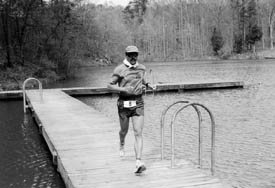 Carl Jess is forgoing the Durango Marathon this weekend. Forgive him, but he has other plans.
November: Run 50-mile race in Maryland.
December: Spend 24 hours running at least 500 laps on track in Arizona.
April: Travel to Morocco to run 150 miles across Sahara Desert. (Note to self: Bring lots of water.)
In the meantime: Run no less than 100 miles each week, preferably through the mountains.
This is what his calendar looks like for the next six months. And it's maybe only a third of what he runs each year. Crazy? Jess agrees.
Jess, a 43-year-old mechanical engineer from Farmington, is one of the few and finest ultra-marathon runners in the Four Corners. He spends his off-work hours running. And running and running. He builds vacations around races in the country – a 50-miler here, a 100-miler there, throwing in a regular marathon or two just for kicks. His passion, though, is scampering like a mountain lion up 13,000-foot peaks in the mountains of Colorado – and then back down.
Six years ago, Jess was a routine runner who had worked into a jogging pattern over 15 years. When he moved from Wyoming to Farmington for his job, he changed his routine to include trail running. It clicked. Then he met fellow Farmington ultra runners Cathy Tibbets and Keith Baker. They clicked. Somewhere in the process, Jess says, Tibbets and Baker got their hooks in him and prompted him to run a 50k-race near Grand Junction. That was his first ultra-marathon (by definition, an ultra-marathon is any race longer than 26 miles). Charged by the euphoria of success, Jess ran other 50k or 100k races – some of them on mountainous terrain with great altitude gain.
Along the way, Jess met and re-met ultra racers. Faces and names become oddly familiar, if not because of ultra-runners' obsession then because the sport doesn't appeal to the masses. Though not participating, Jess started looking at 100-mile race results. He recognized names. Then, he'd say to himself, "If so-and-so can run and finish that 100-mile race, I can do it too," he says.
So he tried. And he did – time and time again. But it wasn't overreaching competitiveness that drove Jess to begin running 100-milers.
"Ultras aren't about competition," he says. "It's a different atmosphere in those races. People aren't trying to beat each other."
Jess says he was more inspired by the stamina and determination of other runners he came to know. When he saw the success of other people, he felt goaded to do something greater and go someplace higher.
"A couple of years ago I would've said that running a 100 was crazy."
He still thinks it's crazy – not because it can't be done, but because it requires so much grit. He understands why people raise a brow, squint an eye and try to non-verbally drill down on what must really make a guy who runs ultras tick.
"After doing one, it just gets in your blood. It's incremental. It eases its way in after a while," Jess explains. "The rush is one that you can't imagine what it's like, especially when you finish. There's no way when you start that you know you will finish. So, it takes a certain amount of humility."
It also requires a tremendous attitude, because, Jess says, running an ultra is 80 percent mental and only 20 percent physical. Strategy plays a role only when runners are trying to beat a time, he adds. And since the competitive edge isn't what drives ultra runners, the might of one's mind is the greatest tool.
"You really gotta run your own race and play to your own strengths," he says.
Jess' strength clearly is humility (though technically speaking, he's a far better uphill racer). He talks without a hint of braggadocio about the various grueling races he does each year, whether it's track running or tackling peaks. This year alone he has, to date, run six ultra races, with at least two more to go. He started off this year doing a 24-hour track race in Queen Creek, Ariz., where he ran 519 laps equaling 129 miles. He placed 2nd overall, just two laps behind the winner, who was some 20 years younger than him.
He ran a 100-mile trail race in Texas, placing 8th overall. He placed 5th in the Umstead 100 Endurance Race in Raleigh, N.C. On his way home from Umstead, he briefly stopped in Boston, where he ran the famed marathon in 3:10. Shortly after, he ran the Shiprock Marathon, with a time of 2:50 and third-place finish.
His latest feat (and fourth time participating) was the Leadville Trail 100, a well-known mountain race outside the tiny Colorado mining town. The race involves 15,600 feet of climb and descent. The race is so arduous that most years it has less than a 50-percent finishing rate. This year, 465 runners started the race and only 189 finished. Among them was Jess, who placed 82nd overall (which includes men's and women's categories) with a time of 27:26. (Jess' fastest time at Leadville is 24:44.)
Jess' only disappointment this year, he says, was the cancellation of the Hardrock Hundred Mile Endurance Run – a laborious race through the San Juan Mountains, with a 33,000-foot total elevation gain. Organizers pulled the plug on the race this year because of extreme fire danger. Jess was looking forward to the race, which was going to be his second attempt in a row. Last year he placed 34th in 40:58.
Hardrock is not a sign-up-and-show-up race for the masses. And it presents more than the challenge of running. Runners often do some rock scrambling, wade across icy streams, trudge through snow, cross cliffs and use fixed ropes as handrails. There's also the impetuous weather that is so typical of the high country. The number of participants is limited, mostly for management and safety purposes. Those accepted must have completed at least one 100-mile endurance race, among other requirements. Those eligible are then part of a lottery, where numbers are drawn at random.
Jess was drawn for this year's Hardrock for a second time a row – a rarity. He was not taking the odds for granted, but rather feeling lucky for a race he loves so much.
"The first time I did the Hardrock, it absolutely got to me like none ever has," he says. "It's gorgeous."
Though severe lightning during last year's race chased him and other runners into a rock shelter atop Handies Peak, he'd rather wax poetic about running under a vivid Milky Way and passing through extraordinary flora and fauna as the sun rose, set and rose again.
Disappointment from the cancellation was so deep for Jess because the Hardrock and Leadville races guide his running. And because they are in the mountains, which he enjoys most.
"Everything I do is for (those two races)," he says.
But with the way Jess finds fondness for ultra challenges, this might change in the next six months. In April, Jess is off to the outskirts of Ouarzazate, Morocco, where he will spend six of seven days running 150 miles across the Sahara Desert, which averages a 120-degree temperature that time of year.
He and other runners will have to carry their own food and gear, excepting an open-sided Berber tent and a ration of 9 liters of water each day. Called Marathon des Sables ("Marathon of the Sands"), Jess (as well as Tibbets and Baker) will be among 600 competitors from 30 countries in this "toughest foot race on Earth."
This will be Jess' most challenging ultra race – by far. But maybe not forever. He plans to run ultra races until he can't walk, he says. That leaves plenty of time to find a race that trumps six days in the searing heat of the Sahara. And plenty of time to think about what he's doing.
"Most people don't know what they are getting into when they run ultras," he says. "I do, and I'm still doing it."
Crazy, indeed.