A place to call home
Durango grapples with ongoing discrepancy between work-force wages and affordable housing
by Missy Votel
photos by Todd Newcomer
Sidebar: County, city eye regional housing authority
Sidebar: Affordable options in Durango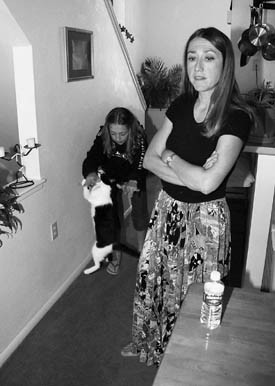 For several years, "Lisa," now a divorcee with a college-aged son, lived the American dream, Durango style.
"That big house on the river, that was me," she said.
But the marriage ended, taking with it the security she had grown to know and expect.
"What happens is, you get a divorce, and you lose the house, and you're on your own," she said.
Lisa, who works full time in a couple of local doctors' offices, now lives in a rented apartment in town but is having trouble making ends meet.
"My rent is killing me," she said.
According to the recently formed Affordable Housing Task Force, a loose coalition of organizations involved in providing affordable housing in the county, Lisa is not alone.
In fact, the task force – made up of representatives from Mercy Housing, Habitat for Humanity, Colorado Housing Inc., Southwest Community Resources, and city and county staff – pinpoints the most needy residents as the working class.
"We're doing this for the work force of Durango," said Mary Kennedy, a task force member and manager of Merced de las Animas, 50 low- to medium-income rental units in the 3700 block of West Second Ave. provided by Mercy Housing.
"Nurses, police officers, teachers have a hard time here," she said. "A lot of quality people move on because we don't have housing for them to afford. And that's what the task force is trying to change.
"A lot of the work force is having to move to Bayfield or 45 minutes away to be able to work in Durango," she said.
In fact, a 2001 report by Operation Healthy Communities found that 43 percent of Durango families do not qualify for a loan to buy a median-priced home – about $230,000 in 2001, according to the Durango Area Association of Realtors. According to standards set by the U.S. Department of Housing and Urban Development, housing should not cost more than 30 percent of a household's gross income. This means, in order to afford a 30-year mortgage on a typical $230,000 home, assuming 10 percent down and 6.125 percent interest, a household would have to make about $50,310 a year. As far as rental properties go, the average three-bedroom apartment runs about $1,100, requiring a household income of $47,143, according to the task force. Only problem is, the median income for Durango in 2001 was $49,900 according to HUD, leaving a good part of the community searching for options.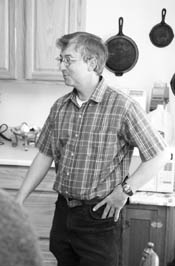 An end to the nightmare
Ken Bigelow, a computer network technician at Pueblo Community College, was living in a mobile home in Oxford with his three sons and wife. Although the Bigelows owned the mobile, they leased the land, and when their landlord told them he wanted the land back, they were left in a quandary.
"There's not a lot of places you can move an old mobile," said Bigelow, whose wife is unable to work because of a disability.
Fortunately, through a friend at work, Bigelow heard about Colorado Housing's "sweat equity" program, whereby families can work off part of a home's price by helping with its construction. Colorado Housing also offers 33-year, low-interest mortgage loans through the U.S. Department of Agriculture to further offset costs.
"I looked into it, and we qualified," said Bigelow, who after a year of work, moved into his home about a month ago. The 1,250-square-foot SkyRidge home, which is one of six in the development, costs him about $700 a month. "I don't know where we would have gone without this," he said.
A few doors down from the Bigelows lives Peter Talley – a teacher at Durango High School who works with emotionally disabled kids. He moved into his Colorado Housing home with his son and daughter almost two years ago. Before that, he lived in Ignacio.
"I couldn't find a place in town to make ends meet," said the 10-year resident. Although originally from Albuquerque, Talley said he used to make frequent trips to Durango as a child.
"I always wanted to live here, and it's been a tough go of it, but I think I finally made it," he said.
For people not quite ready to jump into home ownership, finding rental housing can be equally daunting.
Kalinda Walker, a counselor at Community Connections, lives in a rented three-bedroom townhome at Merced with her husband, Steve, a heavy equipment operator, and her two daughters. Walker is a lifelong resident of Durango and says she has seen what the area has to offer on the open market and is not impressed.
"I've lived here my whole life, and I've lived in some pretty bad places," she said. "Plus, by the time you pay first, last and deposit, it costs $2,000 to move in.
"It was a nightmare."
Fortunately, the nightmare ended when Walker secured a spot in Merced, which was not the first time she would live there.
"Merced saved me one time before," she said. Walker said she lived there a few years before when she found herself "in a bad situation."
But once she got back on her feet, she moved out, a move she soon regretted. "I was living in a place that was too expensive and too small," she said. "That's when I knew Merced was the place I was supposed to be."