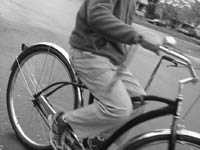 Beer before noon needs little justification in some people's books, but for those looking for a good reason to toss one back while the day is still young, there's the Tour de Fat, coming to a main street near you this Saturday.
Billed as the "Ballyhoo of Bikes and Beer," the tour is bringing its brand of two-wheeled fun to bike-savvy towns throughout the west, from Seattle to Austin, Texas, and Boise, Idaho, to Flagstaff, Ariz.
"We got food, bands, beer, and we got fun," said organizer David Kemp, of New Belgium Brewing Co., the Fort Collins sponsor of the caravan and purveyor of the ever-popular Fat Tire beer. "We show up with a beer fest in a back of a truck."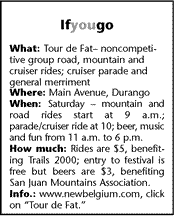 The day's festivities begin with organized morning rides for mountain and road riders (intermediate and beginner levels). Although details of the routes were still being worked out, registration takes place on Main Avenue between 12th and 13th streets at 8:30 a.m. with a scheduled 9 a.m. departure.
If a slow coast is more your speed first thing in the morning, there will be a cruiser parade, sponsored by Durango Motorless Transit, on Main starting at 10 a.m., with a 9:30 a.m. registration time. The parade will make its way down Main to its terminus, at which point cruisers will take off on a leisurely tour of town and back to Main to "tap the kegs," Kemp said.
From 11 a.m. to 6 p.m., the tour will roll out its brand of bike tomfoolery, including mini bike races and games like the "paperboy challenge," "rim toss" and "ghost ride." Barbecued goods will be provided by Scoot n' Blues and sushi from East by Southwest, as well as New Belgium's five brands of beer. There also will be live music provided by Fort Collins bands Leghorn and Drag the River, which Kemp described as having a "country rock flair." Seattle alternative band Bicycle, which reportedly earned its name by riding from show to show via bicycle, also will take to the stage to "mix things up," Kemp said.
And although fat on the frolicking, the Tour de Fat actually has a noble cause.
"Our mission is to raise money for cycling organizations across the U.S.," said Kemp.
The local benefactors of the Durango stop on the tour will be Trails 2000, which will get proceeds from the $5 bike ride registration fee, and the San Juan Mountains Association, which will collect proceeds from the beer sales. Entry to the Main Avenue festival is free.
Aside from this, Kemp said the tour has a secondary goal: getting people to slow down and enjoy the simpler pleasures of life. "We want to encourage people to stop and smell the flowers," said Kemp.
Thus, this year's tribute to the cruiser – the fat-tired, fendered, slow-moving, upright handlebarred, spring-loaded, cushy-seated steeds of yesteryear (or made to look like it.)
"Almost everyone has loved a bike at some point in their life," he said. "We just want to encourage folks to remember that feeling."