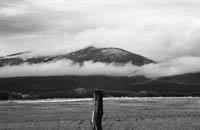 County unscathed after rainy week
For the first time in more than a month, substantial rainfall in the Durango area did not carry catastrophic consequences. After last weekend's back-to-back rainstorms, the Missionary Ridge burn area saw only moderate flooding as efforts at revegetation got a big boost.
La Plata County Engineer Rick Routh said last weekend's series of storms caused emergency crews less trouble. "We emerged fairly well from this weekend," he said.
He added that some of the rainwater actually had an opportunity to penetrate the ground because the storms were quick.
"Even the most waterproof ground had to take a little water in before it came down the drainages," Routh said. "We also didn't get more than a half an inch of precipitation out of each of those storms."
The county did have to close County Road 250 "for very short periods" over the weekend, specifically at Stevens Creek and Kroeger Canyon. Some mud flows crossed the road at that point but they were relatively shallow and low on debris.
"The flows that came across were less than a foot-and-a-half deep," said Routh.
He noted that rather than cause disaster, the weekend's rains were actually beneficial for the burn area, referencing the Forest Service's dramatic reseeding effort.
"It was a perfect sort of rain to help out the huge seeding effort that's underway," he said.
Following a recent aerial tour of the burn area, Routh said that some areas, notably south facing slopes, are recovering remarkably well. He noted that gamble oak and aspen are returning to life in these areas, and that the reseeding grasses are becoming established.
However, he did add that anywhere hot fires burned through thick stands of coniferous trees, recovery will be more difficult.
City Council to go after light pollution
The Durango City Council began to aggressively go after local light pollution this week in an effort to dim urban glow and restore a night sky filled with bright stars. On Monday, the council gave the Durango Planning Department the go-ahead to begin developing an ordinance that would eventually eliminate unshielded lighting in Durango.
"The concept's been around for a while," said Millissa Berry, one of the city's planners. "But we didn't have the direction from City Council to go forward."
Of the roughly 25 people present at last Monday's hearing, everyone appeared to be in favor of cutting down on light pollution. "Everyone was in favor," said Berry. "If they weren't, they didn't speak up."
Berry noted that an ordinance would require businesses, residences and public agencies to retrofit lights that are polluters. When asked to name some of Durango's biggest culprits, she immediately mentioned the City of Durango itself. In particular, she mentioned the ballfield lights near Fort Lewis College, which are city domain, as well as the new lights on the Durango entrance sign and the Rec Center, both of which point upward. Berry said one of the concerns that the ordinance will need to address is safety. "One question is, 'How can we keep Durango safe and dim?'" she said.
Parts of burn area to reopen Friday
Starting Friday, the 100,000 acres of national forest land previously closed because of the Missionary Ridge Fire will be reopened to public entry. However, a portion of Missionary Ridge Road and some trails will remain closed.
According to a San Juan National Forest news release, visitors to the burned area, which stretches from the Animas River drainage east to the Florida and Pine River drainages, should check for warning and closure signs at trailheads. The Forest Service also strongly advises people to consider visiting other public land to avoid the additional safety concerns associated with burned areas.
Twelve miles of Missionary Ridge Road (No. 682) will remain closed until further notice while the Forest Service replaces culverts to improve public safety and protect the integrity of the road. All motorized and nonmotorized use of the road will be prohibited between the gate 2 miles up from East Animas Road (County Road 250) and the intersection of Burnt Timber Road (No. 596).
Because this is the only road accessing the area, and because motorized travel is restricted to open roads only on Missionary Ridge, there will be no motorized access into the area. The Haflin Creek, Stevens Creek and Shearer Creek trails also will remain closed in the Missionary Ridge area.
In the Lemon and Vallecito Reservoir areas, the Runlett Park, Lake Eileen, Graham Creek, North Canyon and Endlich Mesa trails will remain closed.
Although other national forest trails in the burned area are open, the release encourages visitors to beware of hazards and check for warning and closure signs at trailheads. Trails may be closed at any time because of danger from debris flows, falling trees or other hazards. Visitors who choose to enter burned areas also should leave immediately if wind or rain develops.
Southside townhome development OKed
The Durango City Council signed off on what will be a highly visible townhome development on the city's southside this week. The Parkside Development plan drew public approval but had to overcome some reservations on the part of Mayor John Gamble.
Residents of the Canyon Club Trailer Park, on East Sixth Avenue, had to leave their homes by Aug. 1 to make way for 64, three-story townhomes. The townhomes were originally billed as "entry-level housing for Durango," according to Parkside, and were going to be priced at less than $150,000 per unit. However, that price has risen to between $175,000 and $200,000.
However, the main rub with the development has not been the price of the housing units but its visibility, particularly from Highways 550/160. Two weeks ago, Gamble stated that he felt that the development would be too visible.
"He had concerns that the heights are too much and considered it ridgeline development," said city planner Millissa Berry.
Last Tuesday, Gamble continued to have reservations about the development's appearance. However, he joined his fellow council members in voting for the project anyway and simply encouraged the developers to do a good job with the project.