Dirt lover's dream
Avalanche Ranch stokes off-road enthusiasts
story and photos by Jennifer Reeder
Sidebar: Reporter living proof that tofu and tread do mix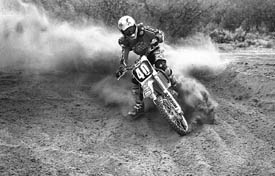 Motorcyclists, ATVers, jeepers and rock crawlers from around the Four Corners and even out-of-state are flocking to Avalanche Ranch, an off-road vehicle park on 832 acres of private land near Tiffany, in southeast La Plata County.
Opening Day was Saturday.
"It's all over the Web," said Jen Rumore, 32, who owns the ranch with her husband Steve, 33. "People are very excited about this."
The couple decided to buy land for an ORV park because of problems associated with holding large events on public lands, Jen said. Steve owns Avalanche Engineering, a company that designs and fabricates off-road vehicles. He's also a competitive "rock crawler"– which involves driving high-clearance vehicles over terrain littered with obstacles such as logs and boulders – and was the sport's 2000 national champion.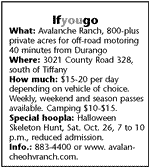 Jen said events on public lands that draw thousands of people often become "logistical nightmares," and that it's becoming harder and harder to get permits for such activities.
"That's why we did our thing," she said.
And locally, there weren't many other options outside Mancos and Aztec.
"It seemed like there needed to be a bigger place for people to go play," said Steve.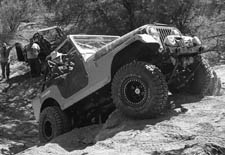 The couple said they had a hectic time getting to opening day. In December, their first child, Nicholas, was born. This summer, they were evacuated from their Forest Lakes home during the Missionary Ridge Fire. Finally, on Aug. 23, they closed on the property that has become Avalanche Ranch. With the help of numerous friends, family and community members who helped build the trails, the ranch opened just a little more than a month later, on Sept. 28.
That day, it seemed their hard work had paid off.
"It's awesome – the smiles and response from the public has been higher than expectations," said staff member Troy Brady, who, among other things, guides four-wheelers at the ranch.
Filling a need
Brady said there is a sizeable community of ORV enthusiasts in the area, such as Jeepers Creepers, the club that "dogpiles" giant, souped-up jeeps during the annual Snowdown parade. Many people also were calling about the ranch from out-of-state, Jen said.
For some, the water-groomed motocross track is a draw, since it keeps dust levels down.
"Durango has a lot of riders and has needed a trail forever," said motorcyclist Sebastian Hartley, 33, of Durango.
Motocross pro Robert Settles, 21, also attended the opening. "I have nothing but good things to say about this place," he said.
Rock crawlers seemed equally pleased. Billy Dussaman, of Aztec, rode with his brother James Schindler in a custom-built "buggy" Saturday. He said it was nice to ride on terrain that offered challenges different from trail riding in Aztec.
"This is different for us because everything there is mostly sandstone," he said. "This is slickrock with dirt."
Karen Elmer, of Farmington, who rode shotgun next to her husband, Scott, summed up their experience at Avalanche with a simple "Lovin' it."
Sharing space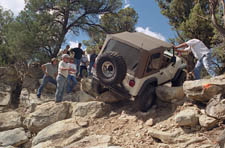 Avalanche Ranch presents a unique opportunity for different groups of ORV participants to share a place to ride without getting in each other's way, Jen Rumore said. The ranch also offers camping for tents and eventually, RVs.
Additionally, because the ranch is 10 minutes from Navajo Lake and less than an hour's drive to Durango and Pagosa Springs, families can stay together at the ranch and pursue different interests during the day, Jen said. The ranch also offers a driving school for women who wish to "dip their toes in the water and see that their husbands are enamored with" as well as others new to the off-roading world.
By mid-October, there also will be a peewee track, "so kids can do their thing," Jen said.
Some environmentalists applaud the ranch for providing an alternative to riding on public lands. In fact, Avalanche Ranch has already booked several national events for next season, Jen said.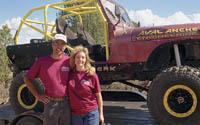 "I think it's way better to have this happening on private land instead of public lands, though I'm still concerned about the environmental impacts," said Rose Chilcoat, program director of Durango's Great Old Broads for Wilderness. "We need to care about our public lands enough to protect them and not turn them into playgrounds for vehicles."
Luke Hanson, 28, said because the motor-cross track at the ranch is watered down, he'd rather ride there than the Hermosa Creek Trail, a popular singletrack north of Durango in the San Juan Forest.
"This place is great," he said.
Jen Rumore said that the ranch's trails were built with environmental concerns in mind, since many of the trees on the property are 300-year-old cedars.
"When we designed our trails, we cut down as few trees as possible," she said. "Even though we're an off-road park, we are very trail and environmentally conscious, and we want to keep that philosophy going for our patrons."