The feed bag, listener-supported radio and the best tats
by Mike Sheahan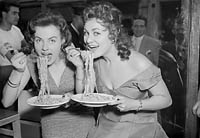 Fall is upon us and that means it's fund-raising time. The not-for-profits and semi-for-profits are jumping from the woodwork and asking for your hard-earned dollar at some kind of benefit or another. This may seem hard to do after the summer we've had, but here are two very worthy causes worth at least your consideration.
The Needham Elementary fourth-graders want to go to Crow Canyon and are hosting a spaghetti feed tonight (Oct. 3) to fund the trip. All you have to do is show up at Needham (2425 West Third Ave.) between 5:30 and 7 p.m. pay your seven bucks and strap on the feed bag. Bring grandma and the younguns, too, because they get to eat for cheap.
When I was a fourth-grader, a field trip meant going to the cardboard box factory, and any funds we may have raised went to "fertilizing the baseball field" (or as I suspect, buying the principal a case of gin). These kids spent a lot of time postering downtown, so it's only right that the whole town show up. I've already rearranged my work schedule so I can go, but even if you can't stay, drop off a few bucks on your way home. And really, can you imagine a day in Durango without any of those pesky fourth-graders running around?
Sweet... .
This week also brings us KDUR Community Radio's Fall Fund Drive. As a wee lad of only 18, I lived along the train tracks between Durango and Silverton, and for an entire summer KDUR was one of the few things that kept me sane. Now, many years later, I enjoy the pleasure of being a KDUR volunteer. Folks, we are blessed with one of the coolest (I don't use that term loosely) community radio stations in the West. Whatever music you like, you'll find it on KDUR, and you'll find the best of it. If you like your news and public affairs left of center then KDUR is heaven. I'm not kidding when I say that the day-to-day operations of KDUR rely on listener support. Tune in to KDUR 91.9 or 93.9 FM for further instructions.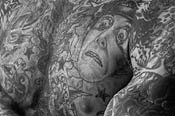 Do you have a tattoo you've been dying to show off but haven't found the right time? (I know how shy you tattoo folks can be). Now thanks to the second annual Badazz Bike Show hosted by Scoot n' Blues, you finally have your big chance. Saturday the fifth, at 11 a.m., all comers are invited to pay a $5 entry fee and join the tattoo contest! Mothers' names and peace signs beware, this contest should feature the most Badazz tats around. Look for serpents wrapped around Harleys or Volkswagen-spitting dragons to win.
I don't think my "Africa will be free" (right bicep) "by 1983" (left bicep) tattoos have any hope. What in the world was I thinking? My mother really was right.
The Badazz Bike Show has other things to offer, too. There is a raffle, you can win a $100 bill (do they still make those?). Plus there'll be bikes galore for lookin' at. That's the real reason for stopping by. A loaded Harley is the same as a stock '57 T-Bird or a perfectly turned double play: It's worth the pause and marvel.
This Friday (the 4th) Storyville offers a double shot of Durango's hardest working bass player, Mr. Dan Leek. Just two of the bands he anchors will be taking the stage that night: Pop Shove It and perennial faves the Lawn Chair Kings. Both bands play engaging music that you will like. The real reason to go, though, is to watch Mr. Leek sweat for hours on end. I realize you'll still have a massive spaghetti hangover Friday, but this is probably the bar-music event of the week. Both bands are a lot of fun, and the crowd they attract likes to buy shots!
This week's sign that the end is near: Danny Bonaduche (of Partridge Family fame) and a kid from "Saved by the Bell" host a TV show patterned after the popular women's talk show "The View." It's called "The Other Half" and is by far the most vapid 60 minutes on TV, a distinction previously held by "The View." I won't say when it's on, but if you come across it avert your eyes lest ye be turned to stone.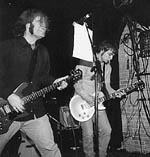 This week's album you should buy: Firstly, I will always call them albums. Even when the day comes that they just get added to the chips in our temples, they're still albums. Secondly, buy "Slippage" by the band Slobberbone. Fans will enjoy the hard-rocking anthems and thoughtful lyrics. Non-fans will say "Slobber what?" I admit this group has the most unfortunate name ever, but once you get past the name you'll find one of the best rock bands working today. They give it to you simple and straight with no pretensions. If you can't find it in town go to newwestrecords.com.
You will grow to love this band, name and all.
Is the Arby's at 17th and Main a drug front? mpsheahan@ yahoo.com
NEXT WEEK: The awful truth behind Durango's most secretive band!