Man-made expected not to be lacking at local resorts this season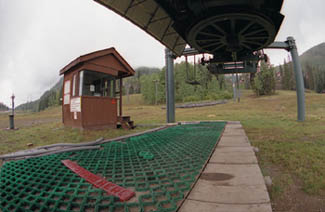 Snow may be barely visible from some of the area's higher peaks, but it is already weighing heavily on the minds of local skiers and boarders. That's because ski season is not something to be entered into lightly. In addition to worrying about what Old Man Winter has in store for them, those in the ski bum classification also must contemplate how to make their precious few dollars stretch as far as possible. Should they plunk down a big chunk of change for a full-blown pass at one area or try to work intermittent deals at a variety of places?
To help in the decision-making process, we have compiled what the region's ski areas are offering this season in the line of ticket deals, amenities and general hoopla. This way, you can spend less time researching and more dreaming about a white winter. Happy schralping.
Durango Mountain Resort
What's new: Perhaps it's better to highlight what's not new at Purg this year, as in no new (read higher) pass rates. If you buy before Oct. 19, the adult value and full season passes are the same as last year, $499 and $699, respectively. The difference between the two is that the Value Pass has black-out dates, usually around high-season times of Christmas break, Martin Luther King Day, President's Weekend and spring break. Holders of both passes also get free skiing/riding at Kirkwood, DMR's extreme sister resort in California; three days at Taos; a daily "Friends and Family" ticket for $35; and 10 percent off on-mountain food and rentals. Full-season pass holders also get discounts at base-area businesses Bubba's Boards, Mountain Market and Deli, Performance Peak, and Purg Sports as well as deals on group and private lessons.
No news yet on whether DMR will be offering their weekday "Six Pack" special – five week-day tickets for about $150.
"We're focusing on season pass and Flex Pass sales right now and haven't decided yet on Six Packs." said Matt Skinner, DMR spokesman. "We'll see what we can do over here in the deal center."
As far as infrastructure goes, skiers heading to the lower parking lots at the end of the day will no longer have to fret crossing Sheol Street to the Columbine area – the resort has built a ski tunnel under the road so those unable to navigate the stop sign need not worry.
Also plans for a new Chair 4 are currently being considered by the Forest Service. Although it likely won't be installed until next summer, the new lift will be a high-speed quad or possibly a chondola (combo chair and gondola) that will allow mid-station access to beginner terrain as well as a direct flight to the backside (big cheer).
The deals:
Buddy Pass: $249 for college students and people 62-69; $199 for students (13-18) when bought in groups of four.
Flex Pass: $59 adults, $29 kids (6-12); entitles holder to $35 (adults) and $17 (kids) tickets.
Value Pass: $499 with black-out dates (typically times most local skiers try to stay far away from the mountain anyway unless it happens to be a powder day, in which case a ticket would cost $35.)
Full Season Pass: $699, no black-outs.
Peak-season lift ticket: $52-$55
Early season lift ticket: To be determined, check resort closer to opening day
Benefit Day: Nov 27, $10 tickets with proceeds going to Durango Arts Center.
More info: 247-9000 or www.ski-purg.com.
Telluride
What's new: Telluride will still be basking in the alpenglow of last season's premiere of the 700-acre Prospect Bowl, which, because of poor snowfall, was never opened to its full, glorious potential (at least never when I was there.)
"Prospect Bowl is still the big thing," said Annie Kuhles, Telluride spokeswoman.
However, for those looking for thrills on a smaller scale, the ski area will be expanding its terrain park from 3 to 10 acres and moving it to lower See Forever.
"It will be great for upper-level and intermediate riders," she said. For those not quite ready for the prime time, there will be smaller, satellite parks strategically located across the mountain, possibly in Ute Park and the Meadows area. The resort also is adding a snow deck (think skateboard sans wheels not a place to sun oneself) park near the tubing hill off Lift 2 near the Nastar course.
Kuhles said the rest of the resort's changes will focus on the "experiential side" of things. "We want to create entertainment and animation all over the mountain," she said.
This includes new menu items at the on-mountain eateries, more seating a Goronno, and in typical Telluride festival fashion, more special events, including a weeklong celebration in March marking the resort's 30-year birthday and outdoor concerts like last year's String Cheese Incident show. "We're not sure what bands would play, but it may become a 2-day thing because it went over so well," Kuhles said.
The resort also will be putting an emphasis on the kids this year, with a screaming deal on season passes: $59 (6 –12 years) and $90 (13-18 years).
For beginning kids, lift tickets will be $18 with a $10 lesson (cheaper than a day of babysitting).
"We just want to get young kids to ski and make Telluride affordable for the whole family," said Jane Shelton, regional sales and marketing manager.
Another bonus to the Telluride products this year: no black-out dates.

The deals:
Kids Season Pass: $59 (6-12 years); $90 (13-18 years).
College Season Pass: $175 through Nov. 15. for students with valid ID and registration showing at least nine credits.
Five-Day Pass: $175 (averaging out to $35 a day; does not turn into a T-card like last year.)
10-Day Pass: $300
T-Card: $20 adult, $10 kids (6-12) gets tickets ranging from $30 in early season, $58 peak season and $45 in mid-, late-season ($15, $34 and $18, respectively, for kids).
Peak-season lift ticket: $65-68
Early season lift ticket: $51
Donation Day: Nov. 26, $24 tickets with proceeds going to Telluride Ski and Snowboard Club.
More info: (970) 728-7517 or www.tellurideskiresort.com. T-cards will be on sale Sat., Oct. 5, at Ski Barn and Sat., Nov. 2, at the Hesperus Ski Patrol Ski Swap, county fairgrounds.
Wolf Creek
Although Wolf Creek's $600,000 in improvements this year will likely go largely unnoticed by most skiers, they should make a difference in the overall experience nonetheless.
For starters, springtime skiers will no longer have to slop through mud to get to their cars; the area has paved all of its parking lots. It also has installed a European "Gaz-Ex" avalanche-control system in the newly opened Horseshoe Bowl. Although it won't be able to relieve heartburn, the radio-controlled set-up will relieve delays in opening terrain after a big dump by allowing ski patrol to blast the area remotely.
"During storm cycles we can activate bombs in the area," said Roseanne Pitcher, Wolf Creek's spokeswoman. "Conventionally, we would have to wait until after the storm and then sometimes it's too late."
Although the area typically has the biggest snowpack in the region, not to mention the state, Pitcher said at the moment there is no snow on the mountain. But the mountain did receive a few accumulations that have since melted.
If history repeats itself, expect the area to open sometime in mid-November. "We'll just have to wait until it snows," she said. "When you don't have snowmaking, you don't have too much of a choice."
The deals:
Local appreciation days: Keep your eyes peeled for these special rates, typically mid-week but lift tickets can be had for around $20.
Season pass: $560 if bought on sale, Oct. 5-13.
Full ticket price: $43 adults, $25 kids
Opening Day: Weather permitting
More info.: 264-5639 or www.wolfcreekski.com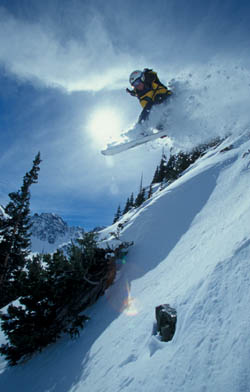 Silverton Mountain
What's new: It's been a long couple of years for the ambitious extreme ski area north of Silverton. While the area awaits a Bureau of Land Management decision on its operating plan (the environmental studies are being conducted as we speak), the area at least expects to open on a guided-tour-only basis again this season.
In the meantime, Silverton Mountain owner Aaron Brill put in a permit to lead 99 skiers a day on guided tours but has yet to hear back on that permit.
"We're assuming it will be somewhere between 20 and 40 people a day," said Jen Ader, Brill's partner.
With those numbers, Ader said she expected the daily price, $99, to stay the same, although if the BLM was to grant a permit for 99 skiers, the price would be lower.
Nevertheless, the ski area will be offering discounts this year as well as something that is far more welcome after a hard day of skiing or riding: beer. That's right, after a day in the steeps, skiers can come down to enjoy an esteemed local brew in the comfort of Silverton Mountain's heated lift shack or base tent – which sure beats putting frozen lips to cold glass on the tailgate.
The deals:
10-day punch card: $800 (transferable) or $700 (nontransferable), with three, free days if bought by the end of September. According to our calculations, if you can get your act together early enough, that's 13 days for $61 and change (if you share with buddies) or $54-something if you keep it to yourself. Not a bad deal if the skiing's as good as we remember.
Full-day pass: $99
Opening date: Oct. 16-ish, weather permitting.
More info.: 387-5706 or www.silvertonmountain.com
ChapmanHill
OK, we know that in recent years Chapman has been open about as frequently as liquor stores on Sunday, but when and if Mother Nature decides to cooperate, the little-hill-that-could will be ready.
"There's exciting stuff happening," said Kathy Metz, director of Parks and Recreation.
New this year is the 5,000-square-foot, $900,000 pavilion (also known as the "warming hut").
In addition to providing changing rooms and restrooms, the warming hut also will provide a place for skiers and skaters to come in from the cold and roast their tootsies while sipping a hot chocolate and watching the action on the rink or hill. This makes it almost worth visiting, skiing or no skiing.
Metz said she expects the project, which includes a freshly paved parking lot, to be done early next year.
Also this season, the ever-popular tubing hill will take up permanent residence on the north end of the rink.
Despite all the enhancements, attempts by a citizens group to bring new-and-improved snowmaking to the hill have not quite gotten off the ground, Metz said, leaving the area once again at the mercy of the jet stream.
"We're ready to go, (snow's) really the limiting factor," she said. "But, we're keeping our fingers crossed. It's been years since we've had a really good winter, and it's time to turn that around."
Hesperus?
Although shrouded is mystery as of late - the phone number given on its Web site is disconnected and there are "For Sale" signs in front - word from members of the Hesperus Ski Patrol is the season is a go, given that weather cooperates. The Hesperus Ski Patrol Swap takes place Saturday, Nov. 2, at the La Plata County Fairgrounds, at which time it is expected that the infamous night ski passes will once again be on sale.